This morning is cold. Wind chills were in the teens.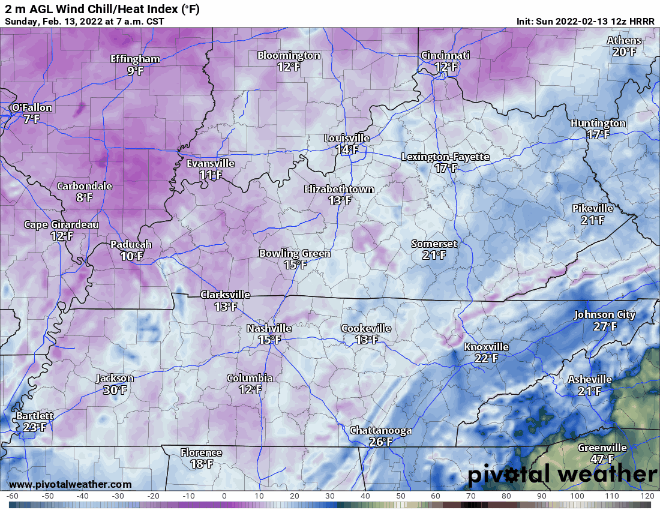 Temps top out around 40 today. Hopefully your Super Bowl plans are indoors.
Monday & Tuesday are the same deal as today, but with warmer temps. We'll crack the 60's on Tuesday. Those warmer temps will hang on until Thursday, then begin to fall again.
Thursday is the next day to put on your radar (pun fully intended). The SPC has us just in the zone where severe weather could happen in their day 5 outlook. This map below says there is a 15% chance of severe thunderstorm within 25 miles of any point in the yellow.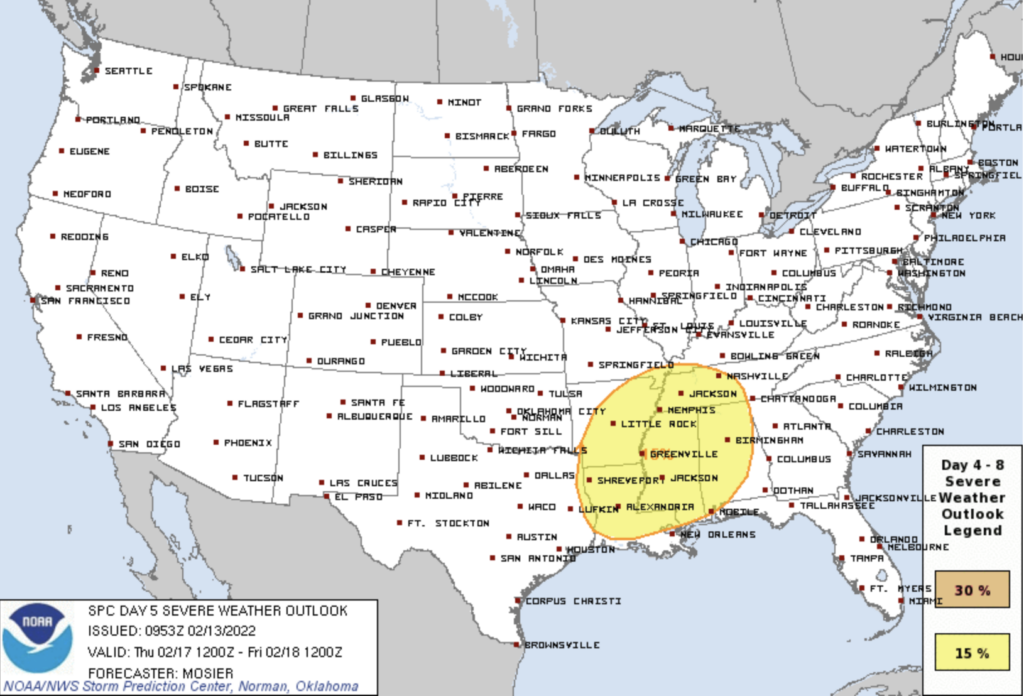 A day 5 and 6 outlook is not common, so I understand the stress some of you may be feeling as you read this. Try not to worry too much if you have storm anxiety. There is a lot of uncertainty still this far out. Today the outlook shifted a bit further south so we are now only barely included. The shift is because models yesterday pulled the low pressure center further south. The risk area shifted further south along with it.
This storm event looks like it will have sufficient wind shear, but insufficient instability. Right now, there is no reason to be overly concerned. There is no data telling us what kind of severe weather we might expect (hail, tornado, winds), but if there is no surface based instability it will be very difficult to make tornadoes.
Timing on this event looks to be from the very early hours Thursday until noon. The timing on this event is VERY iffy this far out.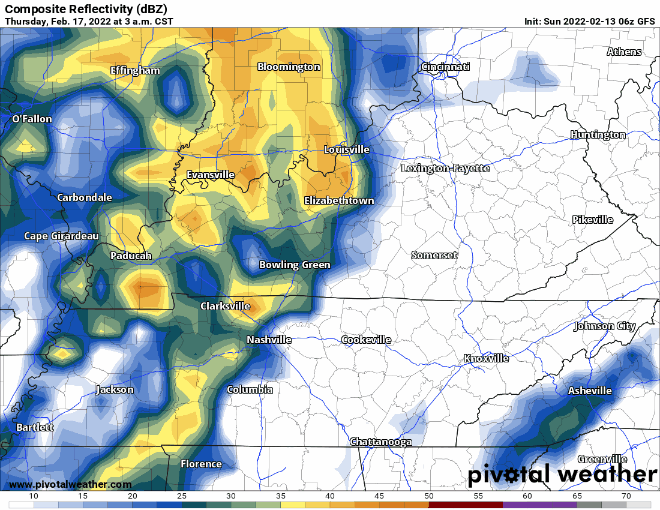 Rain looks heavy and you should plan for a rainout Thursday, but flooding isn't a big concern.
As we get closer to Thursday, we'll have a better idea of how this event will play out. We'll keep you posted!
"There is a lot of uncertainty about the details…stay tuned to the latest forecasts as we get closer in time." –NWS-Nashville.
Quick References:
Weather changes constantly.
Follow @NashSevereWx on Twitter for any changes to this forecast.
Live coverage during tornado and severe thunderstorm warnings:
Look good.
Support the mission.
We are 100% community supported. No ads. No subscription fees. Keep it free for everyone.