Widespread showers are already under way. On and off for the rest of the day. A (not long enough) break tonight before heavy rain Thursday. The meat of the system rolls through tomorrow morning through the afternoon.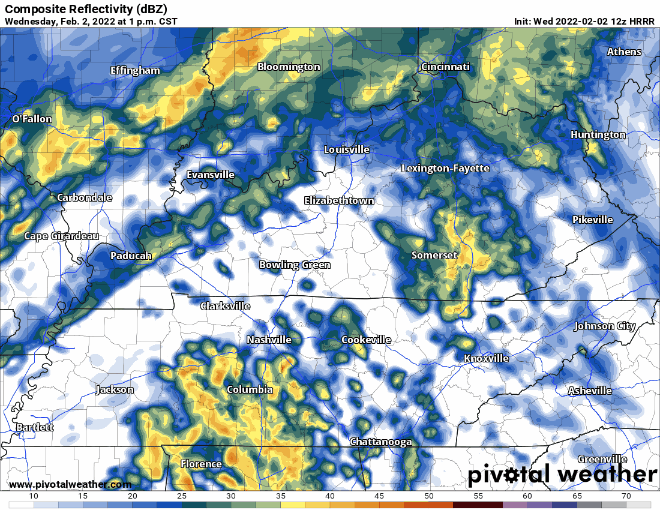 Healthy rainfall totals of 3 to 5 inches are expected between today and tomorrow's rain. Flooding is the main concern of this forecast, mainly tomorrow. Watch for a rise in rivers/creeks and localized flooding.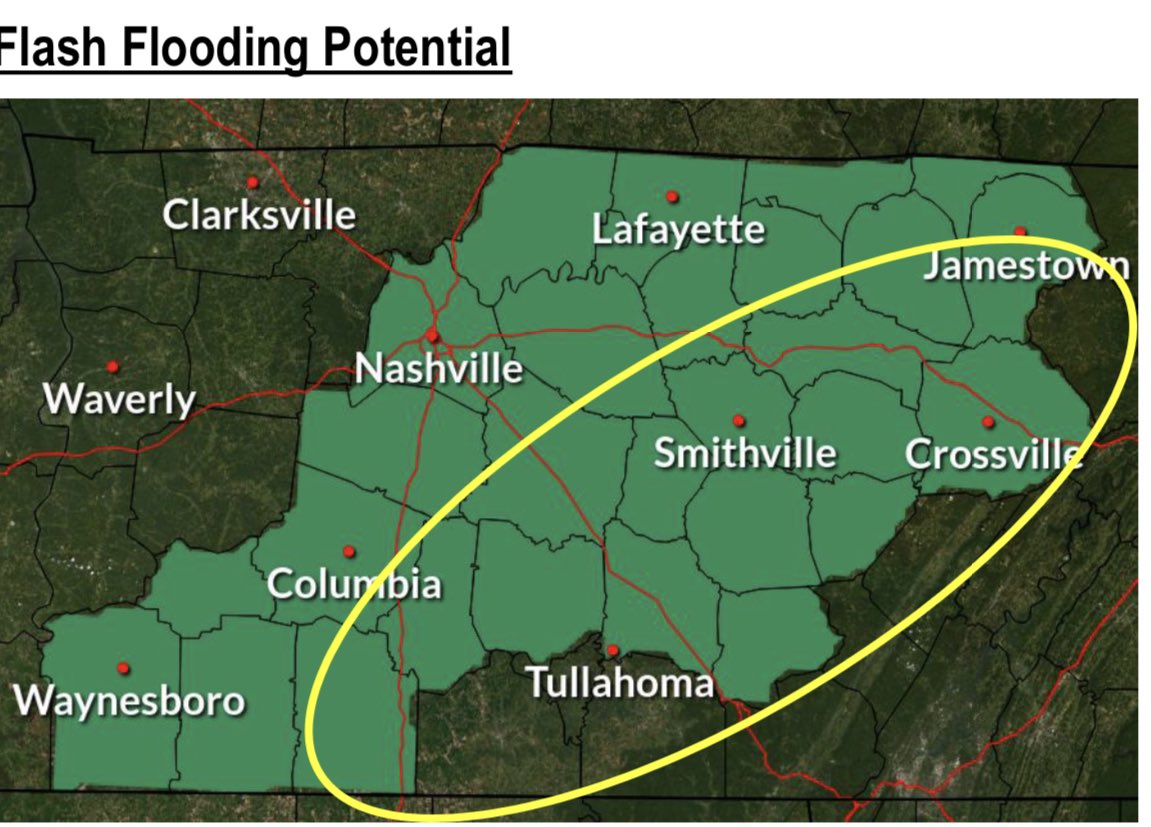 Yellow circle represents area that could see 5+ inches. Mostly southeast of us right now… but a shift could mean more flooding issues for us.
Wintery Precip Tomorrow Night?
Cold front drops temps at the surface fast tomorrow night… to freezing levels by around midnight. Wintery precip (specifically freezing rain is a possibility through the early hours Friday.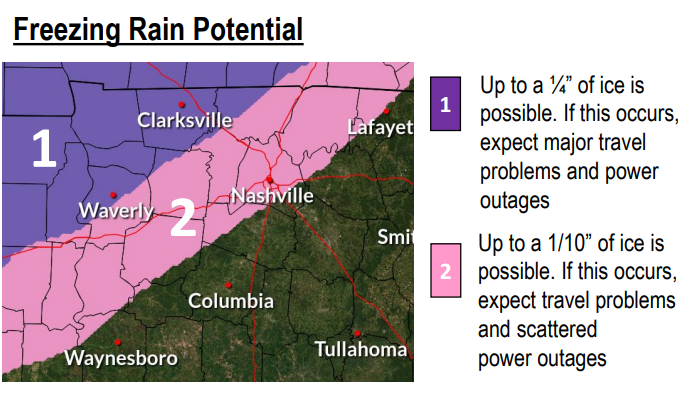 Icing is more likely northwest of us. Up to a 1/10 inch of ice is possible in the pink area. Doesn't sound like much, but it's enough to impact road conditions for the Friday morning commute. Bridges, overpasses, and elevated areas should be driven with caution. Power outages are possible here and there if this icing occurs.
This icing event is not a slam dunk. Lower resolution global models are more on board with the freezing rain potential for us. But, their ability to computer high resolution temperature/moisture details in the atmosphere and at the surface is low. The higher resolution models (HRRR) think the moisture pulls away just as the temps drop cold enough for freezing rain. This is something we'll watch.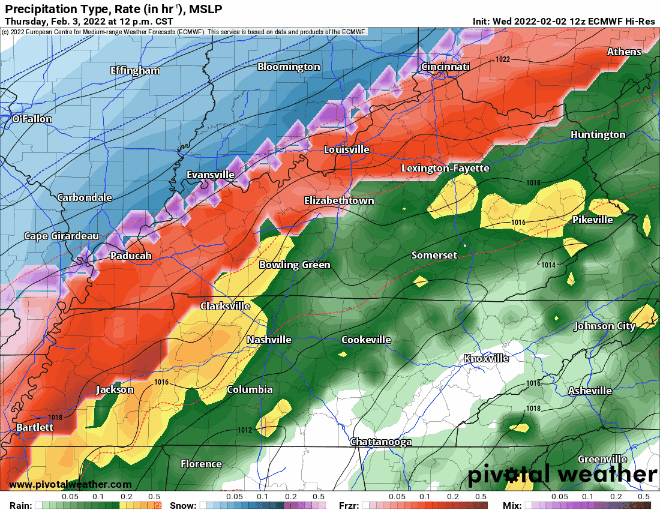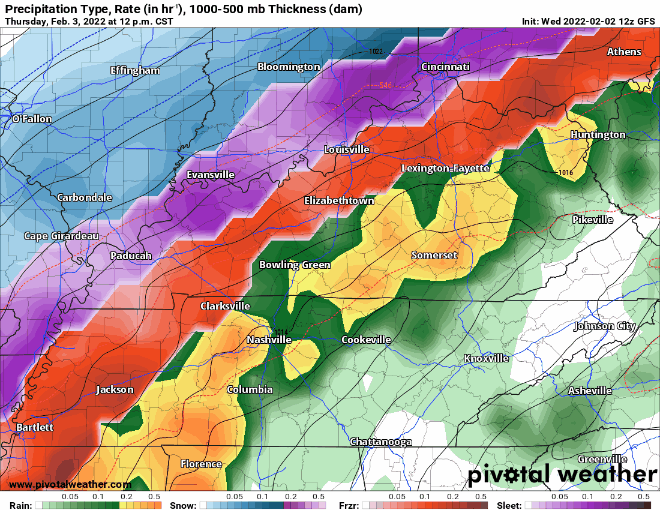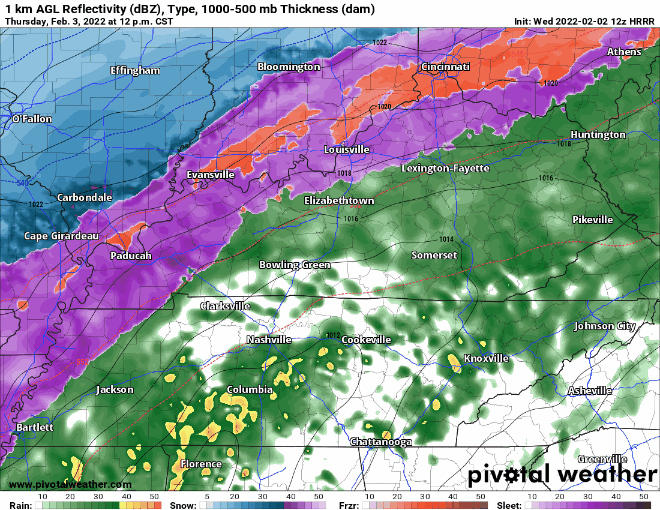 There could be icing or none at all. We'll keep you updated on track, timing, and impacts!
Quick References:
Weather changes constantly.
Follow @NashSevereWx on Twitter for any changes to this forecast.
Live coverage during tornado and severe thunderstorm warnings:
Look good.
Support the mission.
We are 100% community supported. No ads. No subscription fees. Keep it free for everyone.