Temps right around normal today will heat up to the low 60's by tomorrow.
Rain should begin as early as Wednesday morning. but it's more likely to start Wednesday afternoon. Rain should be heaviest after midnight Wednesday and into Thursday morning. Rainfall rates should be high, totaling 3″ to 4″ by Friday morning. It looks like rain will be spread out long enough to enable runoff and drainage, but local creeks, streams, and low lying areas should rise. Flooding concern is there, and will be watched closely, but the concern is not high right now. Those in flood prone areas should continue to monitor.
Things may switch cold Thursday night. Dropping temps aloft Thursday evening may turn rain to sleet or even snow. Meanwhile, surface temps should dive, and there's a low-probability of a minor icing event.
The biggest uncertainty is whether precip will linger long enough for the freezing temps to catch up. Notice in the below models that the overwhelming majority of precip is liquid, not ice.
GFS model below has a brief period of freezing rain/splat coming in Thursday right after dinner time.
Euro model has our area just missing any frozen precipitation.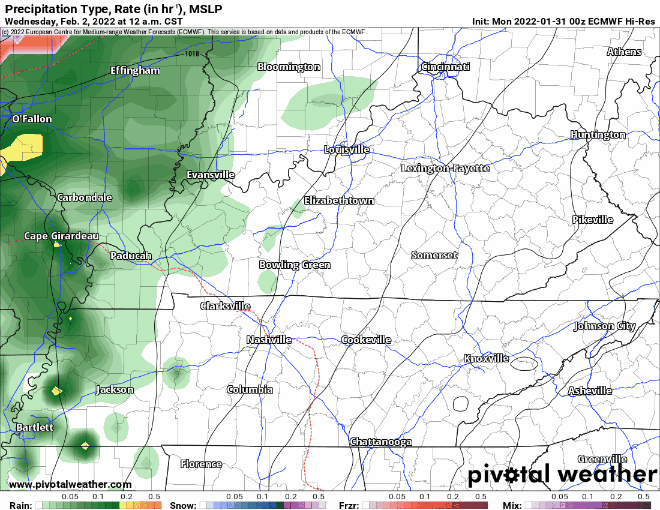 If the low pressure area moves further south we could see some more wintry precipitation. For now, though, looks like a wintry precip event will battle the Dry Air Monster (dry air aloft evaporating frozen precip) and Ned (his warm nose aloft converts snow to sleet, or even rain).
A significant ice storm may be developing in the Ohio River Valley to our NW, but for now we may escape with just a few hundredths of an inch of ice, or more likely, nothing at all.
Temps fall below freezing Friday morning. Black ice may pose a threat for Friday morning commutes especially in areas of elevation and on bridges and overpasses, but that assumes the wind doesn't dry off most surface and that the cold air doesn't delay.
All in all, this doesn't look like a Big Thing floodwise or icewise, at least not right now, but it'll require a close watch as models continue to come on in. More later.
Quick References:
Weather changes constantly.
Follow @NashSevereWx on Twitter for any changes to this forecast.
Live coverage during tornado and severe thunderstorm warnings:
Look good.
Support the mission.
We are 100% community supported. No ads. No subscription fees. Keep it free for everyone.