Snow should, this afternoon, fall atop the rainy, slushy, mixyfrizzy precip we got this morning. Will Co got way more of the frozen stuff than Nashville. Will Co was colder at the surface and aloft, and Will Co got the heaviest precip bands.
HRRR model has some snow for everyone this afternoon:
Most air temps are at/above freezing right now, but surfaces that are already holding on to that slushy layer and getting heavy snowfall rates should be able to hold and accumulate snow, quickly. Those that are just wet may have a hard time accumulating snow on roads, at least at first. There are pockets of warm air everywhere, and our roads move across many different elevations, meaning you can go a few miles and experience little/no hazards then go a few miles and slide your trans am into a ditch.
Already parts of Will Co have 4″+ of snow, with a few more hours of snow incoming — the 2 of 10 potential for an overperforming snow mentioned in last night's blog for the SE slice of Will Co looks to be coming true.
For everyone else the range is 2″ to 3″.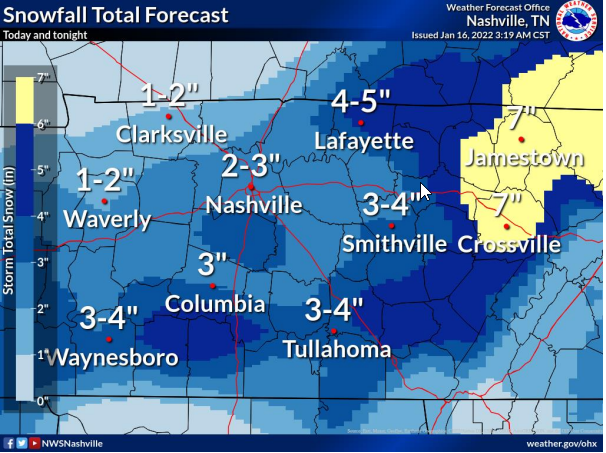 Be especially careful on bridges and overpasses — they freeze way faster than normal earthstuck roads.
Any slush/snow that survives temps at or just above freezing this afternoon will freeze quickly after dark. Many locations will see mid/low 20°s after midnight through the overnight/wee hours of Monday. Travel tonight will likely be hazardous, likely area-wide. Hazards will increase with time.
Melting will be snow and uneven Monday. We may briefly get above freezing by mid morning but if your place got a solid sheet of ice/slush/snow, it'll take time to melt, especially the further south you go where there should be more of it. Secondary and neighborhood roads in Will Co will be slowest to melt (as usual), then another freeze overnight Monday night into Tuesday morning. Significant melting expected Tuesday afternoon with a high near 50°.
More on the Tweeter.
Quick References:
Weather changes constantly.
Follow @NashSevereWx on Twitter for any changes to this forecast.
Live coverage during tornado and severe thunderstorm warnings:
Look good.
Support the mission.
We are 100% community supported. No ads. No subscription fees. Keep it free for everyone.