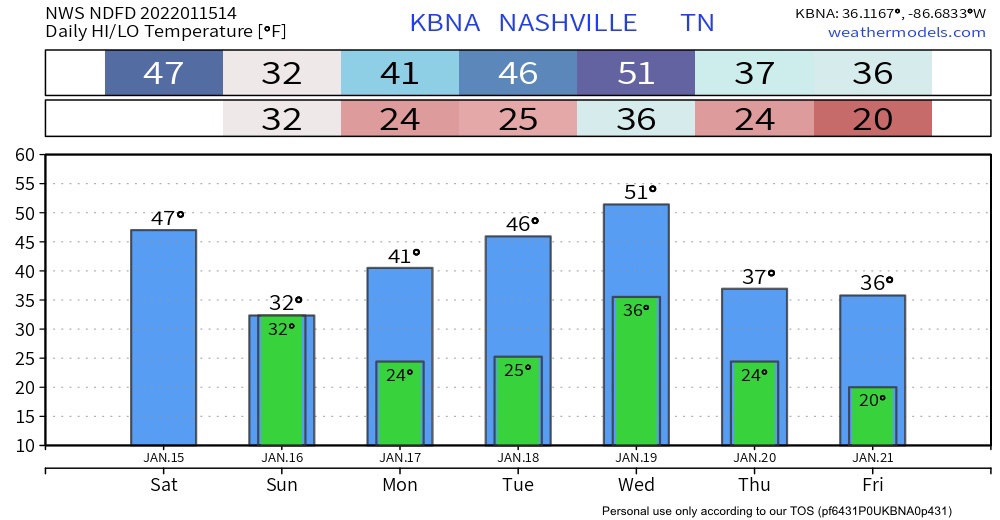 The Winter Storm Watch begins for all of Middle Tennessee tonight at 6 PM and ends Sunday at 6 PM.
Looks like rain today will pause for a few hours then resume tonight. Overnight into early Sunday morning it should changeover to a wintry mix, then snow. The snow will be a wet, heavy snow. Somewhere in Middle Tennessee it could lay down snowfall rates around 1″ to 2" an hour.
But for Davidson & Williamson Counties specifically, things are less clear.
Morning models disagree about our local precipitation type. Temps aloft should be running at/near freezing. Temps at the surface should be doing the same thing. A few degrees here or there will be the difference between rain, sleet, freezing rain, and snow, and there is no agreement on that.
It's still unclear how much of this will be rain, ice/sleet, or snow for us. Let's skip through four models:
The GFS has much more rain and wintry mix than it has snow.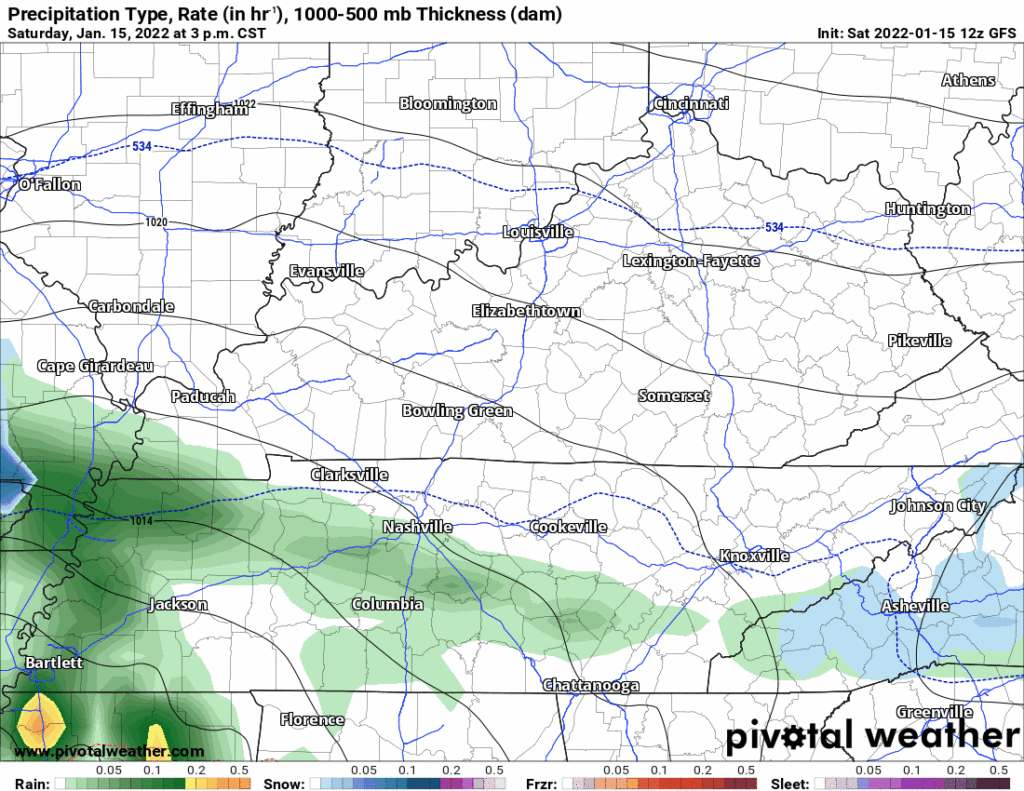 The Euro has way more snow than the GFS: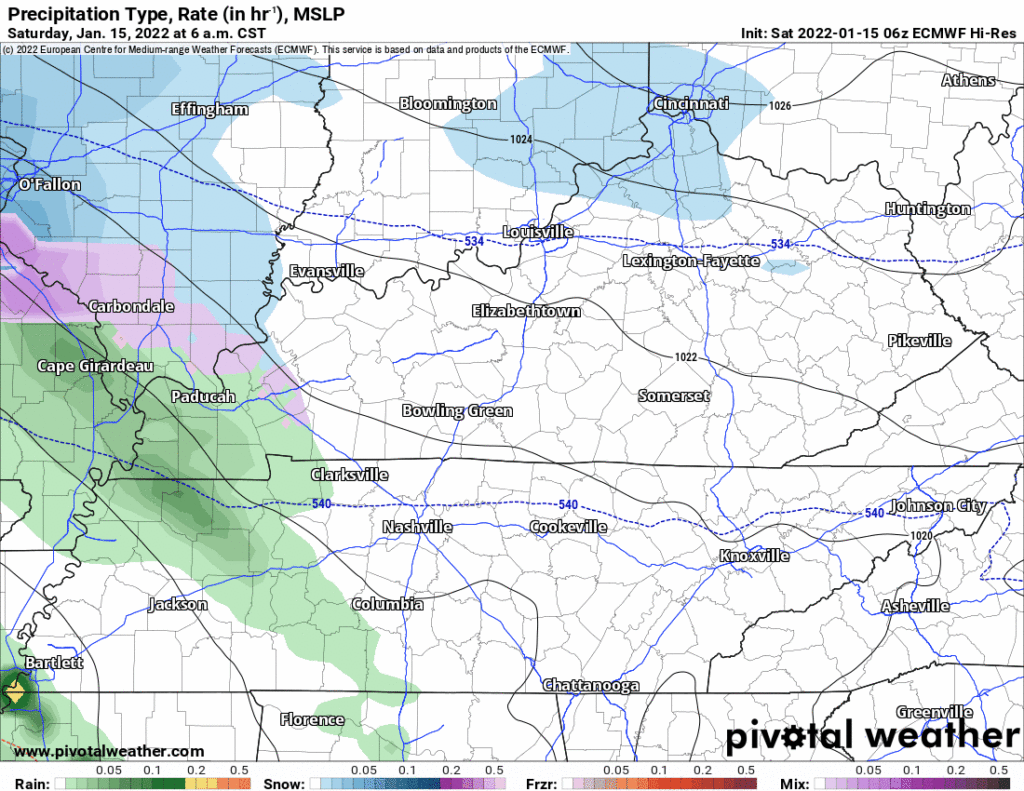 The HRRR has rain, snow, and sleet really at any given time.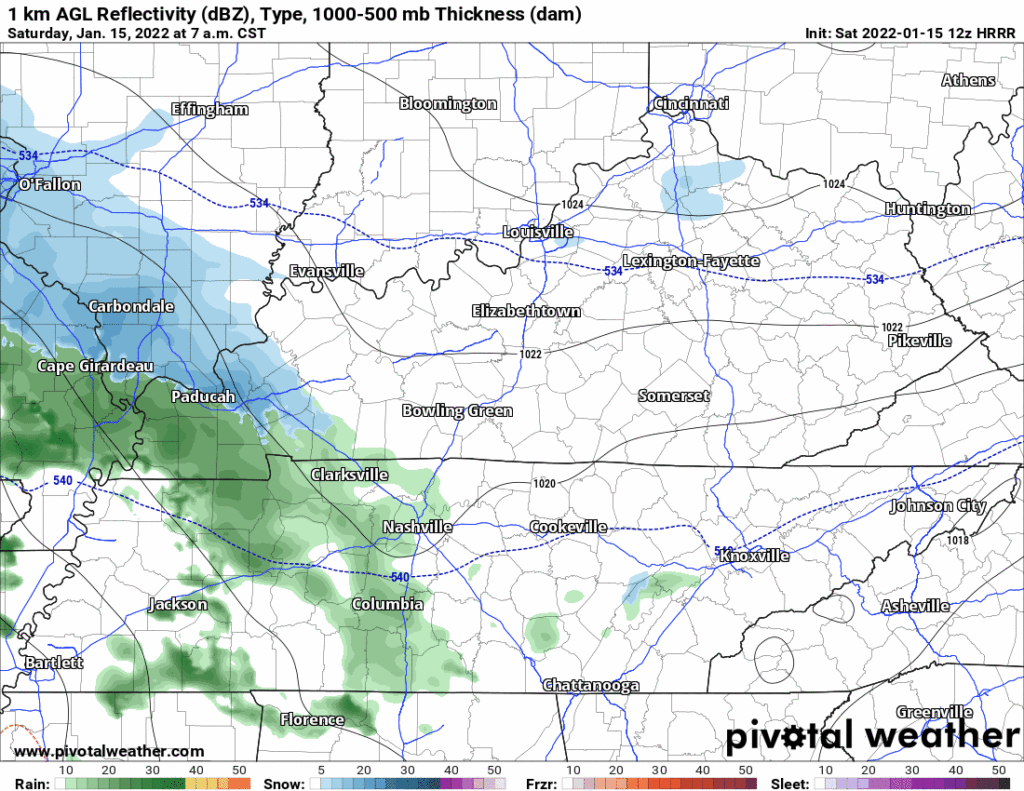 We don't love the NAM3 model but it's a pretty good representation of what the HRW models think, check it out below, how it's rain, then rain, then more rain, then we get a wintry mix and then several hours of snow:
Surface temps will be near freezing as all this is happening. If temps go above freezing we'll melt everything fast. If temps are exactly at freezing that can cause problems – rain hits the surface and freezes, then on top of that we get a heavy snow to glaze over bridges, overpasses, and power lines. It is not clear that's what'll happen, it may be that most roads are initially OK until the heavy snow starts and supercools surfaces suddenly. I don't know that we can say right now when exactly road conditions will deteriorate beyond travel, but it could happen fast.
The problem is that most data has the temp at the lowest 3,000 feet right around freezing, and any localized variance of 1 degree or so can change snow accumulation dramatically. Pockets of cold and warm air will scatter across the region. It's possible to get 5″ on one part of the county and next to nothing on the other part of the county.
The latest NWS-Nashville forecast has snow totals down a few inches from last night: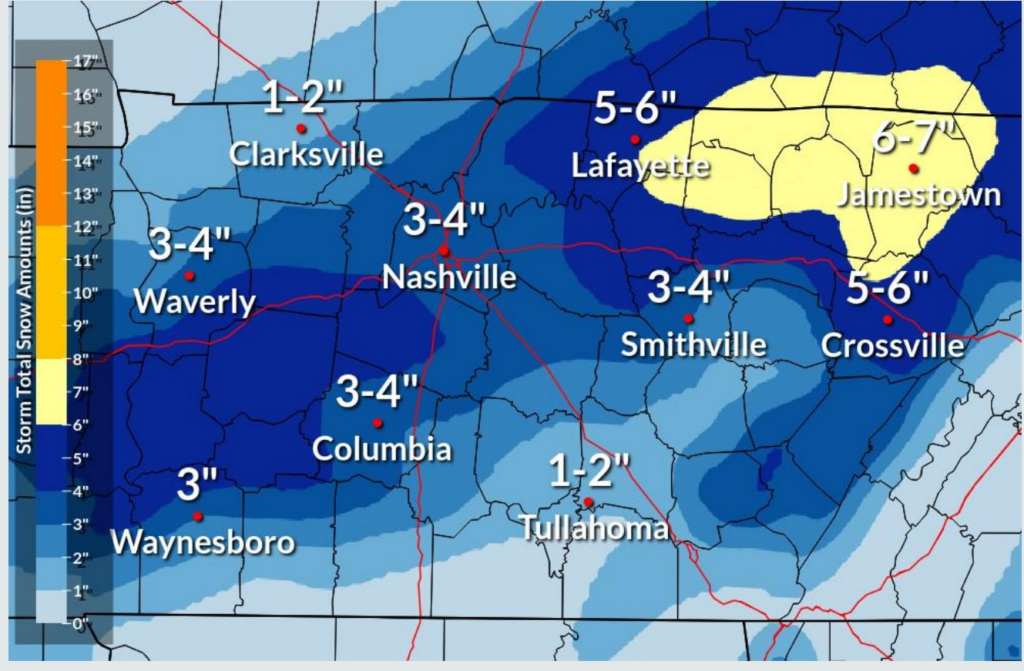 We could end up 1″ to 2″ if we have a delayed transition to snow and surface temps end up a bit too warm to allow for much accumulation. On the high end, if temps "cooperate" we'll end up 6″ or more.
From NWS-Nashville: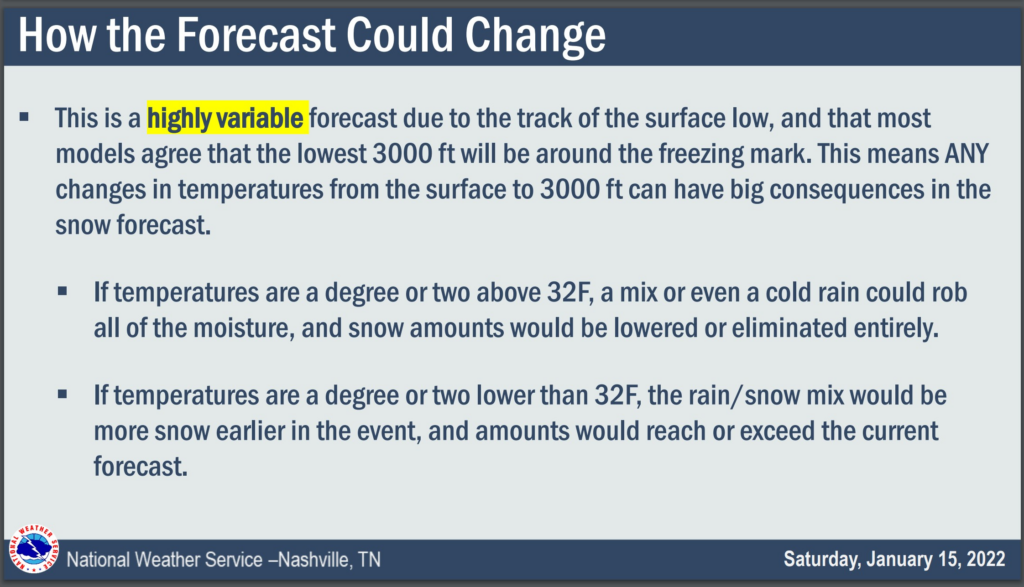 Everything "stuck" during the last two snows because temps were way below freezing. This event has a temperature question, so it's possible this will be a grassy areas/bridges and overpasses first, then highways next event. It's low key possible we only get a rain/slush and nothing really sticks. Or we could get snowburied. Expect freezing after dark Sunday, with travel problems obvious as the sun goes down and we dip below freezing overnight.
This forecast remains highly variable. Stay connected for updates. If you wanted certainty in winter weather forecasting, Nashville is not the place.
Quick References:
Weather changes constantly.
Follow @NashSevereWx on Twitter for any changes to this forecast.
We are 100% community supported. No ads. No subscription fees. Keep it free for everyone.