Rain should change to snow Sunday right around sunrise, or a few+ hours after sunrise, and when it does surface temps are probably going to be at or above freezing. HRRR thinks the temp'll be around 34° to 35° as the snow is falling.
---
You are probably wondering about how we could get an accumulating snow Sunday if surface temps are above freezing. Brother, sister, you are not alone. While watching the football game today we saw a few commercial break forecast updates that had a model run showing temps 35° or warmer the entire time it's supposed to be snowing tomorrow. Several models are saying this. My fam was all: wait, how's it gonna snow if it's 35°?
Let me answer that.
---
It can snow with the ground temp 35° because the temps overhead are below freezing and that's where the snow is made.
It can fall like this:
3,000 feet: 31°❄️
2,000 feet: 31°❄️
1,500 feet: 32°❄️
The Ground: splat:melt on a 35° ground — the snow just ran out of time before it could change to sleet or water.
But if you get a lot of heavy snow falling superfast, the wet snow can supercool the ground, and accumulation can occur.
It is possible this is what happens.
Equally possible is the air just above us running warmer than the above example, a few degrees above freezing, and we get sleet, or even rain.
"THIS CONTINUES TO BE A HIGHLY VARIABLE FORECAST," says NWS-Nashville
Weather models still disagree about what will happen in Davidson and Williamson Counties. Some models think we will be too warm for any accumulation. Others have heavy snow overcoming the warm surface temp problem and accumulating the snow, then holding it there after dark Sunday night when temps finally nose dive into the 20°s and cause travel problems overnight into Monday morning.
NWS-Nashville official forecast: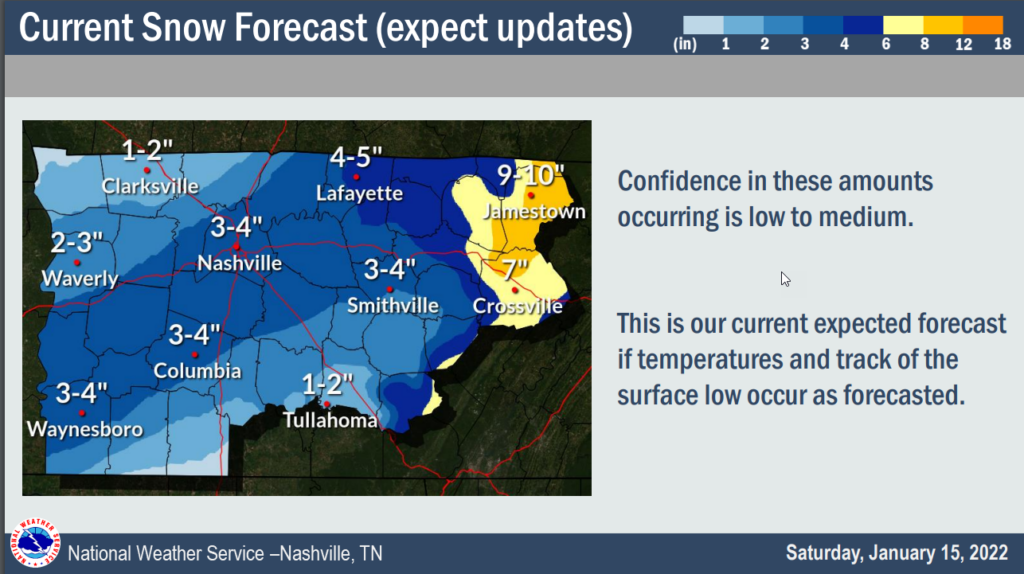 The Winter Storm Warning that was issued for us points out that despite the warning, big changes to accumulation are possible.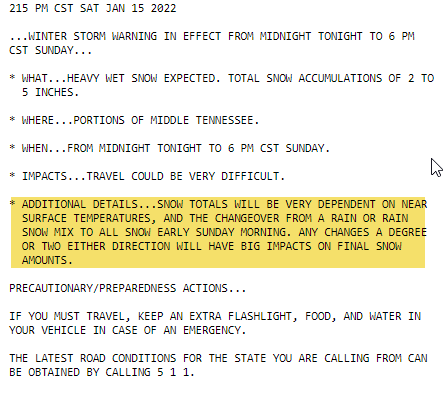 The variability works both ways.
On the high side, we could end up closer to 4″ in Nashville. Then there's the 2 in 10 probability of a superoverperforming snowfall for the SE half of Williamson County, this from NWS-Nashville: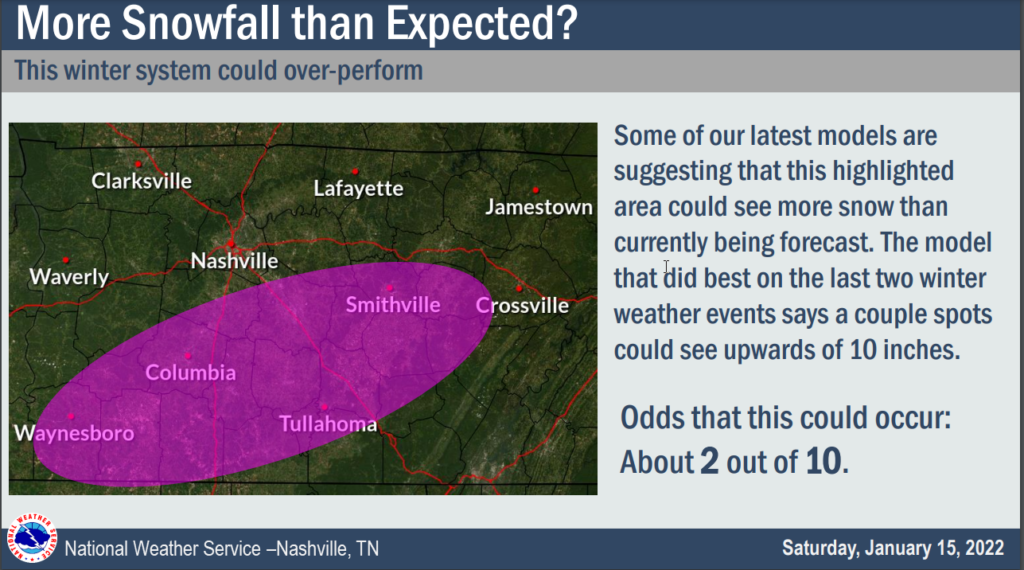 But the model trend is on the low side for Nashville. The HRRR thinks surface temps are way too warm for accumulating snow in Nashville. Notice how it's mostly rain, very little snow, then the precip moves out:
And watch the corresponding surface temperatures:
So we think, then, that we may see a splat:melt snowfall in NW areas of Davidson/Williamson Counties, and a potentially heavy accumulating snowfall in SE areas of Davidson/Williamson Counties.
But, the forecast remains for 3″ to 4″.
The new group of models won't be out until late tonight. We will update you then. If you're out in this rain tonight, even late tonight, you should be fine. It's Sunday mid-morning when the problems might start.
More on Twitter as this headache event unfolds. Expect revisions to this forecast.
Quick References:
Weather changes constantly.
Follow @NashSevereWx on Twitter for any changes to this forecast.
We are 100% community supported. No ads. No subscription fees. Keep it free for everyone.