By the time all the good model data comes out it'll be way past midnight. So much so I considered not writing this blog. But obviously I went ahead with it because we have some new, good models in, most notably the Was Causing Forecast Problems Earlier But Has Straightened Out HRRR.
Earlier today all the models were on Team Snow except the HRRR. That earlier HRRR sent the entire storm system south of us, missing us. Not gonna lie, it was alarming, one of the most trusted models ghosting all the others.
But now, HRRR is no longer an outlier. It's Team Snow. Behold: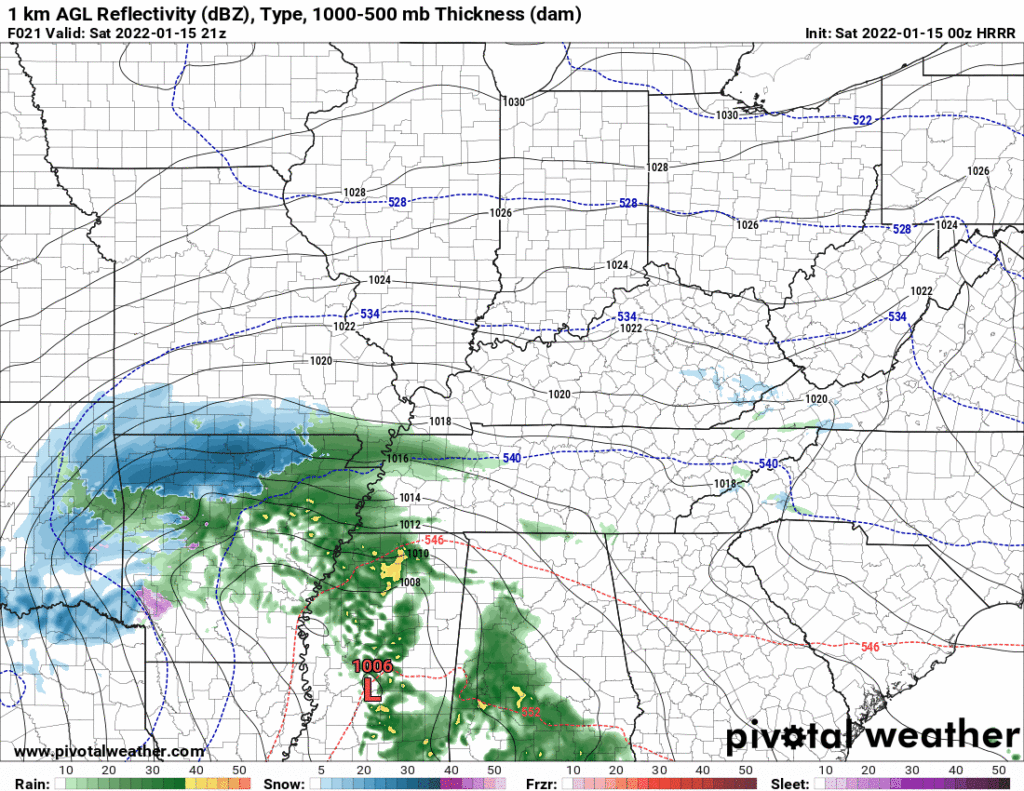 And all is right with the world.
So as I write this tonight with fear and trembling and an appropriate scoop of forecast uncertainty I can report the forecast structure is unchanged: rain Saturday changes to snow sometime Saturday night (please don't ask us when, we don't know), and the snowfall continues heaviest Sunday morning, ending sometime Sunday afternoon.
PREPARE FOR MAJOR TRAVEL DISRUPTIONS LATE SAT NIGHT THROUGH MONDAY MORNING
The "debate" today on the socials fixated on snow amounts. We get tweets y'all send us about how this app says it'll be between x inches and y inches, this channel says something else, blah blah blah. You screen shot images and ask for a comment.
PRO TIP
One way to Avoid Being Deceived by forecast accumulation maps is to scrutinize the map — if it's a forecast map (good) please observe my two approving thumbs because that means a forecaster synthesized data and made a call (hopefully, a range) and I can respect that – But if it's a model map (bad) showing the GFS, Euro, RGEM, NAM, whatever, that's different. One way to tell if it's a forecast map (good) or a model map (bad) is to look up in the corner and see if there is the name of model on it.
One beef with model maps is they assume a snow:liquid ratio of 10 to 1. That means 10 inches of snow for every one inch of liquid. By all indications 10 to 1 will not be the ratio with Sunday's snow. This Sunday snow will be a wet snow, and ratios will be lower than 10:1, probably between 6:1 or 8:1. So if the model says 5″, think 4″ or less, and so forth.
An example of a model map (bad) is the 0z run of the HRRR, you may glance at it and Be Deceived by ten inches, wut!,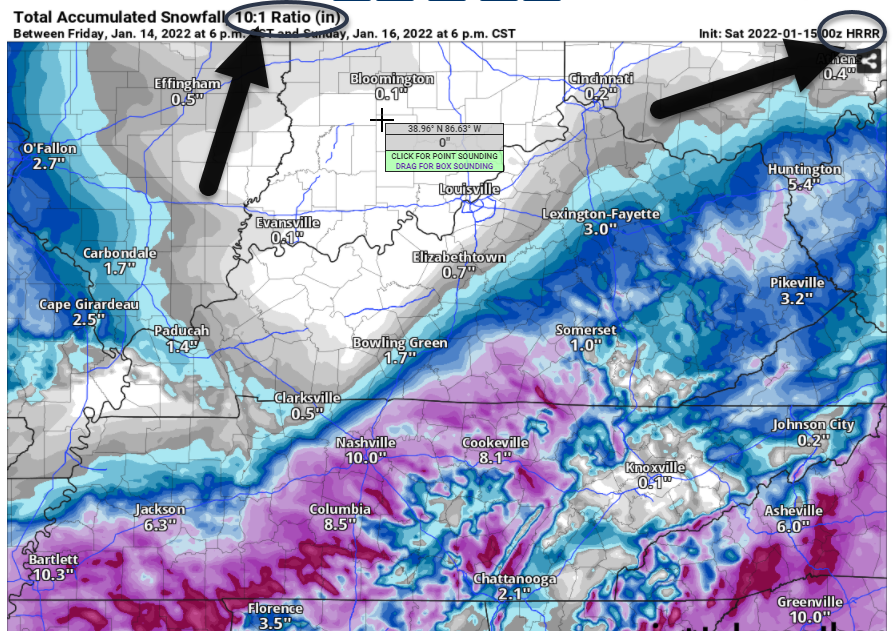 But be not deceived. First, identify it's a model map in the upper right. Next, behold the ratio it uses. More beefs with model maps as How Much We May Get include (1) it's just one run of one model and it's not a forecast, in the same way a hammer and a few two by fours is not a house, (2) the model assumes a ratio that's too high, so when you see 10:1 for this event (other snows have higher ratios) think 6″ or 8″, and (3) this model assumes that everything that falls will stick and hold, not melt, and a looooot of the initial snow is gonna melt on the water it falls on and the ground that's warmer than the air.
The fourth problem with these model maps is that even slight errors in the temp profile can change the precip type from snow to sleet or rain, and that'll make it very difficult for snow to accumulate in the way the model suggests.
Notice how every problem with the model maps result in a decrease of the snow totals. It's one reason weather forecasters google How Do I Become a Realtor.
So now you are armed with knowledge to avoid model map (deception).
ABOUT PRECIP TYPE
One low probability concern is that instead of going from rain to sleet to snow quickly, we go from rain to freezing rain to sleet and then finally to snow slowly, allowing freezing rain for hours, and this is something no one (and I mean no one) wants. On the list of weather catastrophes we have tornado, then flash flood ranked 1-2. Third is ice storm. Ice storm is not a major concern at the moment. But they are classic low probability high impact disasters because ice storms make travel most impossible, and ice accretion on power lines can wreck the power grid.
A quick transition from rain to snow would be much less disruptive, so let's all pull hard for that.
SURFACE TEMPS
Another Big Question has to do with surface temps. HRRR has surface temps above or right at freezing all night Saturday and all day Sunday. We don't dip below freezing until it gets dark Sunday. So then how's it supposed to snow? It'll snow because the temps above the surface should be cold enough for snow.
But once the flakes splat, aren't they going to melt if the ground is wet and above freezing? Yes. It's going to be hard to accumulate snow with those temps . . . unless the models are wrong and it'll actually be colder, OR it snows so hard, so fast that the snow cools the surface below freezing. This is kinda the thinking here. With heavy snowfall rates supercooling a warm surface and forcing it just below freezing to be hospitable to snow accumulation.
This snow event is not the setup we had on the two earlier snows where well-below temps were Not A Problem. It was plenty cold enough for snow to stick. Sunday's storm will have have a surface temp problem to overcome. Which, yeah, it probably will overcome, it should be snowing that hard to permit accumulation.
THE FORECAST MAP (good)
All that said, the forecast from NWS-Nashville, notice this is the forecast and not a model, is for 5″ to 6″, most of it coming down Sunday morning.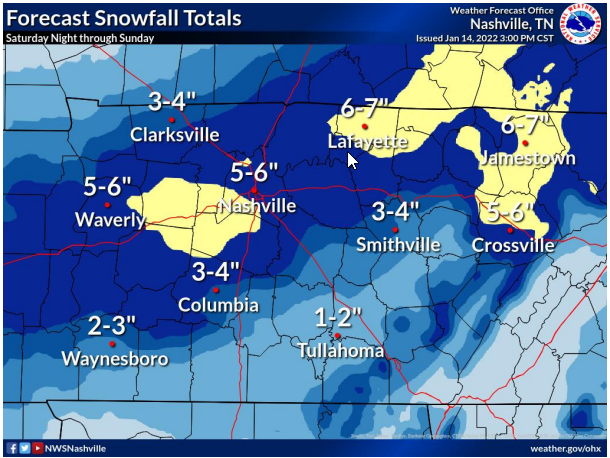 Confidence in us getting snow is a bit higher than it was last night, but these totals may need adjustment; in fact, they probably will be adjusted first thing in the morning. We'll update you then over on the tweeter.
THE MELT
Look for travel problems late Saturday night through the whole day Sunday. Monday we should get above freezing by mid-morning on our way to 41°, which should commence the snowmelt. Back down to freezing Tuesday morning and then a Good Melt of whatever's left Tuesday afternoon, and don't look now (seriously, don't), but there's another potential rain to snow event mid-late next week.
Quick References:
Weather changes constantly.
Follow @NashSevereWx on Twitter for any changes to this forecast.
We are 100% community supported. No ads. No subscription fees. Keep it free for everyone.