Put very scientifically by NWS-Nashville: "Yep, looks like old man winter will be taking another swing at the mid state on Thursday."
Middle Tennessee, in general, can expect this: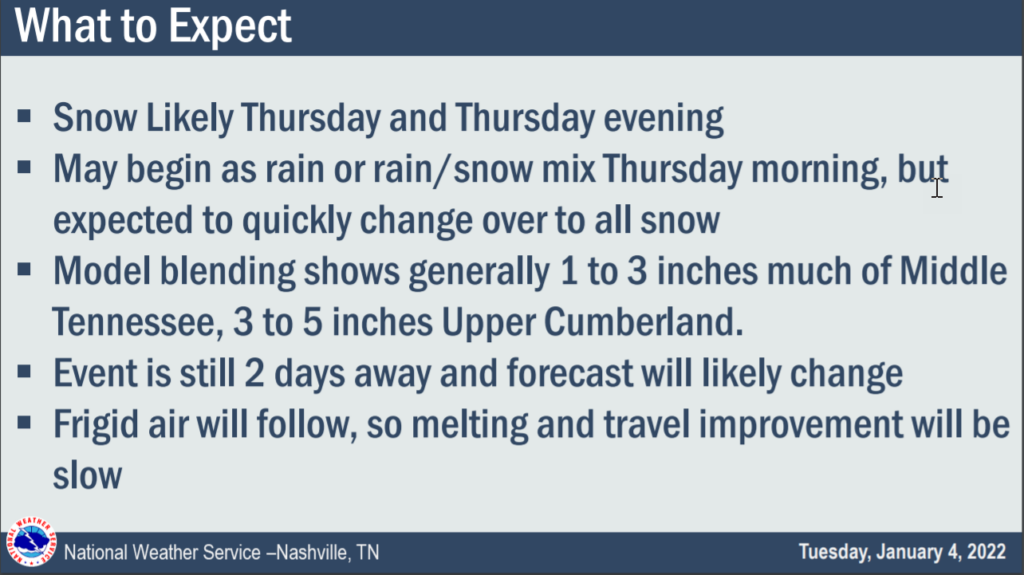 Timing remains iffy right now because we only have the lower resolution global models. Those models are the GFS and Euro. Both show a big blue blob (snow) moving through starting Thursday around 9 AM and lasting into early evening Thursday. Again, timing does not appear at all solid. Remember the above slide that says "Event is still 2 days away and forecast will likely change." We will update you on changes on Twitter and in future blogs, as needed.
TIMING
GFS model has a sunrise to sunset snowfall.
The Euro agrees with sunrise to sunset snowfall.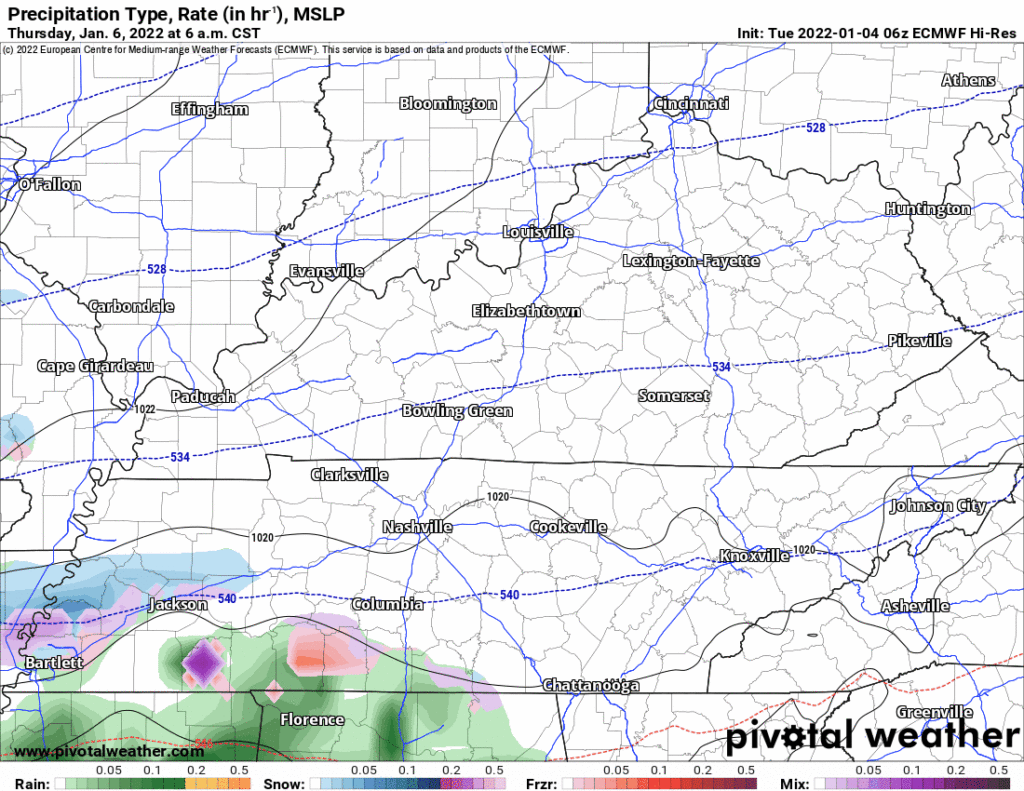 However, the NAM shows a later arrival, with snow beginning Thursday afternoon. NAM is a bit more high res, and I wouldn't bet everything on this. The HRRR will be in range tonight which'll help us with the timing.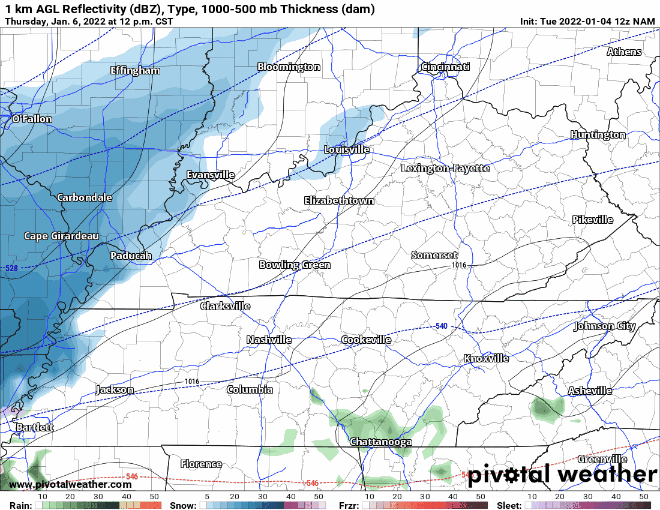 POTENTIAL ACCUMULATION
NWS Blend of Models shows about 2.4 inches for us over the whole event.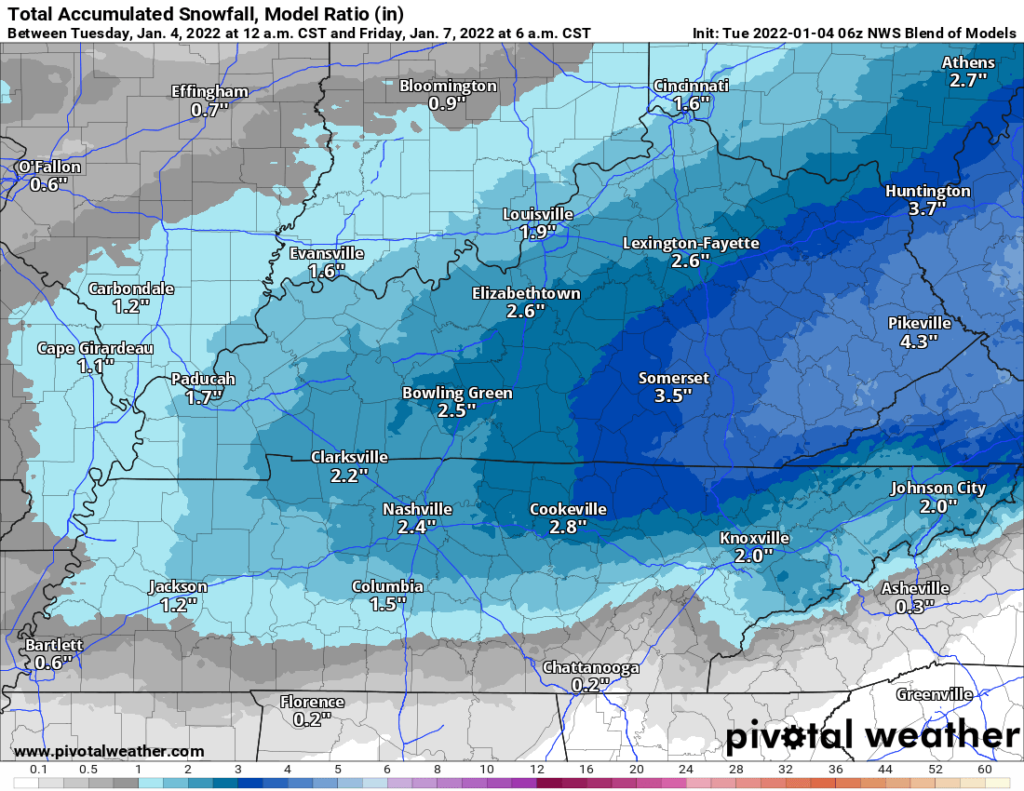 This is from @NWS-Nashville: 2″ to 3″, but don't miss the "expect updates" part of the graphic.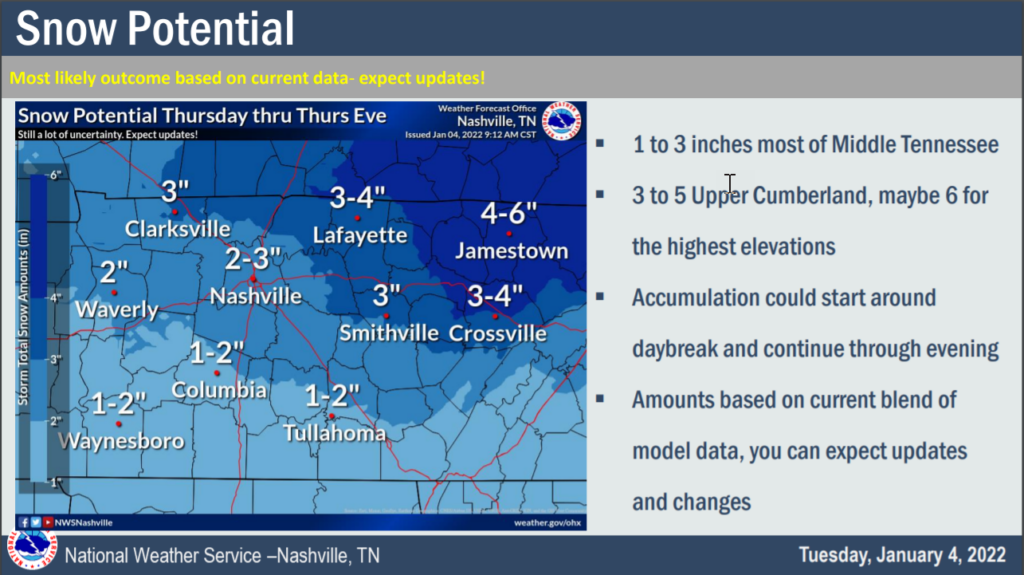 Models show this snow falling onto subfreezing surface temps. Expect travel conditions to deteriorate faster than they did Sunday. Overnight Thursday temps will crash to 12°, and if there is snow cover Thursday night we do not expect we'll get above freezing at all Friday.
Thus travel problems could begin Thursday, remain hazardous all day Friday, and last until Saturday when temps are expected to climb up to 51°.
Here's how this forecast could change:
I really want to see the higher res models which will start coming in tonight. Will tweet those out then.
Quick References:
Weather changes constantly.
Follow @NashSevereWx on Twitter for any changes to this forecast.
We are 100% community supported. No ads. No subscription fees. Keep it free for everyone.