It is 32 at BNA as we publish this blog. Temps won't get out of the 30's today with a high around 39, so expect accellerating melting this afternoon. Although the sun will start to come out still watch out for some ice on the roads especially on bridges, overpasses and area of elevation.
A north wind blowing 12 MPH has driven wind chills into the low/mid 20s. The Euro model below shows wind chill/feels-like temps only getting into the low 30's this afternoon.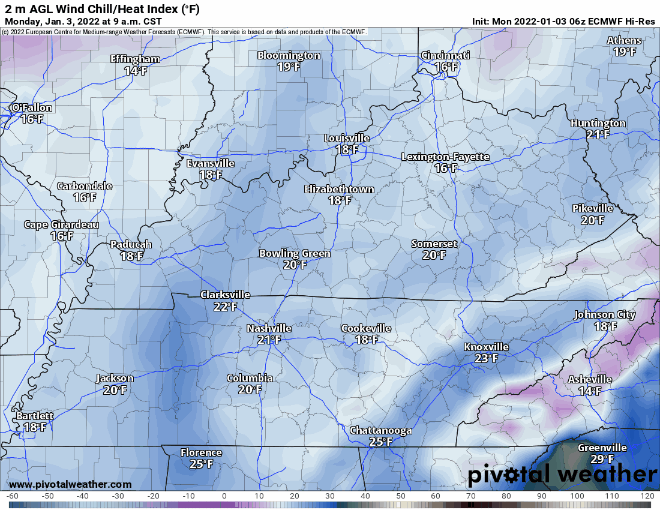 Temps get down to the low 20's tonight with wind chill values in the teens. With this hard freeze make sure to protect all of the P's ie. plants, pets, and pipes!
Any moisture on the roads will refreeze with tonight's temps. Keep an eye out for icy road conditions overnight into tomorrow morning. Not expecting widespread issues considering ongoing melting and winds doing a decent job drying out moisture. All roads are different, so your experience may vary.
Temps and sunshine increase until hump day. Tuesday temps almost get out of the 40's and lows cap off in the 50's for Wednesday.
So You've Seen Another Snow Icon on Your Weather App…
A low pressure system sweeps by our area Thursday. Euro predicts mixed precip from mid morning to mid afternoon.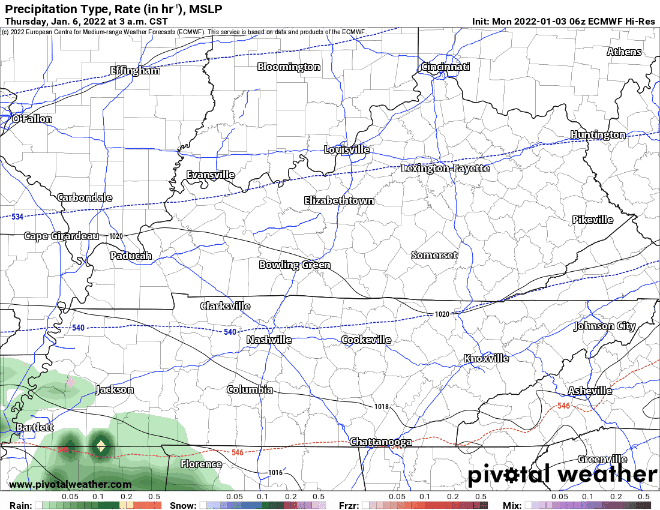 GFS thinks this system goes further south giving us a dusting.
Accumulation forecasts are meaningless right now with the GFS/Euro different with track and timing. Sincere uncertainty lingers about how much moisture we will get and the temp profiles the moisture will fall through. A nighttime arrival increases snow chances, daytime decreases them. NWS-Nashville specifically questioned how much moisture will be there. Further complicating things is the lack of higher resolution regional model data, which is not yet in range.
Stay tuned for model updates for some "clarity!"
Editor's Note: I broke the blog footer during one of our 700 blogs this weekend. New one coming soon. So for now: