Snow is coming.
The latest HRRR model run delivers snow earlier than the earlier 4-6 PM timeline. It thinks the wintry stuff could be here as early as 1 or 2 PM. See below: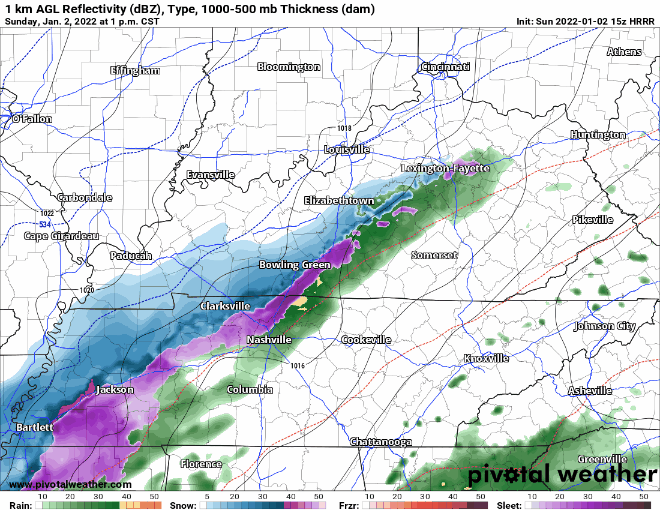 Expect the first hour or so of snow to melt on contact. The ground is very warm. But heavy snowfall rates should supercool everything, and eventually allow for the snow to stick to all surfaces. NWS-Nashville increased snow totals.
They wrote this in their 11 AM discussion:
WILL LIKELY SEE A SLOW CHANGEOVER THIS AFTERNOON WEST, BECOME ALL SNOW THIS EVENING. SNOW AMOUNT FORECAST VARIES GREATLY. SEVERAL MODELS SHOWING VERY HIGH BULLSEYES HERE AND THERE BUT CURRENTLY THINKING IS MOST AREAS WEST OF THE PLATEAU 1-2 INCHES, 2-3 INCHES ON THE PLATEAU. THESE AMOUNTS ARE LIKELY ON GRASSY, EXPOSED SURFACES. ROADS QUITE WARM AND MUCH WILL MELT WHILE FALLING. ELEVATED SURFACES MAY BECOME SLICK TONIGHT, AND FOR THE MORNING COMMUTE. THUS UPPED AMOUNTS JUST SLIGHTLY FOR TODAY
Now 1″ to 2″ for us, up from less than an inch earlier today.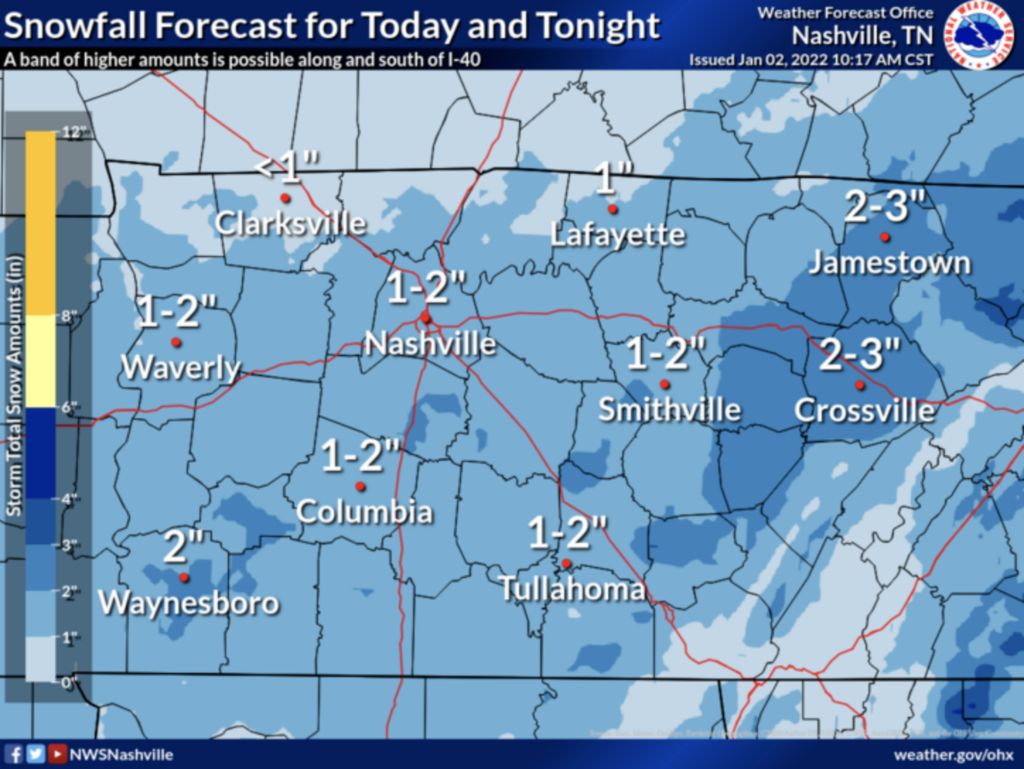 Remember that bridges and overpasses will be the first road surfaces to become slippery.
There is no way to know exactly when specific roads, runways, interstates, etc. will become slippery because our transport grid runs at varying elevations and temps and are subject to different physical properties that determine when and whether ice can form. Our local temps can vary by several degrees.
Expecting temps near freezing at BNA closer to midnight, but BNA usually runs hot so expect the potential for travel impacts to begin before midnight. The later we get in the day, the higher the risk of slippery roads. By/Before midnight, everyone should be below freezing and by early Monday morning we'll be in the mid 20°s at which time anything still wet will freeze.
Snowfall total predictions have increased since earlier this morning. NWS thinks we could see anywhere from 1 – 2″. This will make traveling not so fun, especially for first time snow drivers. Use caution and maybe avoid totally if possible. The freezing temps Monday morning mentioned before will allow snow and slick conditions to hang around in the AM.
Snowfall totals depend on many things, most of all they depend on the track of the upper level low that'll be passing to our southeast. This thing: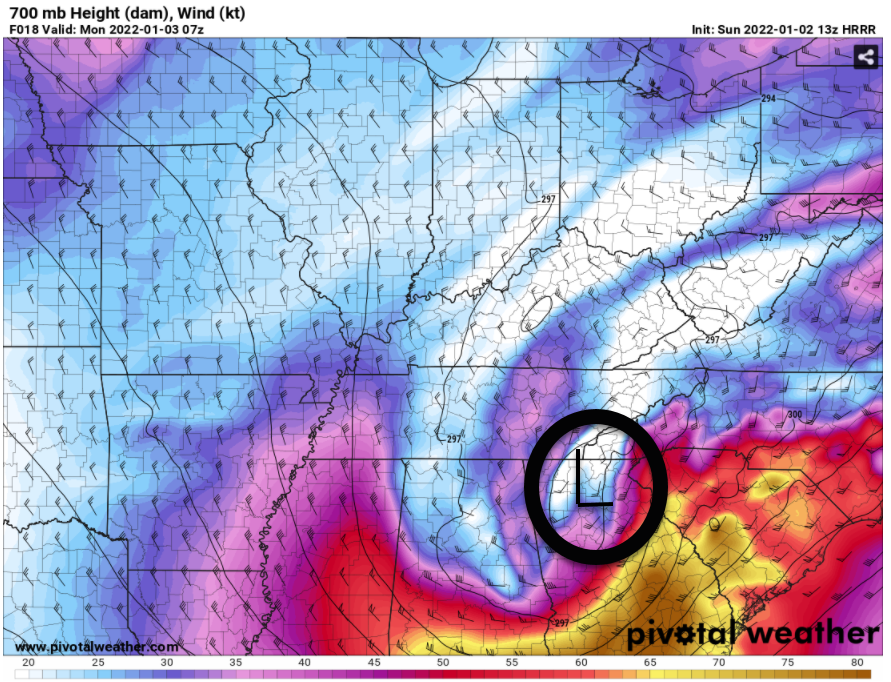 Gusty winds will also help dry roads. That'll come with a cost: wind chills in the teens Monday morning.
All this adds up to the Winter Weather Advisory in effect from 3 PM Sunday to 3 AM Monday.
More through the day, night, and overnight can be found on our Twitter.