This morning we'll be seeing some scattered showers around the area, which should clear out before lunch time.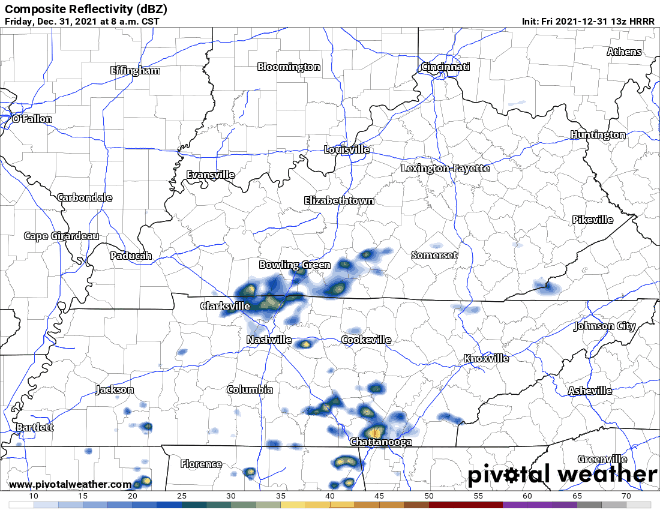 Later into this evening, some heavier storms will make their way through. The HRRR currently has the rain moving in around 8pm and sticking around through that New Years toast. This unfortunately means outdoor parties are a no-go. Probably going to be hard to shoot fireworks in the pouring rain.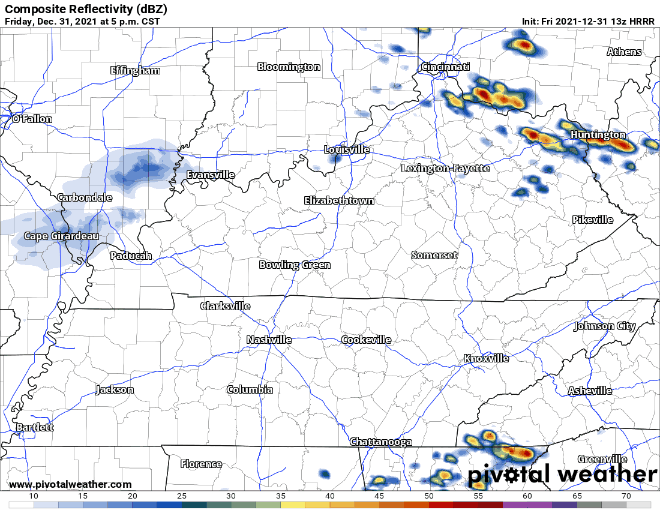 These storms will hang around until early morning when the heavier stuff pushes north, leaving us with some scattered rain.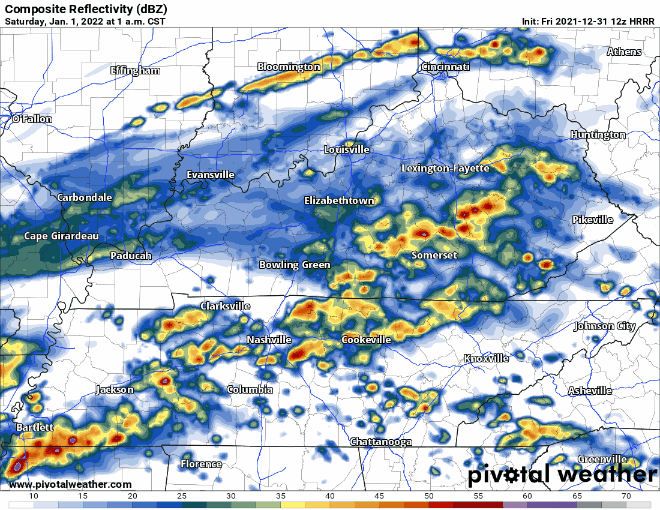 Okay so what does the SPC think? We currently have a 5% chance of seeing a tornado within 25 miles of us. The percentage for large hail is at 5%, damaging winds at 15%.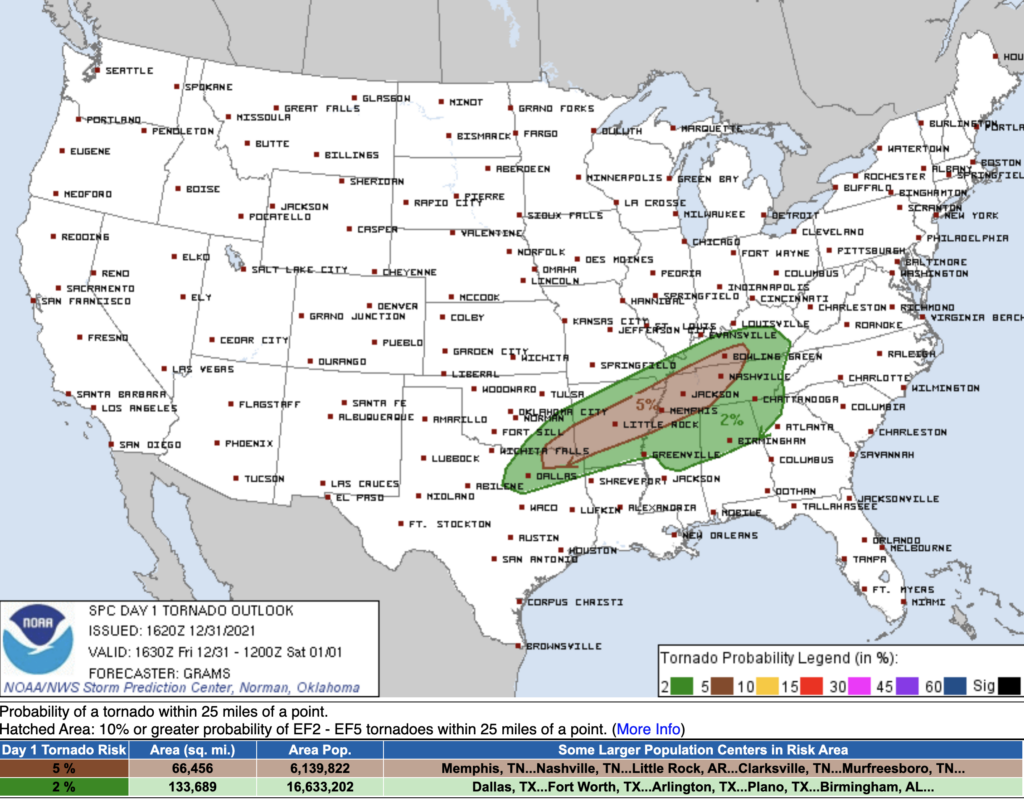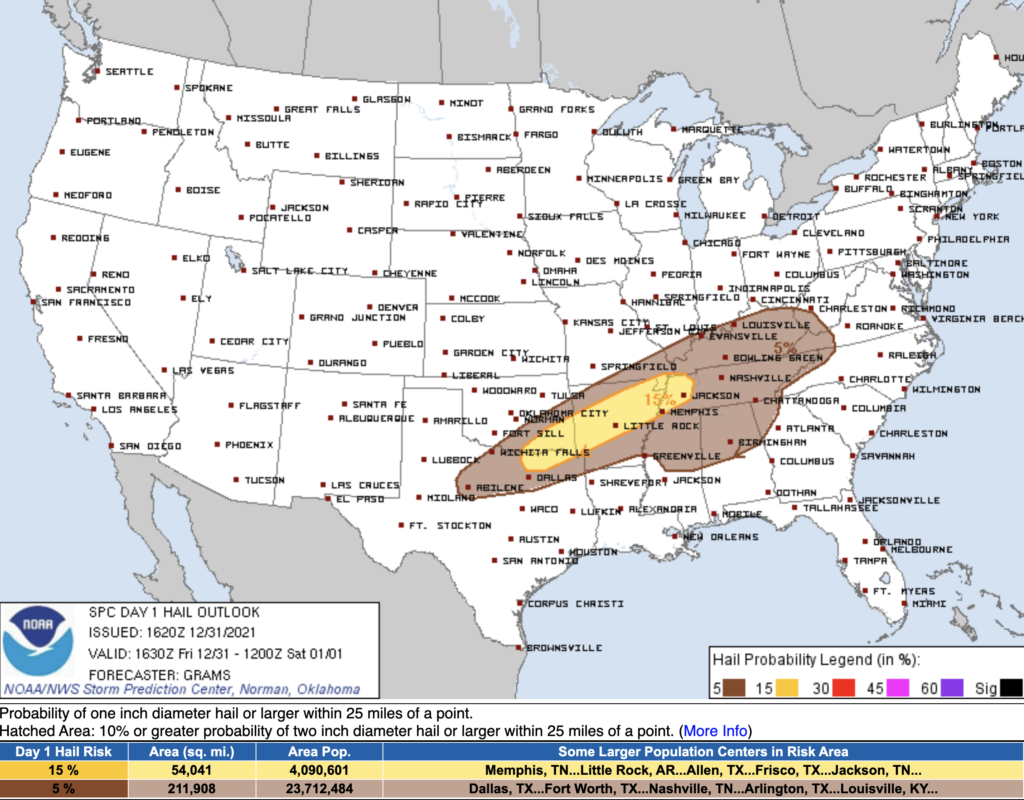 Our local NWS Office agrees with SPC:
The main focus for the first round of severe potential overnight tonight will be damaging wind gusts, but enough low level shear and helicity will be in place for a tornado threat as well.

NWS-Nashville AFD Update
About the rain….it could be a lot. Again, NWS:
Also, models have been coming in showing more moisture tonight, with PWAT values climbing to near 1.5 inches in the north by 03Z tonight through the day Saturday. A Flood Watch may be needed for areas along and north of I-40 in the northwest, and will assess further with additional 12Z model guidance coming in this morning.

NWS-Nashville AFD Update
They're saying that the atmosphere will be full of water and ready to pour. Turn around, don't drown if you're out tonight. Flooded roadways are a no-go.
Davidson County is now under a Flood Watch until Saturday evening due to this possibility.
Saturday
That tornado and severe storm risk goes up Saturday when our instability rises. Our tornado outlook increases to a 10% chance of seeing a tornado within 25 miles of you, and we are in the hatched area, meaning there is a 10% chance of seeing a EF2 or stronger tornado within that area. More on that hatch below. Damaging Wind chances are 30% within 25 miles of you and large hail is 15%.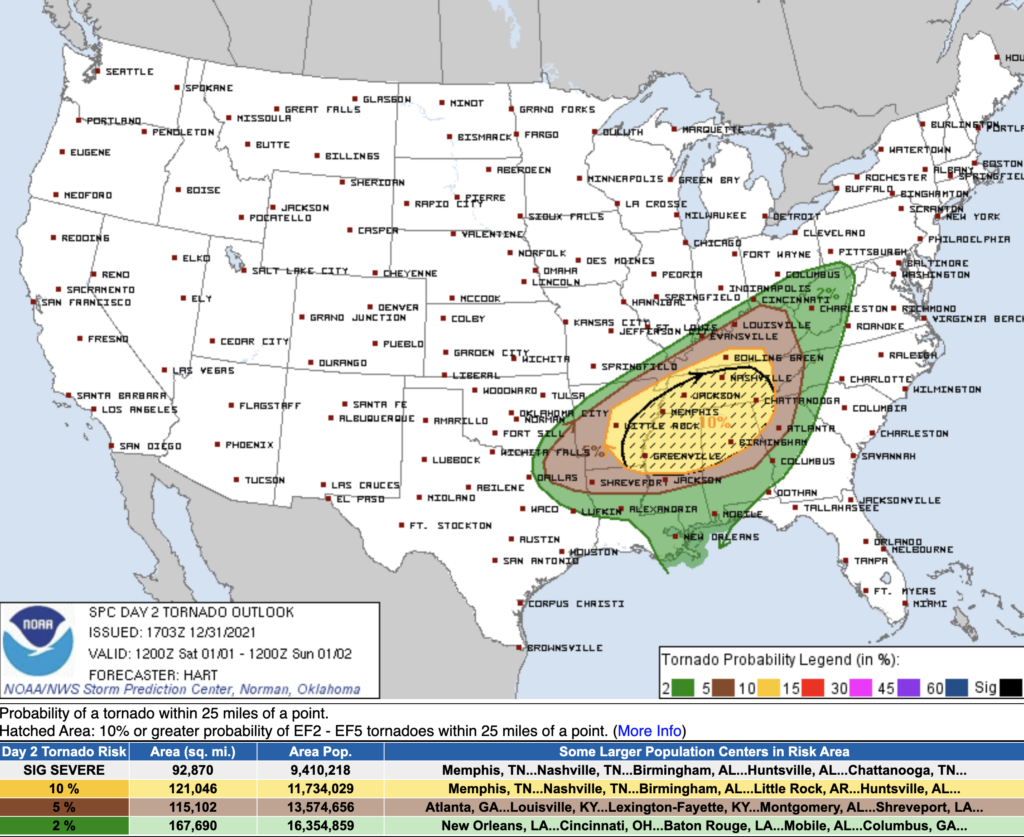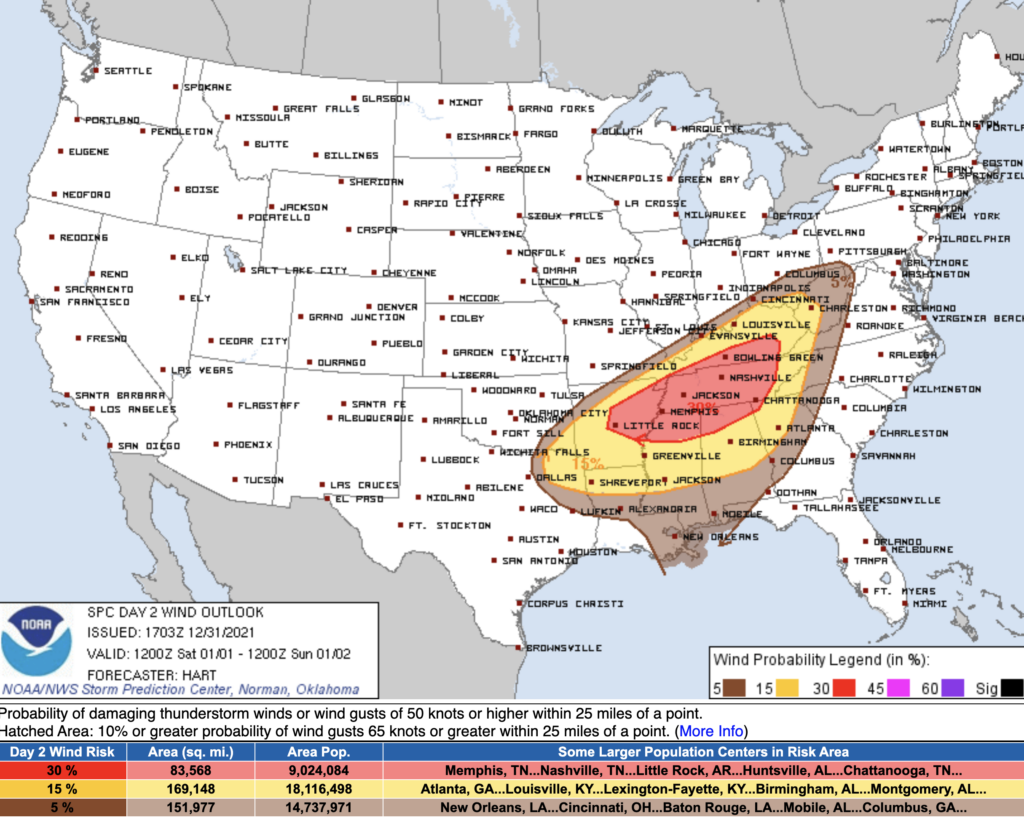 The HRRR currently has this system moving in around 4pm, but this timing can change. While nothing is guaranteed, it's never a bad idea to be prepared. Now would be a good time to have a plan in place with your family in case a tornado warning is issued for our counties.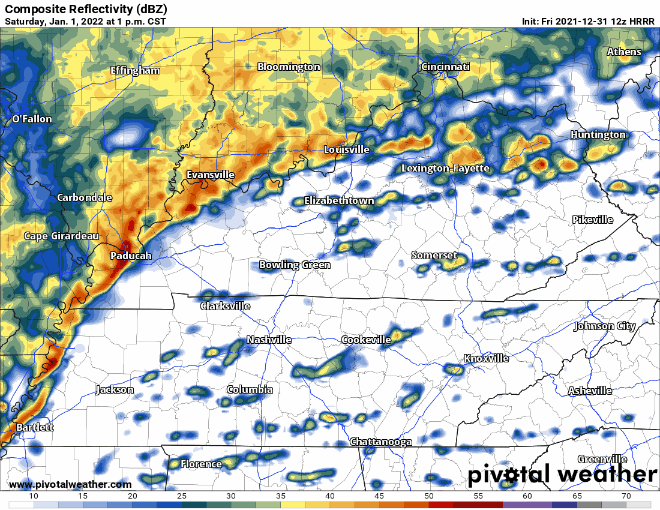 What could change? There have been some indications that supercells could develop ahead of the main line. If this happens, they could quickly become severe and be tornadoey. Hence, SPC's hatching up the outlook above (their way of graphically showing that stronger tornadoes are possible). However, this is not guaranteed, and data is not conclusive. If we had to choose between supercell or QLCS (squall line) tornadoes….man this doesn't feel right comparing….we wouldn't want the supercell ones. Future data may help determine what to expect.
SPC acknowledges that our threat for severe weather is "conditional," meaning there are things that could limit storm severity, like say, a cap. SPC:
Surface dewpoints near 70F will yield afternoon MLCAPE values around 1000 J/kg and a very favorable conditional environment for supercell tornadoes. However, a consensus of model guidance is also quite insistent that a warm nose around 700-800mb will be maintained through much of the day. This will limit the number of storms that form, and may limit the updraft strength of those that do.

SPC Day 2 discussion
We want this warm nose. It's a cap, a lid if you will. It will hold supercells at bay if this cap exists. If this cap holds, our threat for tornadoes decreases.
How to Prepare: Now is the time to prepare your safe place. This is far from a moment to panic. It's just a time to prepare your safe spot and your severe weather plan should a warning be issued for where you are. Know where you are on a map at all times. More info here about What To Do and tips for handling storm anxiety.
Sunday
To go from one season to the next in a weekend, you might have noticed a snowflake on your weather app. Nothing to get too excited about. The ground is too warm for anything to stick around, but it might be enough coming down for you to take a picture out of your window and say "hey it's snowing!" More on this when we get closer.