This is a complicated forecast that we make easy lol. Let me start off saying we're relying on the HRRR model. I point this out because there are so many Somewhat Different Ideas from other weather models about Friday and Saturday. Were we to talk about all those that would make this weather briefing more annoying than it already is. I say that to ask you to please check back in the morning because timing and hazards may change, and I think the data might give you a clearer picture of what'll be incoming. Saturday looks worse than Friday, generally speaking. I'm hoping this will at least help you plan your weekend.
Friday morning/lunch, storms may swing through, but they should lack surface based instability so not worried about them:
Rest of the daylight should be fine. Ironically, HRRR thinks Friday afternoon's atmosphere appears capable of supporting a tornado, but it doesn't think storms will form. This will have to be watched.
Friday night the HRRR model thinks rain will begin 8 PM or so, then downpouring off and on to midnight. 8 PM to 1 AM shown below: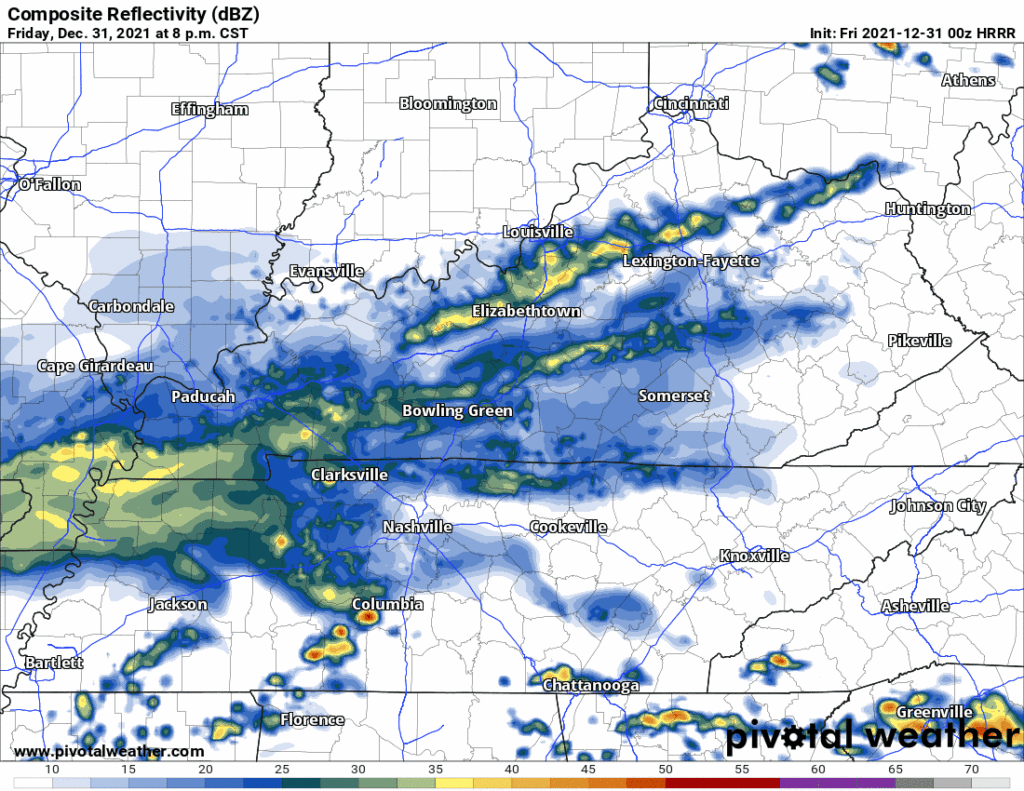 This is a party-wrecking rain.
After 1 AM, the storms congeal into a line and lift north into Kentucky. Rainfall rates should be heavy.
Then this event ends before sunrise Saturday (and we get ready for round 2, more on that below).
About these Friday – Overnight Friday (NYE) storms, some points:
One, there's a 5% probability of a tornado within 25 miles of you Friday, Friday afternoon, Friday evening, into predawn hours Saturday. The below outlook was issued before the new HRRR model came out, and that HRRR model run is a bit comforting because it shows very little surface based instability to make tornadoes overnight. I don't put too much stock into that, except to say this new HRRR will be considered with all the other arriving New Information that'll influence SPC and NWS-Nashville forecast updates for the morning. So I don't think we are really anywhere close to best understanding timing or tornado risks. I think we'll have a better idea of it in the morning.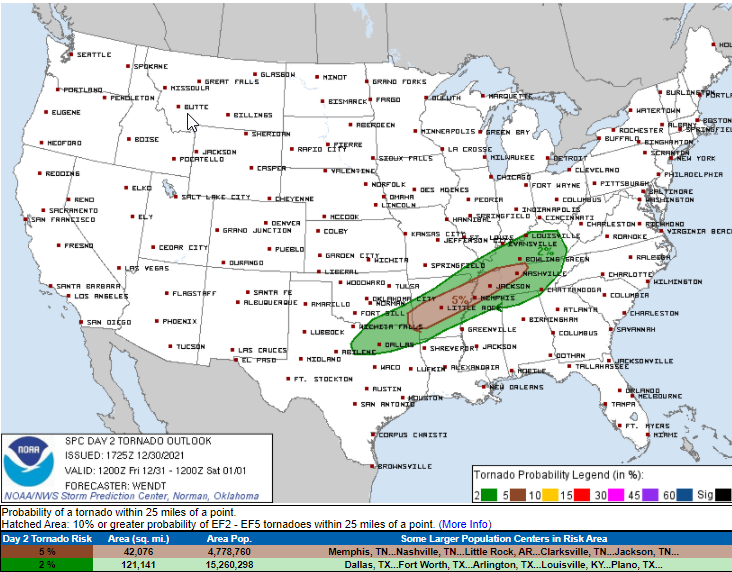 Two, outdoor NYE parties will likely washout. Even if no tornado, expect heavy rain. Already a Flood Watch has been issued in Kentucky and one may be needed for those just northwest of us. Damaging straight line nontornado winds are possible. So is hail. None of these hazards are likely, but the rain is a safe bet (tho not guaranteed). If the HRRR is right, look for a drenching rain, you won't want to be out in it before or after midnight, no matter how responsibly intoxicated you're planning to get. If you're looking to drive west, say, in to Kentucky or NE Arkansas, tomorrow night: hard pass. Just say no.
`SATURDAY
A few storms may fly by in the morning but those don't look to be bad.
The main concern is late Saturday afternoon/early evening.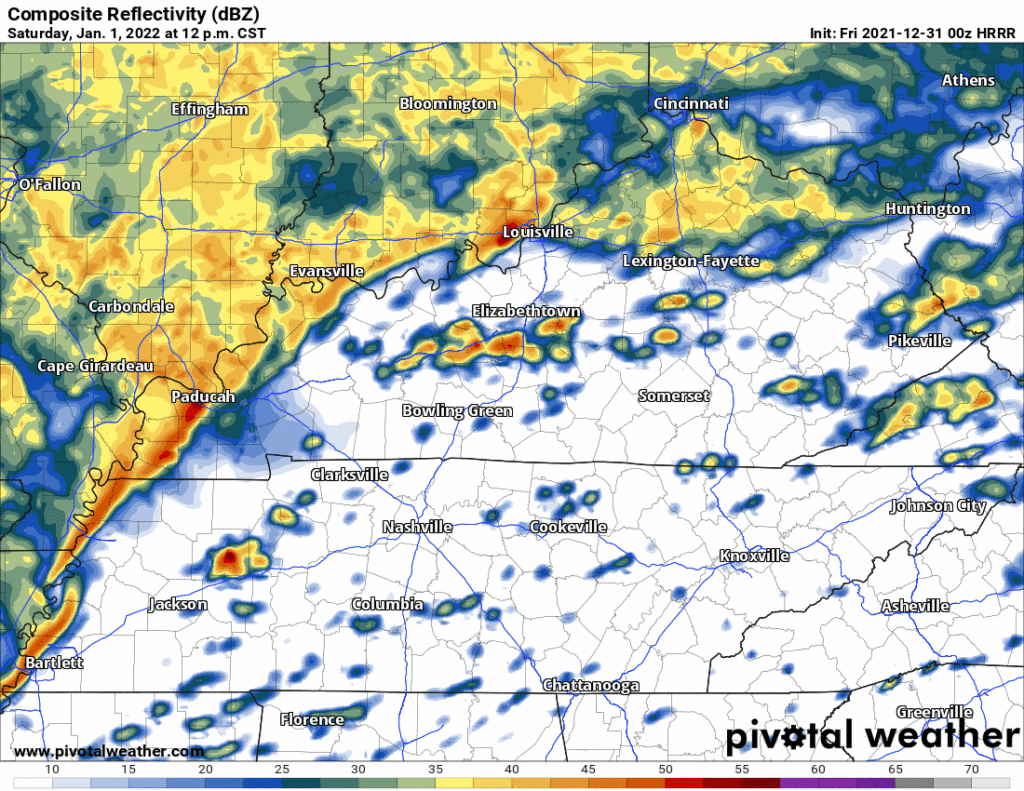 At that time, our atmosphere appears to be somewhat supportive of rotating/tornadocapable storms inside the line. Below is the HRRR run of the Significant Tornado Parameter, which suggests a low-end tornadosupportive atmosphere.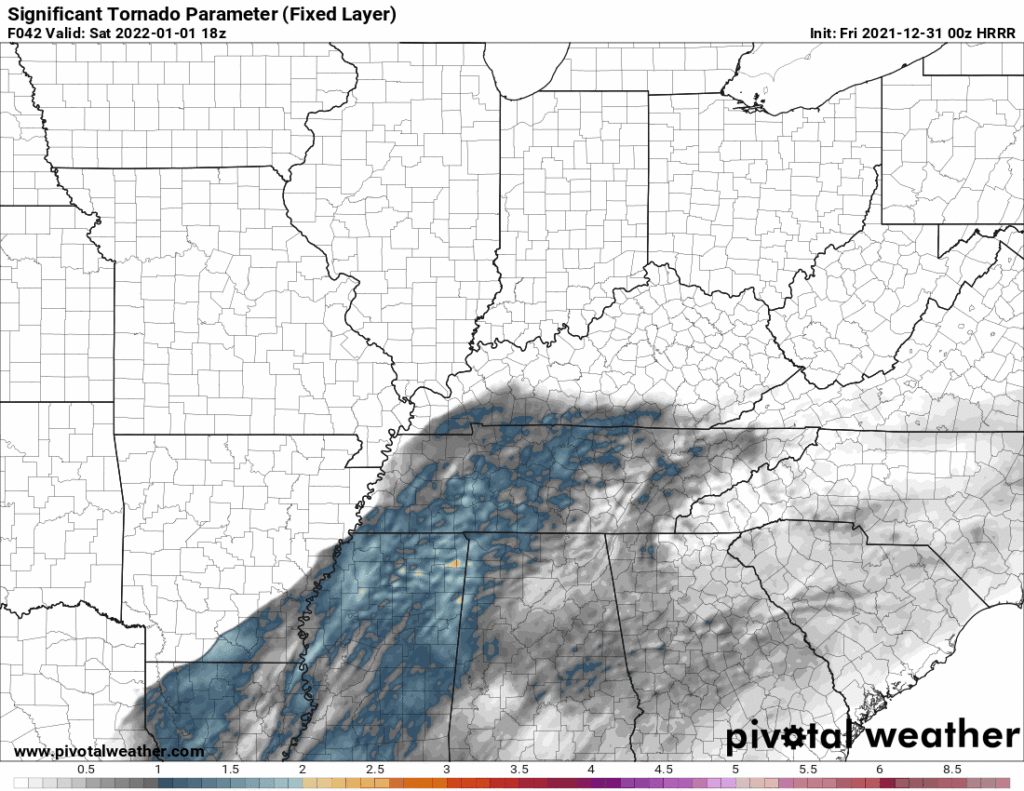 You might notice those yellows and oranges in northern Alabama. We don't want those, no one wants those. NWS-Nashville explained today that
IF THE LOW TAKES A MORE NORTHERLY TRACK, WE COULD SEE GREATER INSTABILITY AND HAVE POTENTIAL FOR SOME VERY ROBUST ROTATING STORMS WITH TORNADO POTENTIAL. IF THE LOW TAKES A MORE SOUTHERLY TRACK, WE COULD STILL HAVE SOME SEVERE STORMS, BUT FLASH FLOODING COULD BECOME A GREATER THREAT.

NWS-Nashville, Area Forecast Discussion 12/30/21
Meaning, if the parent low pressure center that'll be passing to our north moves more north, we'll have more of a tornado worry. If it goes south, man, we may get soaked and start getting concerned about flooding.
Again, I think this forecast will need sharpening.
SUNDAY
You probably have snowflakes on your app, here's why.
The Euro:
The GFS: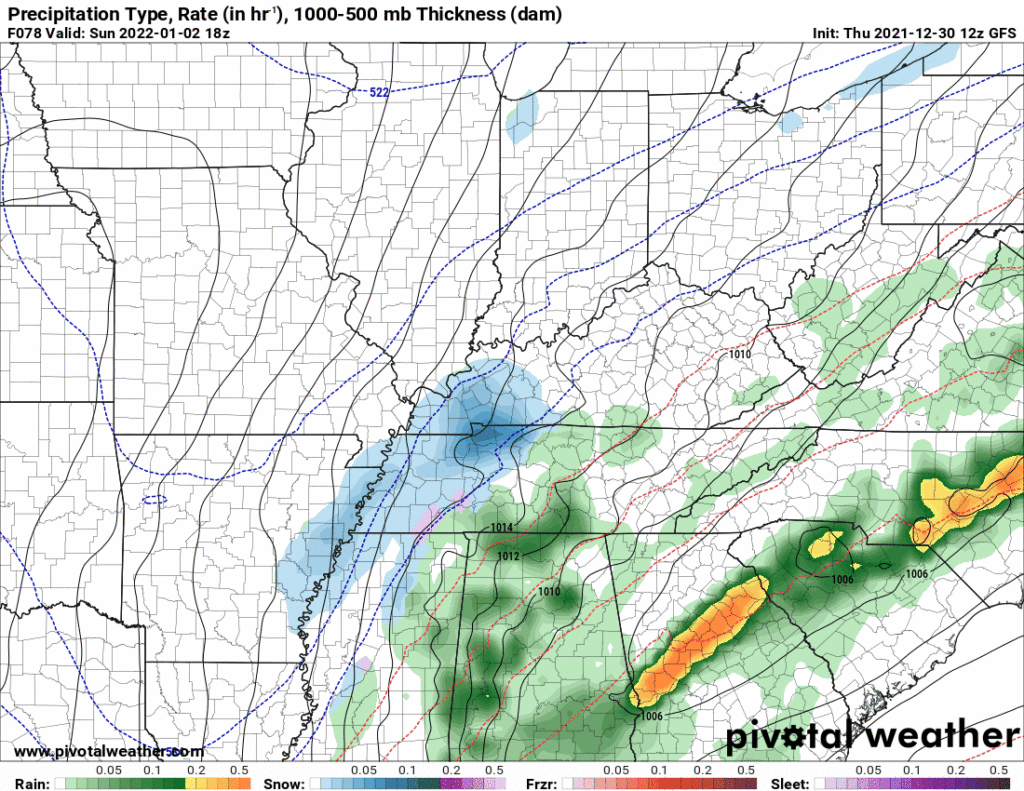 I'm betting this will change more than a few times with each model run.
Don't get excited.
A BRIEF DUSTING ON THE GRASS CANNOT BE RULED OUT FOR THE PLATEAU, BUT MOST OF US WILL HAVE NO ACCUMULATION, EVEN THOUGH SOME BIG, PRETTY FLAKES MAY BE FALLING AT TIMES. TEMPS WILL BE QUITE SHOCKING, ESPECIALLY BY MONDAY MORNING AS LOWS PLUMMET INTO THE UPPER TEENS AND LOWER 20S.

NWS-Nashville, Area Forecast Discussion 12/30/21
Keep in mind the ground is Very Warm leaving a grim melty fate for any brave flakes.
But the cold! The Wind Chillzzzzzz! Wind Chill Euro model below.
This delays the coldest wind chills by a few hours Sunday. Yesterday the model had 22° wind chills at kickoff, now it's delaying those chills until after the game. Still, it will get colder as the day goes on. The high temp is likely to be set at 1201 AM January 2.