No rain for us today. We got that out of our system yesterday. There is plenty more on the way though. Let's talk about that.
New Year's Eve looks dry for the most part, until we get to the evening. This is probably preferred on any day of the year except NYE. The weather wants to party, too.
HRRR has showers and storms getting to us around 10 PM and hanging around into the early hours of Saturday. The rain looks like it slowly moves north, so we could see a break from it in the morning. See below: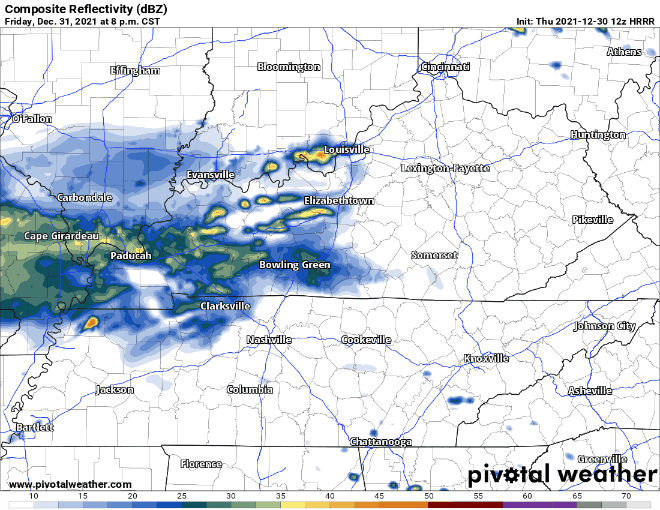 The million dollar question is will these storms be severe? The answer is severe weather is possible. The SPC has us on the fringe of where they think the best chance for severe weather will occur. See below: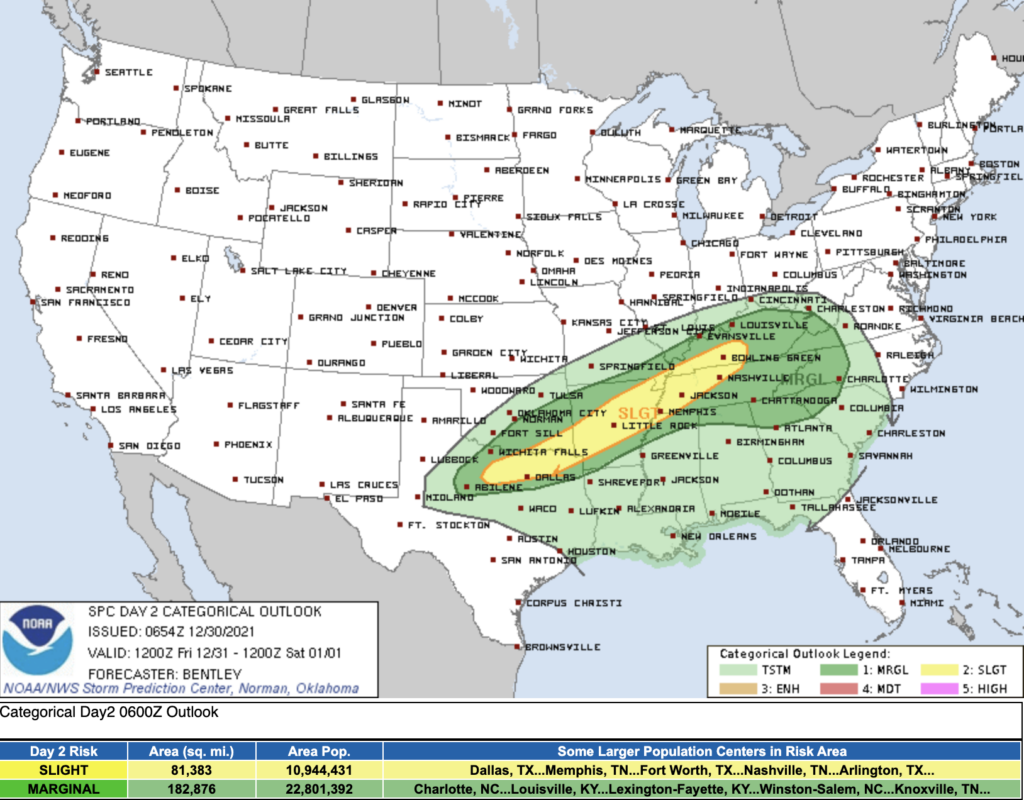 Severe hazards ranging from tornadoes, damaging winds, and hail are a potential risk. SPC thinks the chances for these hazards within 25 miles of you are 5%, 15%, and 15% respectively.
Don't let this send you into a panic for NYE. Be weather aware and have a plan just in case.
2021 is over so severe weather is too… right?
Not so fast. 2022 will start off with the another chance of severe weather. The SPC outlook below indicates there is a 15% chance of severe weather within 25 miles of you Saturday. The percentage breakdown of tornado, damaging winds, and hail isn't available yet, so this graphic says there is a 15% chance of at least 1 of those happening, not all 3.
CAPE values (storm fuel) for this event don't look too high. Shear values are more impressive. This could lead to a storm rotating and producing a brief tornado. Damaging straight line winds and gusts are more likely.
The line of storms that will be responsible for this event arrives early evening Saturday. The Euro and GFS agree on timing. See below: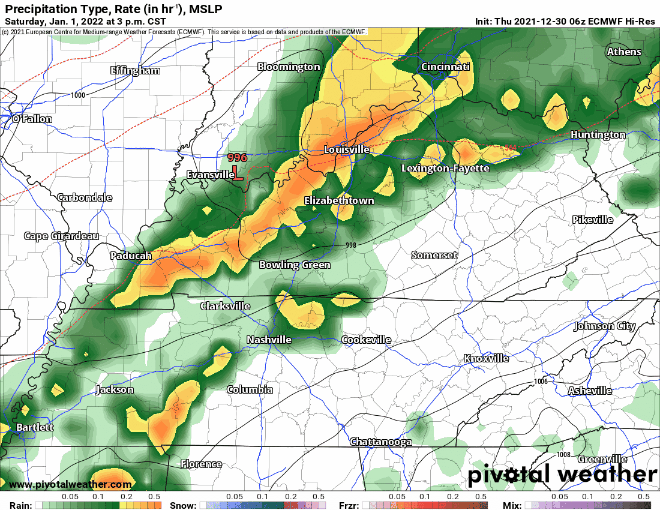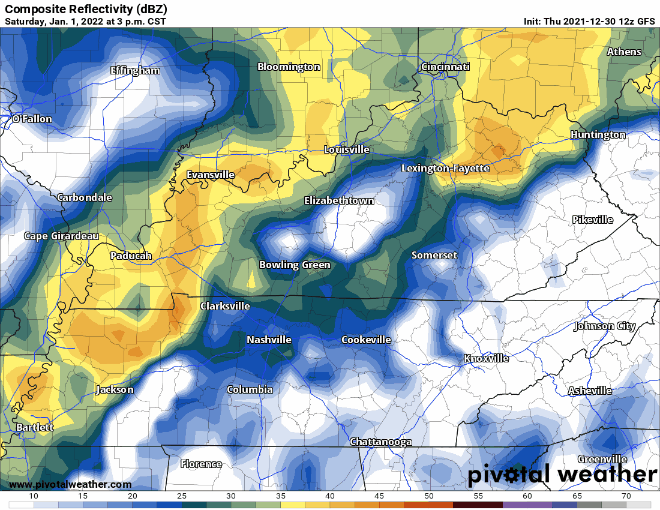 Between Friday and Saturday's events, Saturday looks like it would pack a bigger punch. Best advice is have a way to receive warnings both days, especially if you have holiday plans.
Besides the severe threat, Saturday's event is going to bring a lot of rain. The SPC graphic below indicates a 10%-20% chance of flash flooding within 25 miles of you.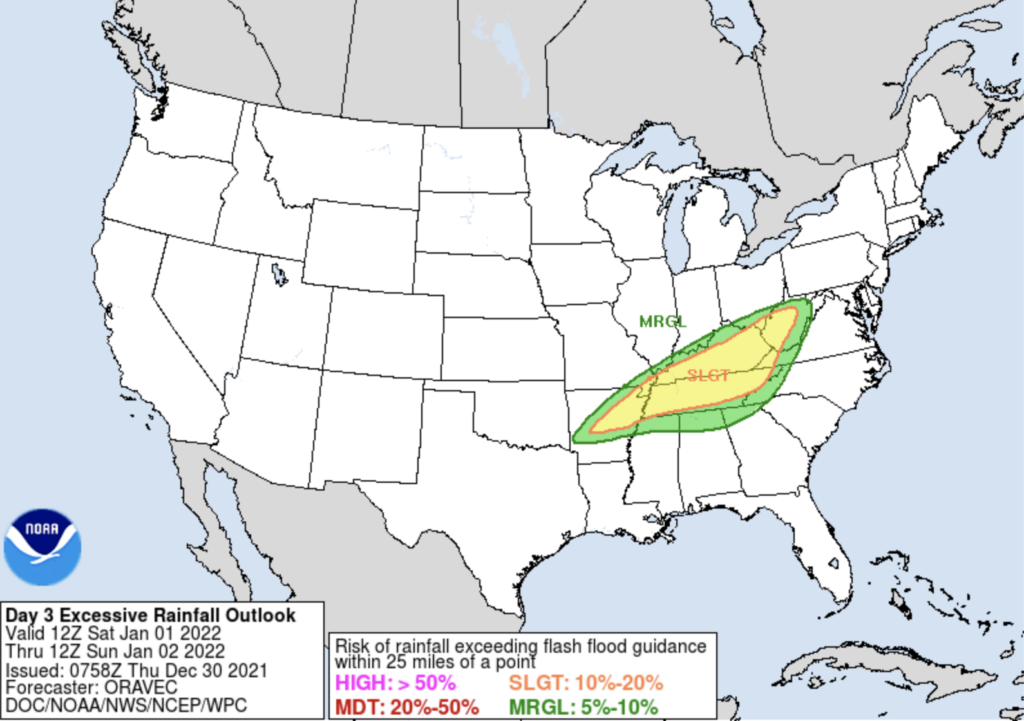 Models had previously estimated up to 3 inches of rain by Sunday. This number has back down a bit to around 1.5 – 2 inches. Confidence on this number will increase as we get closer.
Severe threats have passed, now what?
Colder temps are back. Cold air behind the gross weather will fill in and temps get back into the 30's on Sunday.
There is a chance for light snow Sunday afternoon. Nothing crazy, but you could see some flurries. Hard 180° from last week's weather.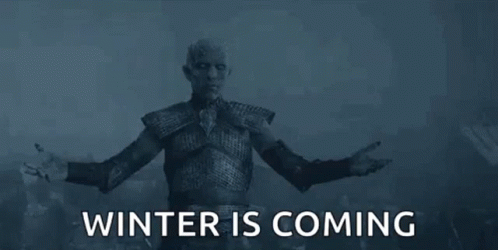 We'll keep you updated on the severe threats over this holiday weekend!