SPC places a greater severe weather chance south of I-40. The majority of our counties are still included in the slight risk category for today's severe thunderstorms.
The main threat is damaging straight line winds (60+ mph) with a 5% chance of damaging winds/gusts within 25 miles of you. A tornado can't be ruled out in this situation with a 5% probability of a tornado within 25 miles of you. Small hail is possible with a 5% chance of hail with a diameter of 1 inch or greater within 25 miles of you.
Rainfall totals for today range from 1-2″ so localized flooding is possible but a widespread issue is not a concern as of now.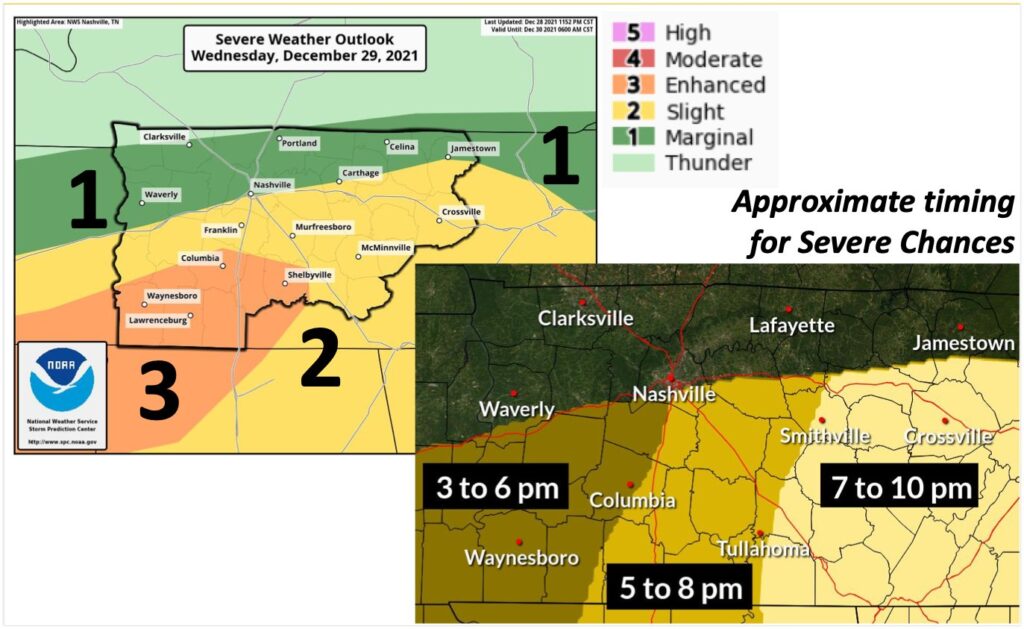 HRRR below has spotty showers present this morning up until the main event. The warm front in this system moves northeastward up until that I-40 boundary bringing in warm, unstable air. As we wrote last night, the location of that warm front will be key. Those north of the warm front should be fine. Those south may not be. Exactly where that front sets up is not entirely known, so just know severe weather ingredients are there but may not reach into our counties. NWS states in today's discussion that the severe weather potential is greatest south of I-40 from 3-10pm. The thinking is that the warm front probably won't go north of I-40; in fact it may not even make it into Will Co.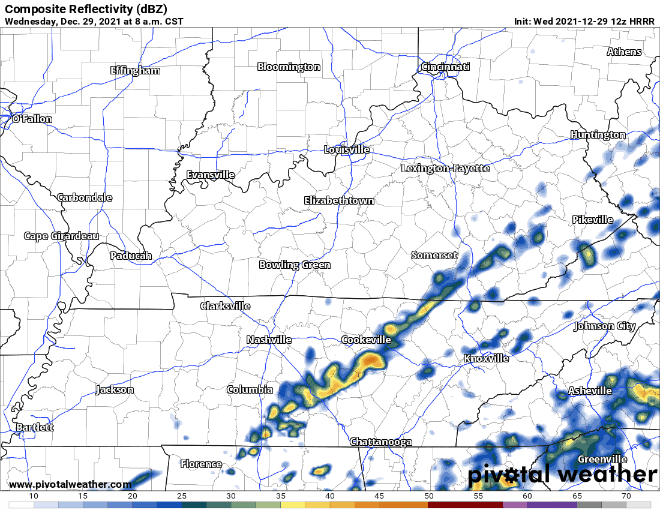 During this time (especially when it gets dark) stay weather aware, up to date through our twitter, and have multiple ways to get alerts. Use this handy dandy blog to refresh your weather ready knowledge ie. watch vs. warning, where to shelter, and what weather alert app to use!
Thursday is like the odd man out or the "rest day" in this blog. Not much is happening here. Dry, some clouds, and temps getting up to 70 with overnight lows not really that low in the mid 50's.
Ending The Year With A Bang
As for New Years Eve, our area has a slight chance for severe weather. This means a 15% chance of severe weather within 25 miles of you. The main threat with these storms are going to be those straight line winds that can be 60+ mph. With the ground already saturated from previous events, localized flooding is a possibility. Keep an eye out for this if you live in an urban or low-lying area. Small hail and isolated tornadoes can't be ruled out.
Euro model below has some sprinkles throughout the day Friday. Storms ramp up in the later afternoon on Friday and then kinda disappear for the night. GFS disagrees and has the heavier storms staying in our area Friday night into Saturday morning. Will your outdoor plans stick for NYE? Models are not in agreement as of right now, check back for when they update.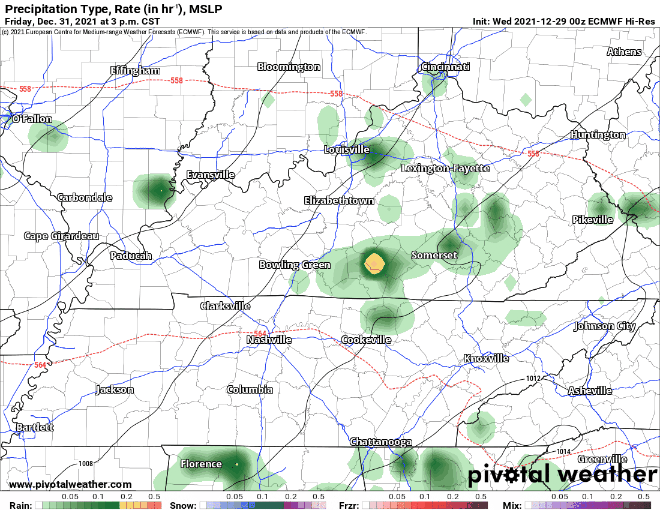 Then, yet another potential event, this one on New Years Day with a 1`5% chance of severe thunderstorms within 25 miles of you. Euro and GFS have these thunderstorms out of our area by mid-late afternoon.
After this we get REAL cold and it'll finally feel like winter time. GFS thinks we're going to get the "s word" Sunday afternoon but Euro says no way. It's way too early to tell so no need to clear the shelves of bread, batteries and milk. Just know there will be some moisture lingering into Sunday.