Our local National Weather Service office has completed surveys in Davidson County following the storms early Saturday morning. See the map below for the survey results on the four tornadoes that impacted parts of Davidson County Saturday morning.
Rain rolls in today around early afternoon time. Some may get some sprinkles before then. The showers today could include a thunderstorm or two. Don't worry severe weather is not expected to tag along with any of the storms today.
The flash flooding risk is low today. The Weather Prediction Center still has our area in a marginal risk for flash flooding. This means a 5-10% chance of flash flooding within a 25 mile radius at any point within our counties. We will monitor this today and keep you updated on our twitter.
The rain will get lighter as we head into the overnight hours. Scattered showers continue into Friday morning. The heaviest rain for tomorrow comes around mid morning. HRRR has the ETA around 9am. Showers become more scattered around lunch time and move northward out of our area right after dinner time. The models show overnight Friday – Saturday looking like our one break from the rain.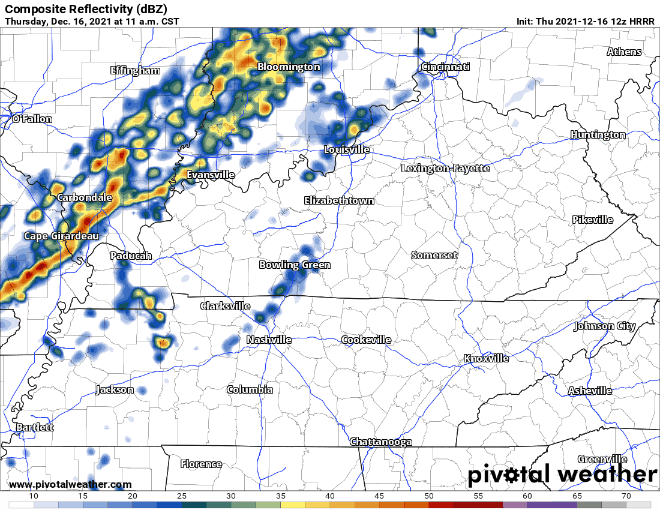 As for your Saturday, Euro model below shows most of the rain in the first half of the day. Remember this model is a bit more smoothed over than our lovely HRRR. Those light green areas look to be lighter showers in the afternoon ending after dinner time.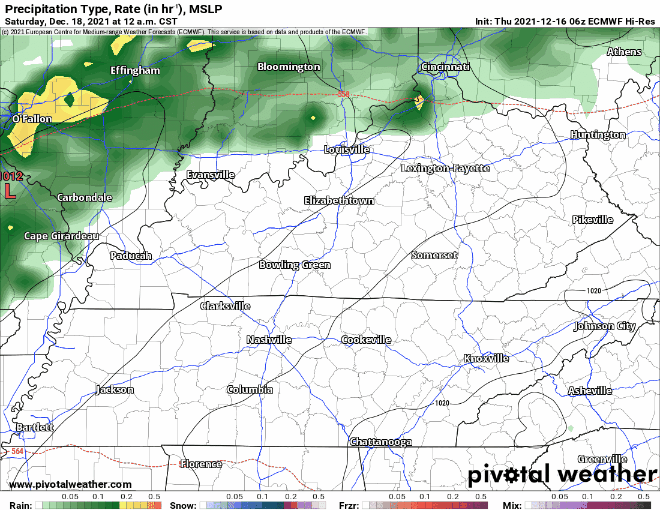 After a wet start to the weekend the sun comes back and is back to stay. The start of the week is back to normal temps for this time of year. High's average in the low 50's for the first half of the week. Low's dance around the freezing mark just in time for Christmas week!