We're writing this at 5 AM, with the leading edge of the storm out of Davidson and Williamson Counties, and along with it, the damaging straight line wind and tornado danger. Heavy rain will continue in S/SE Will Co, but that should remain below flash flood levels. Lightning will continue, too.
As the sun rises things will improve.
By mid morning, the actual cold front will show up. This may be accompanied by gusty winds and rain, but all the instability has been used up already, so this should be inconsequential, or even a non event.
Temperatures will take a nosedive in the late morning due to the "FROPA" (frontal passage). All the cold air that was behind these storms will move into our region, causing it to feel like December again. Here's a visual of what this looks like: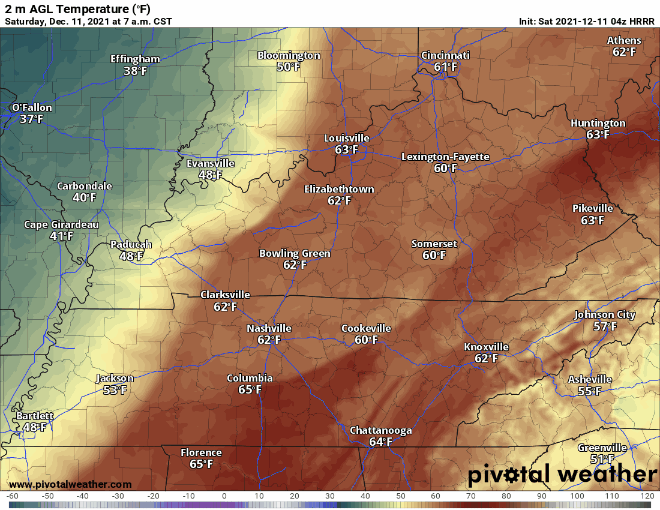 No severe weather, storms, or rain are in the forecast for Saturday after the main event from overnight/early this morning. It will be cloudy, but the normal, non-aggressive kind of clouds.
Dewpoints also drop like a rock. From the upper 50's to the mid 30's. That is some dry air. Another satisfying visual below: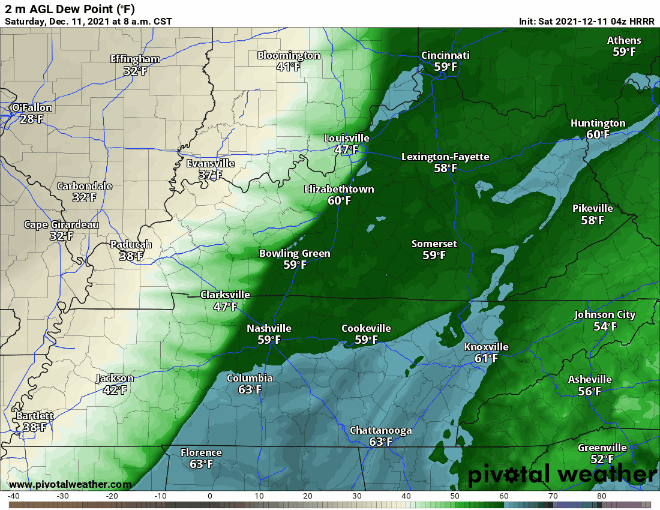 Temps look like they will dip just below freezing late Saturday night into the overnight hours toward Sunday morning. Sunday will be sun filled, with temps in the upper 40's. A calm close to a weekend that started out chaotically.
So what all happened? (from the Editor)
Well, that remains to be formally determined. A tornado or two was producing damage to our west, near Dickson and Burns. That storm moved into Bells Bend. From there, looks like the tornado lifted, only to be replaced by several areas of intense straight line winds both north and south of downtown. Radar was measuring over 100 MPH winds just off the top of the surface. These were questionably tornadic in real time, and prompted several tornado warnings. Power flashes indicated exploding transformers likely from these intense straight line winds. Tens of thousands lost power. However, we did not see tornado debris signatures streaking across either county in real time. Those picking up from damage will take no consolation from the distinction between tornado and straight line wind damage. Damage is damage. Formal assessments will be done later. For now, make way for those impacted by these storms and emergency personnel. I hope we are waking up to news of no injuries. I fear we may not be.
Ours has been just one chapter of a terrible tornado outbreak. Those to our NW experienced devastating tornadoes.
More tomorrow aka "later today."
Thanks to all for your kind words.