The Storm Prediction Center, in coordination with NWS-Nashville, has issued a Tornado Watch for Davidson and Williamson Counties.
This Watch will continue until 2 AM.
Important! A second Watch (Severe Thunderstorm or Tornado) may be (probably will be) needed after 2 AM. We will not be clear of the straight line wind or tornado danger until probably 9 AM or so. (SPC doesn't issue 12 hour long Watches for anything; too much can change.).
The current Watch begins now and ends at 2 AM. It includes the area outlined in red below, us included.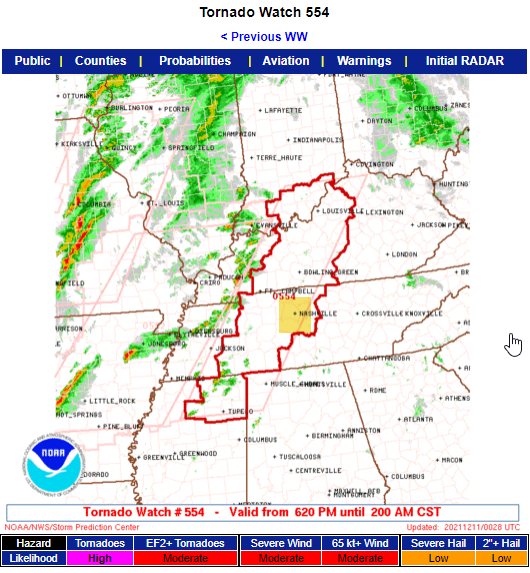 The probabilities for the entire area in red, above, are below.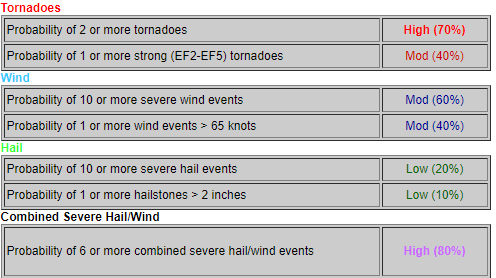 Interpret that table as intended. For example, see the top line "Probability of 2 or more tornadoes, High (70%)." That means inside that entire red area (Indiana to Mississippi), the probability of there being 2 or more tornadoes is 70%. We are only a small part of that entire area.
The potential of tornado producing supercells is the reason for this Tornado Watch until 2 AM.
A line of strong to severe storms capable of damaging straight line winds and/or tornadoes is still expected to be here AFTER this Tornado Watch expires. A new Watch may be issued later to account for it.
Action Items
Mobile and manufactured home residents should spending the night #sleepover in a site built structure.
Everyone needs a NOAA weather radio and a wake me up app (@stormwatchplus). Sirens are not designed to alert those indoors.
Clean out your lowest level interior room space. Have helmets (mandatory for kids IMO) and shoes and essential meds and driver's license and a whistle. New to tornado weather? https://nashvillesevereweather.com/what-to-do/
This is a low probability of a high impact event that requires your time (to prepare), attention (to watches or warnings), and action (if a warning is issued). Got storm anxiety?  https://nashvillesevereweather.com/storm-anxiety/
Forecast may change a bit. Do not rely on old information. Stay updated and get new information. We will be with you the entire way.