This blog describes to you, fellow neighbor, a low probability of a high impact event. Basic precautions are necessary.
Have a way to be alerted. Get your NOAA weather radio (Midland, Reecom are among the best) and a wake me up app, like StormWatchPlus or any other you like.
Understand severe weather terminology and have an action plan if a warning is issued.
Mobile and manufactured home residents without instant access to an underground community shelter should consider spending the night in a safe structure.
For most of today, expect on and off showers. A warm layer of air aloft (called "the cap") is present, limiting severe development during the day. There's no severe concern during daylight hours.
Storms after dark can develop, mature, go severe, and even drop a tornado quickly; they'll be fast moving. This may not leave you much time to get to your lowest level, interior room.
"There are still some uncertainties regarding the degree of severe weather risk and timing." That's a quote from NWS-Nashville. Keep that in mind while reading the below info.
Stay connected to updated information. It's possible we just get wind and rain, and that's all. Or, some of us may see a severe weather event. Probabilities are below. Note that those are probabilities of hazards within a 25 mile radius of you, not the probability of you getting hit.
Now Until Dark
Windy, 15-25 sustained, with gusts to 40 MPH. A Wind Advisory is in effect today (expiring at midnight).
Intermittent rain. Storms can't get severe during this time because of a "cap" (a layer of warm air aloft) limiting storm development.
This rain will do very little to alter what's coming after dark.
After Dark Until Around Midnight: Supercells?
If the cap breaks after dark, rapid supercell development is a possibility, and could bring threats of hail, damaging winds, and tornadoes.
The good news (for us) is that the area of supercell development ahead of the main event is expected to be mostly northwest of us. Too close for comfort. Supercell development will be watched after dark.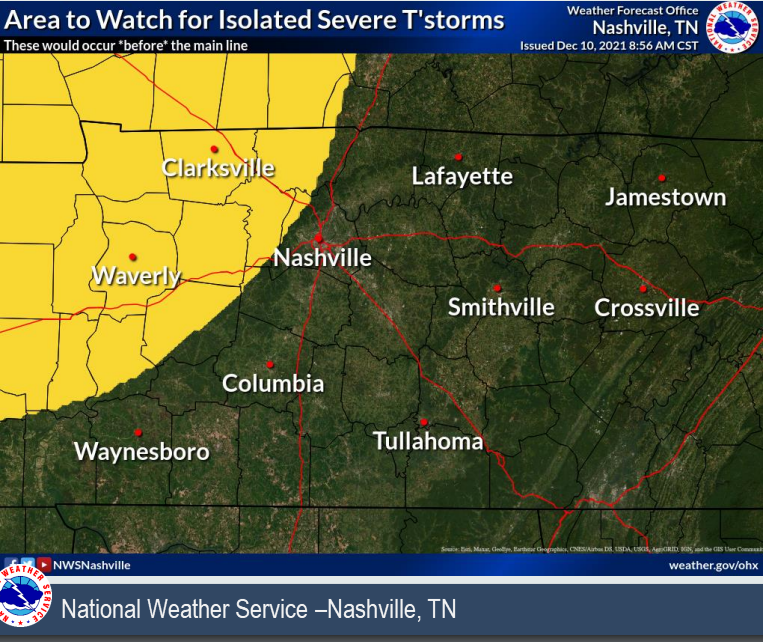 Let's talk probabilities.
The below probabilities apply to storms that may develop after dark, including the supercell section above, and the "main line" that should arrive before 6 AM Saturday (more on that, below).
These probabilities come from the Storm Prediction Center (SPC).
The probability of a tornado within 25 miles of you is 10%. The shaded area, called the "hatched area," indicates a 10% chance of seeing an EF2+ tornado or higher within 25 miles of any point.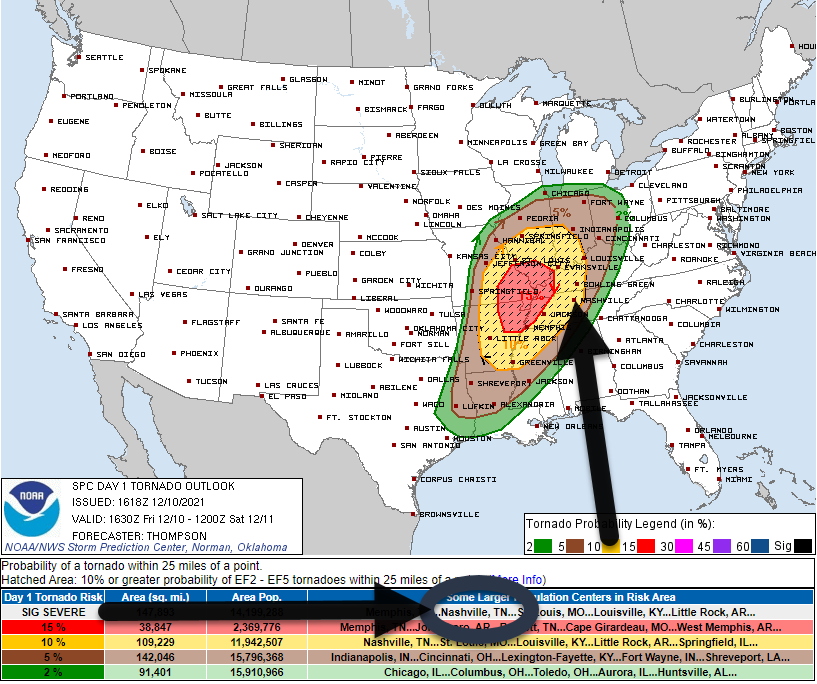 30% probability of damaging straight line winds (58+ MPH winds).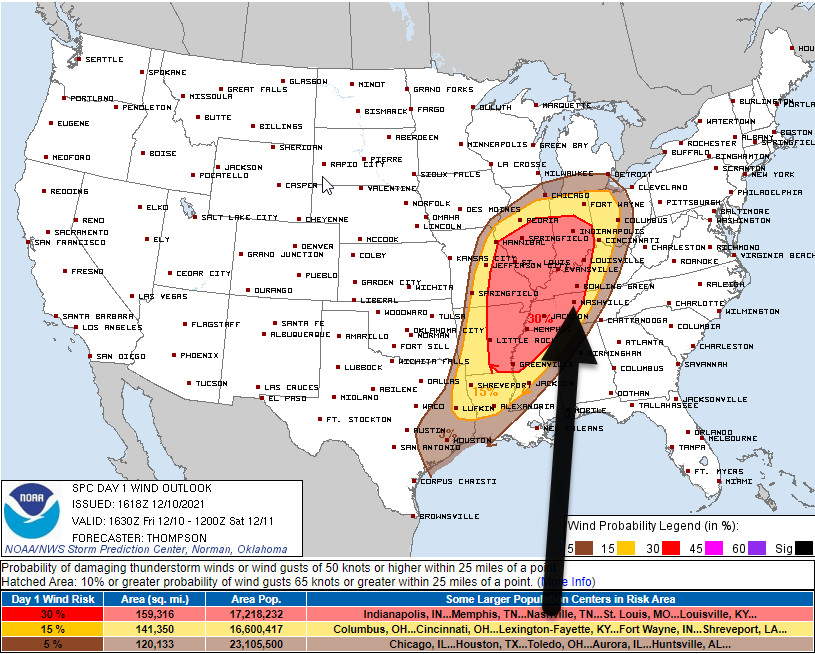 The 5% probability of large hail (1″ or more) sits just west, we're excluded.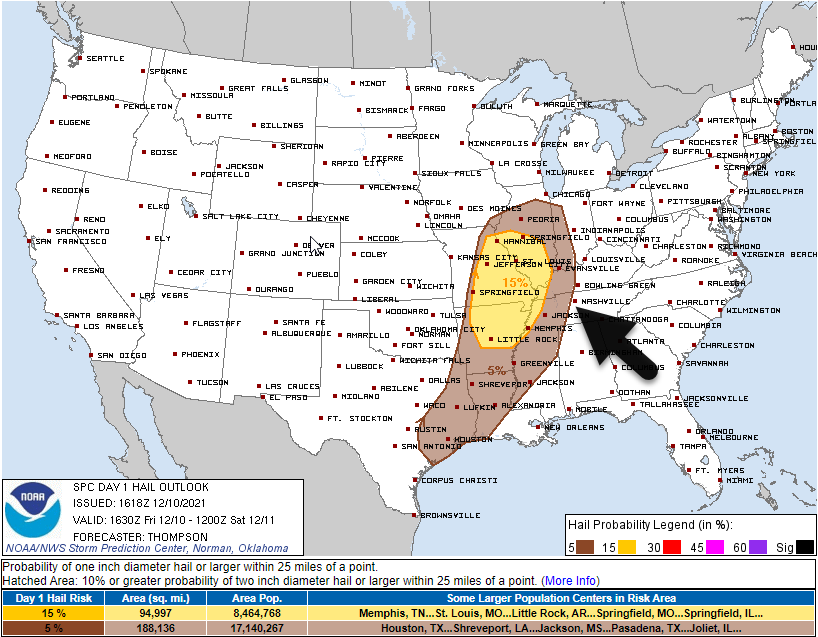 After Midnight – Sunrise: The Main Line
Supercells will remain possible during this time.
But all eyes will be on the main line, aka a "QLCS," commonly known as a "squall line." This line is the main concern.
Instability will be on the rise. It will combine with substantial shear. This main line poses the greatest risk of damaging straight line winds and tornadoes, as laid out by the probability section above.
ETA for this line is 5 AM, give or take a few hours. That's what the 12z run of the HRRR thinks, anyway: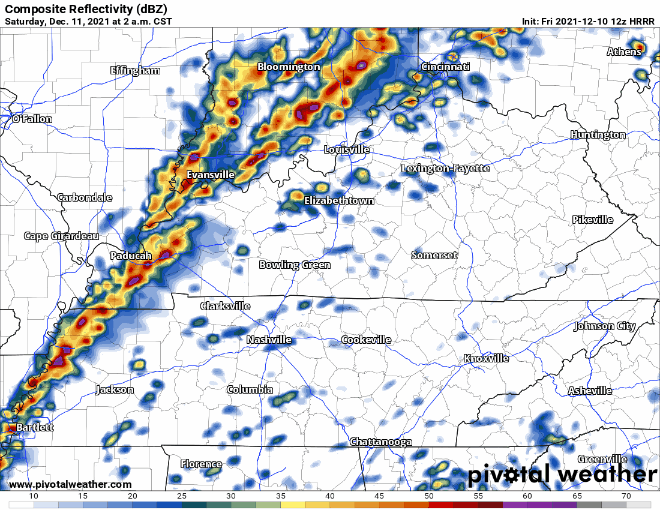 ETA is plus or minus a few hours because models do not agree. Below here are 9 models, with the HRRR model included, depicting Saturday at 5 AM.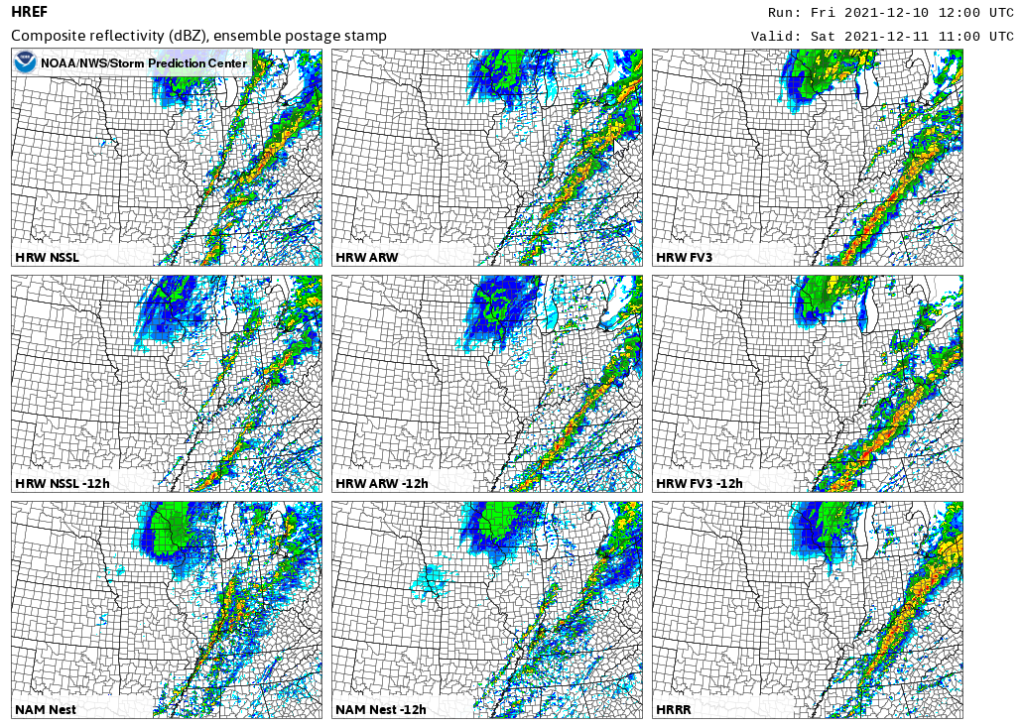 Hence the uncertainty about arrival times.
Remember, supercells may develop ahead of the main line, and get here long before the main line does.
There is no "we're good" time tonight and overnight, I wish there was.
The Last Line: The Cold Front
After the main line comes through, an hour or two will pass, then the cold front will come blowing in. Damaging straight line winds are possible as another spat of rain develops ahead of it. A spin up tornado will also be possible, but the hope/expectation is that the main line will have consumed all available instability to prevent that from happening.
This should happen early in the morning, after sunrise.
If you're setting up tents for the Dickens Christmas, I'd wait for this final line to blow through.
Flooding is possible, but among the least likely of the hazards. WPC estimates the probability of flash flooding within 25 miles of you between 5% and 10%: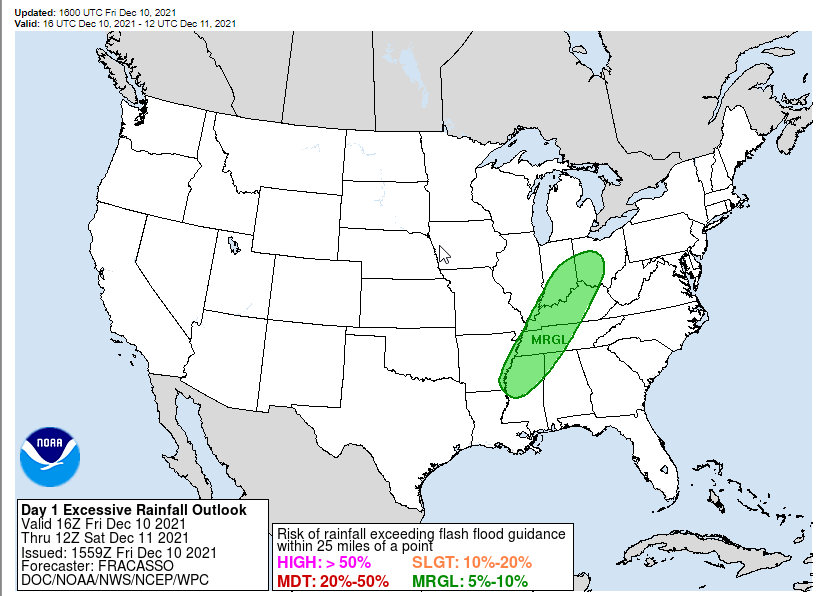 After the last line passes, temps will steadily drop. Wind chills will reach 39° by dark Saturday night. We should all end up below freezing Sunday morning. Sunday will be quiet.
Go over this list of ways to prepare today so you're ready when storms arrive. Sorry, not sorry, for repeating the preparedness information below.
Mobile and manufactured home residents should consider spending Friday evening and night #sleepover in a site built structure.
Everyone needs a NOAA weather radio and a wake me up app (@stormwatchplus). Sirens are not designed to alert those indoors.
Clean out your lowest level interior room space. Have helmets (mandatory for kids IMO) and shoes and essential meds and driver's license and a whistle. New to tornado weather? https://nashvillesevereweather.com/what-to-do/
Now, that you're prepared, good job. This is a low probability of a high impact event that requires your time (to prepare), attention (to watches or warnings), and action (if a warning is issued). Got storm anxiety?  https://nashvillesevereweather.com/storm-anxiety/
Expect this forecast to change a bit. Do not rely on old information. Stay updated and get new information. We will be with you the entire way.