Starting late tonight, our weekend weather maker will start moving into our area, starting off with some spotty showers.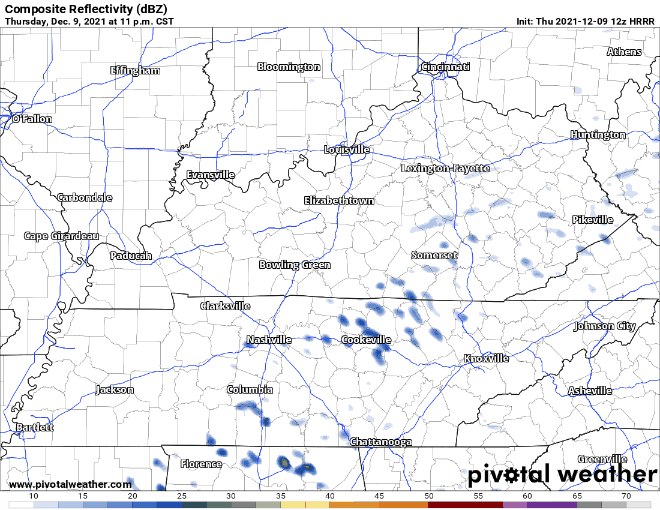 These showers will hang around all day Friday, but they are pretty spread out. You might get a lot of rain, but your coworker might not. Some of these individual cells also could be strong enough for some thunder and lightning, but we aren't expecting anything severe quite yet.
Friday night into the overnight, the main event starts to close in on us. Instability in the air mixed with wind shear means tornadoes are a possible threat. We currently fall under a few outlooks. Our most likely threat according to the Storm Prediction Center is damaging winds. The red bubble that we are included in translates to a 30% chance of strong damaging straight-line winds within 25 miles.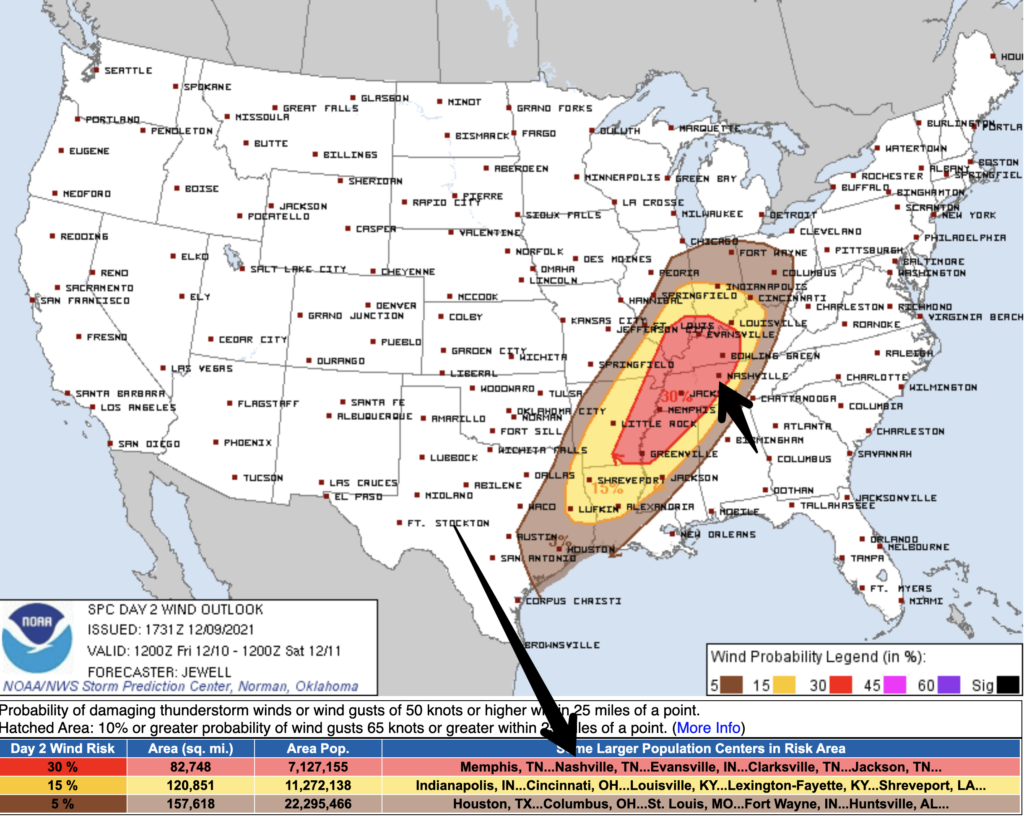 We are also under a 10% chance of a tornado occurring within 25 miles. Of note, we are also included in the "hatched" area of this outlook, which means there is also a 10% or greater probability that tornadoes will be EF2 or stronger within 25 miles of us. We prefer not to be in a tornado outlook. We really prefer not to be in a hatched tornado outlook. This has our full attention.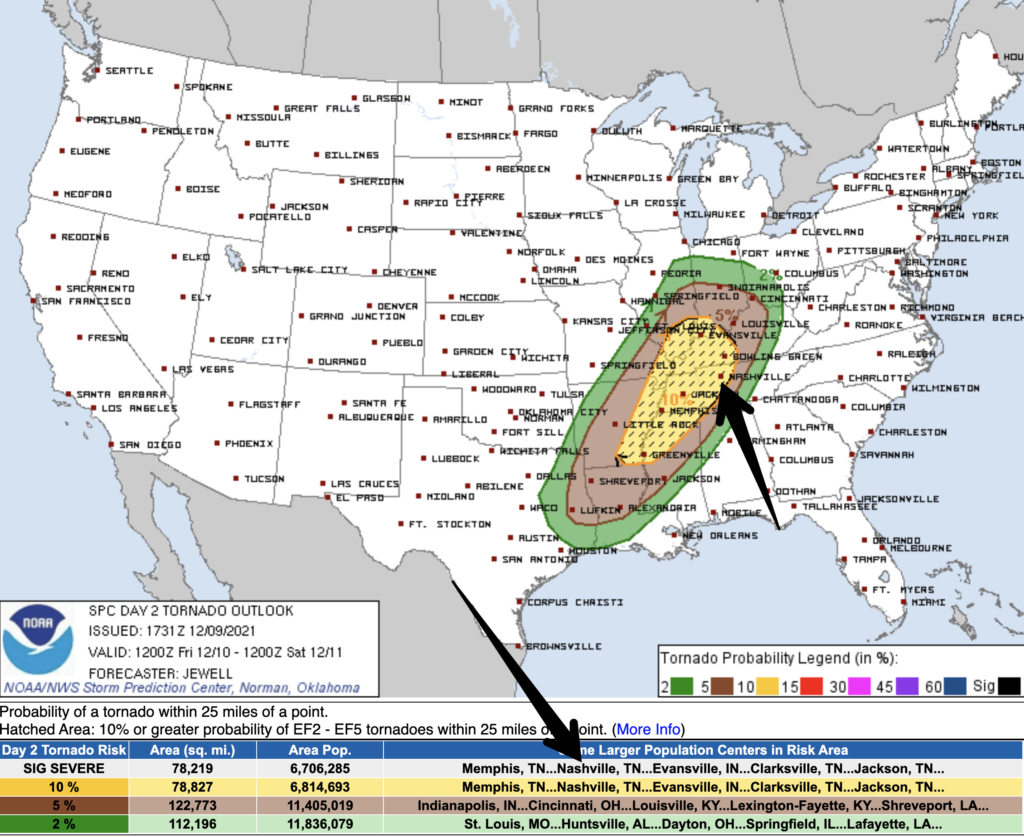 There is also a 5% chance of quarter-size hail or larger within 25 miles of you.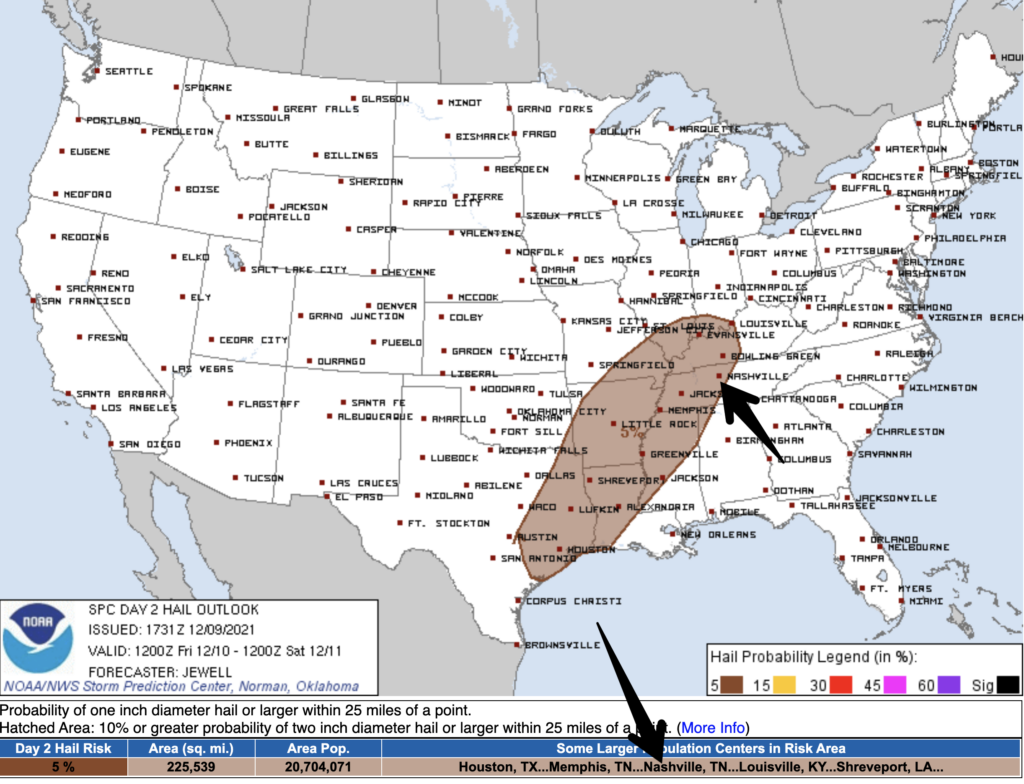 The HRRR has the strongest weather occurring very early Saturday morning. There could well be a few rounds of storms. It's too early to tell how these rounds of storms might affect each other (will an early round weaken a subsequent round). It's also too early to nail down the timing of these storms. It currently looks like storms could begin after midnight into the morning hours Saturday.
Prepare Now…Don't Wait
This event has our full attention. Go over this list of ways to prepare today so you're ready when storms arrive.
Mobile and manufactured home residents should consider spending Friday evening and night #sleepover in a site built structure.
Everyone needs a NOAA weather radio and a wake me up app (@stormwatchplus). Sirens are not designed to alert those indoors.
Clean out your lowest level interior room space. Have helmets (mandatory for kids IMO) and shoes and essential meds and driver's license and a whistle. New to tornado weather? https://nashvillesevereweather.com/what-to-do/
Now, that you're prepared, good job. This is a low probability of a high impact event that requires your time (to prepare), attention (to watches or warnings), and action (if a warning is issued). Got storm anxiety? https://nashvillesevereweather.com/storm-anxiety/
Expect this forecast to change a bit. Do not rely on old information. Stay updated and get new information. We will be with you the entire way.