We're staying dry and getting up into the low 50's today. The sun stays until Friday. Temps heat back up to the low 70's by the end of the work week.
Severe Storms Possible Saturday Morning
A cold front is forecast to come through Saturday morning that has the potential to bring some severe storms our way as it pushes through. The SPC has everyone west of the Cumberland Plateau in a severe weather outlook for Friday. Our counties are in a slight risk (2/5 scale) for severe weather. This translates to a 15% chance of severe weather occurring within a 25 mile radius of us. Main threats are damaging winds along the front as it comes through (60+ mph) and isolated tornadoes.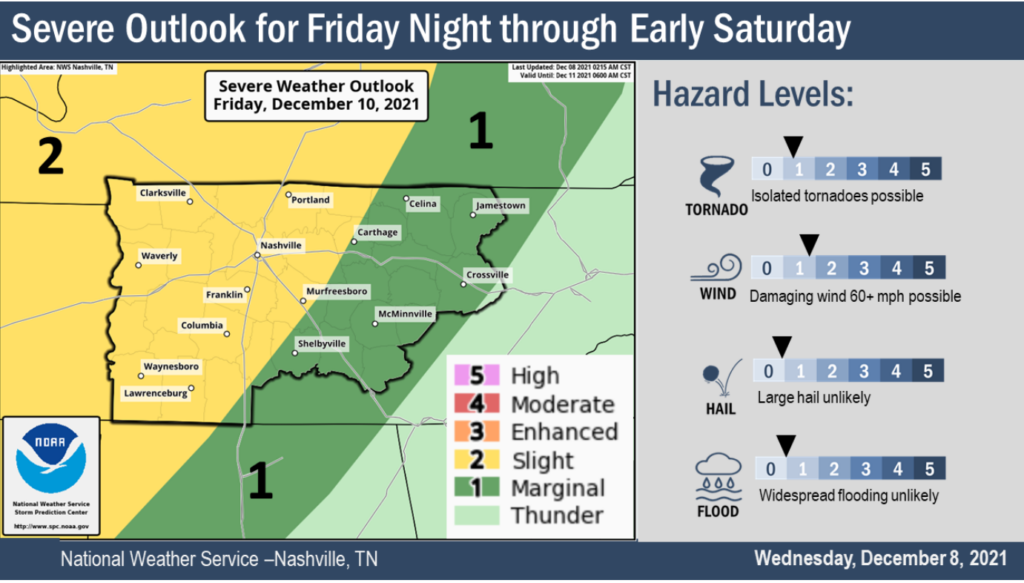 NWS surveyed 5 tornadoes from our weather event on Monday, which has some similarities to the setup with this system. But, no two systems are alike and we should draw few conclusions. While some severe weather ingredients appear to be present with this system Saturday morning, other ingredients are questionable and could make a difference in the forecast.
Shear appears to be high, which is not unusual for systems this time of year. The big question with cold-season severe weather is usually the CAPE/instability. When making an omelette, cracking eggs open (shear) in a skillet with no heat (CAPE) is a deal breaker. But when you get both, you get an omelette.
If storms/rain ahead of the front eat up the CAPE/instability or the CAPE/instability never shows up to begin with, we get non-severe storms. If we get all of the ingredients in the "right" place at the "right" time, we need to pay attention. These details will hopefully become more clear in the next couple of days. The technical discussion from NWS mentions these ingredients in more scientific terms:
Either way, make sure you have your weather emergency app alerts on or weather radio handy, especially if this weather event happens very early in the morning before you wake up. If you need a NOAA weather radio, you have time now to get one. Don't wait til Friday night.