Temps dropped like a rock overnight thanks to yesterday's front. The high today will be in the mid 40's, so yes it is chilly. Lows overnight should stay just above freezing, but a few spots may get down below freezing.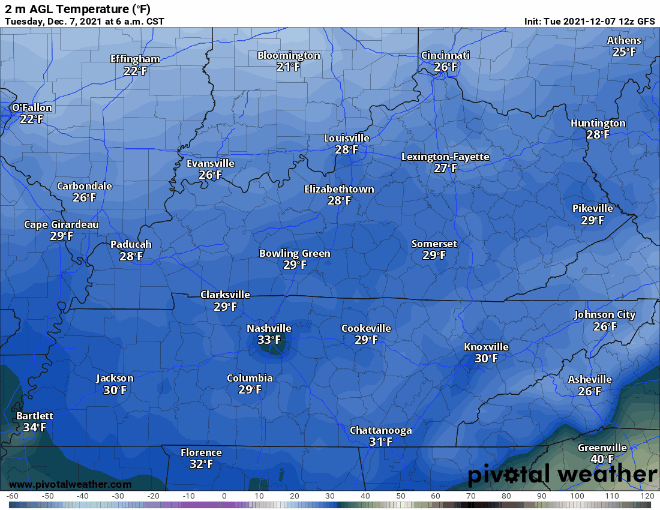 No rain in the forecast for today.
We warm up some into tomorrow. Highs in the mid 50's. No rain tomorrow either.
Thursday is our next real shot at rain. Models think scattered showers get to us in the evening. No storms. Nothing to worry about, just rain.
Another Strong/Severe Storm Chance
A frontal system will develop closer to the start of the weekend and bring much heavier rain, and perhaps another line of storms. This may be similar to the line we had Monday morning.
Extremely rough ETA looks like midnight-ish Friday night into Saturday morning.
Shear parameters definitely there Friday night/Saturday for strong storms but instability a bit of a limiting factor, although temps going well above normal ahead will help that a bit. Either way we are looking at a wet period Friday-Saturday with high PWATs looming, and with strong storms definitely in the picture.

NWS-Nashville AFD 12/7/21
Models will have the first good look at this potential event Wednesday night.
This could be anything from a lot of wind and rain, to a damaging straight line wind event, to even a low probability of a few brief, "weak" tornadoes embedded inside a squall line.
Again, this setup appears is similar to what we had Monday morning, when we had pre-line storms come through which eliminated our chances of tornado, but those just north, northeast, and south of us had tornado warnings. One EF-0 tornado was confirmed in Hartsville. Survey teams are out now looking for more tornado damage to confirm or rule out whether there was more than 1 tornado.
No two events are exactly alike. We will keep you updated here and on Twitter.