Radar is quiet right now (mid morning). Showers and storms are expected to develop during, or shortly after, lunch, and we won't see them coming on radar. They should form right on top of us.
The HRRR model below illustrates.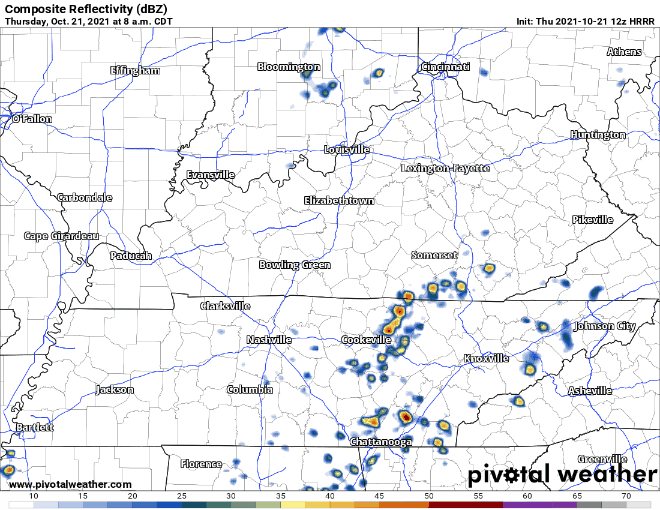 SPC keeps the severe threat to our east. SPC keeps that severe threat east on the assumption storms develop on top of us and get strong as they race east.
It is possible, but unlikely, storms develop earlier and to our west, strengthen as they arrive, which would shift the severe risk more over us. That is not what we think will happen, but it is possible.
Damaging wind gusts are the main threat as this line comes through. A isolated tornado is not out of the question either but the threat is low and likely isolated to those further off to our east. Stay aware and up to date on our twitter for timing and risk updates. But right now we think the severe weather threat is mostly off to our east.
Timing of these storms may effect your lunch hour so grab something near by and indoors. By dinner time the showers and storms should be out of our area for any outdoor plans.
Cooler Friday, Then Another Mini Warm Up
A cold front is causing the rain/storm event today. Tomorrow it will sweep in and drop temperatures. High temps top off in the upper 60's with very comfy dew points in the upper 40's. This unfortunately doesn't stay for long, are we surprised anymore?
A warm front moves through our area late Friday-Saturday bringing in warm air and higher dewpoints. Temps will be up to the low 80's and dewps to the upper 50's by the end of the weekend. GFS and Euro have spotty showers possible Saturday, but that looks unlikely.
Next weather event will be Monday, probably Monday PM, as another cold front pushes a line of showers and storms through.