Checks calendar, yes, it's October despite temps leveling up to low 80's today. Dewpoints hangout in the low 60's. See the world's most useful chart below for interpretation.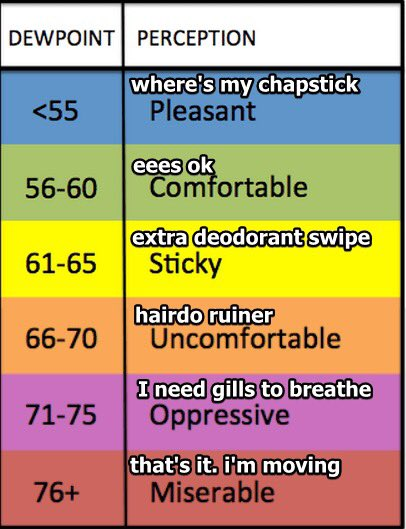 Rain shouldn't be an issue today. HRRR has us dry. Outdoor plans look safe.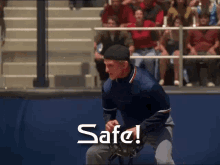 The iffiest of rain chances tomorrow
Rain chances Wednesday are low, like very iffy. If it does decide to rain, the showers will be light. No day-ruiners. HRRR thinks that if there are showers they arrive in the morning and leave right after lunch.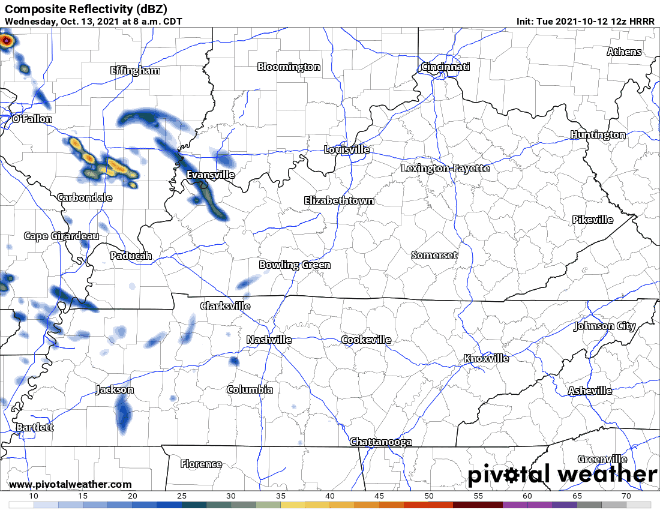 Above average temps still hanging around Wednesday. Hitting the mid 80's. Dewps climb to the high 60's. Approaching oppressive levels of mugginess.
Ladies & Gentlemen, The Weekend
Rain is incoming later this week, ETA looks like Friday afternoon/Saturday morning. Pretty big cold front will drive in showers and storms. Storms may be severe if the storm line gets to us before sunset so it can tap daytime heating power. Latest EURO run thinks storms could make it here by then, but it's kinda out of range for a reliable forecast. We are not concerned about this right now. SPC isn't impressed by severe setup, it says "potential too low" to draw a Bad Storm Outlook. Rainfall totals appear under a half inch, but again, we'll have better model data tomorrow. Right now betting on an overnight Friday, early Saturday morning rain event, clearing by Saturday afternoon. Timing confidence low.
After the rain, expect much cooler temps with chilly mornings. Fall is coming.