Rain from this morning will continue off and on today through the afternoon. Off/On rain and storms should end around 7 PM. See HRRR below: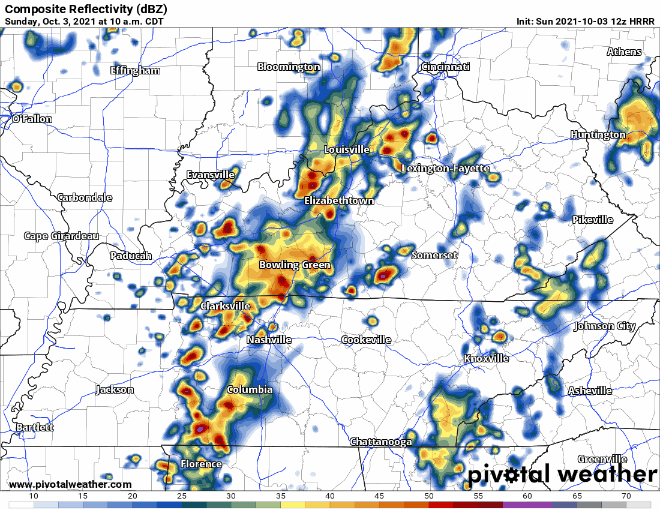 There is a lot of moisture in the atmosphere, so some of these showers and storms may lead to heavy downpours. WPC thinks there is a low chance (5 – 10%) for flash flooding to occur in Davidson & Williamson counties.
No severe weather is expected with these storms. Lightning is possible, and winds may be briefly gusty in the heavier downpours.
How's the week starting off?
Temps will hang in the 70's and dewpoint will be in the mid 60's on Monday. Pretty comfortable temps but that's a sticky-humid dewpoint for early October.
Rain Monday looks iffy. Most rain will be east of us, but around 3 PM the HRRR shows tiny, scattered showers popping up that could affect us. Does the HRRR know exactly where showers and storms will pop up? No. Take its best guess with a grain of salt.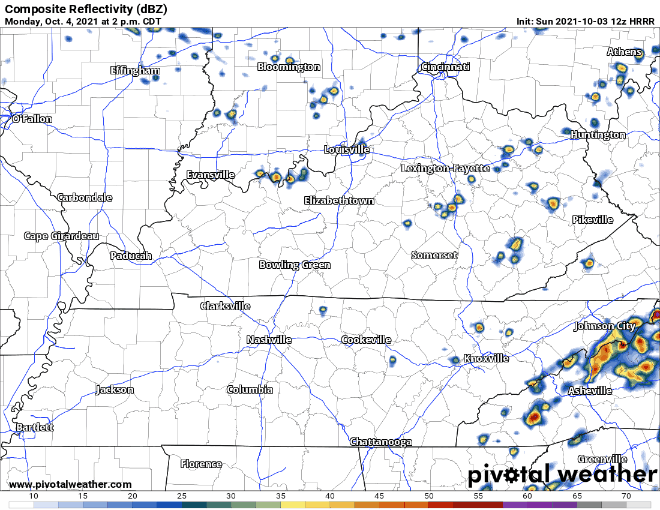 Not much rainout potential with these. If one decides it's going to rain on you, it should be brief and have little impact to outdoor activities.
"Expect rainy weather to persist through most of the week ahead" – NWS Nashville.
Most of it will fall today, Tuesday, and Wednesday. Rainout potential highest Wednesday night. Totals through Friday are expected to get near 2 – 3 inches. Sun filled days could be making their October debut this weekend.