Fall left. Temps will climb into the mid 80's today, and dewpoint will hang around in the mid 60's. Kinda warm and sticky feeling out there. Dewpoint/Humidity conversion chart below.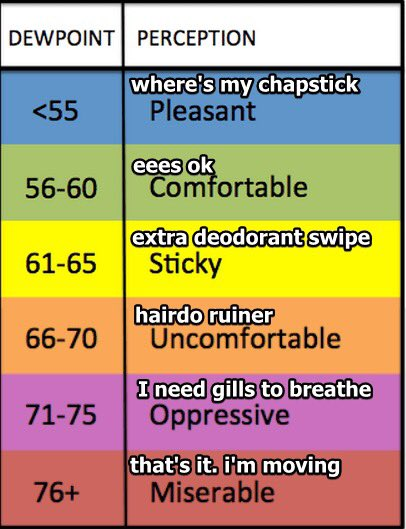 HRRR has us no rain. Dry streak continues.
Tomorrow it'll be a teensy bit warmer and more humid. Rain will be way west, nothing for us.
Rain Chances Increase Thursday, (but meh)
A weak front arrives Thursday, but rain probabilities associated with it are low. NWS thinks the rain will stay west of I-65, and the GFS agrees. See below: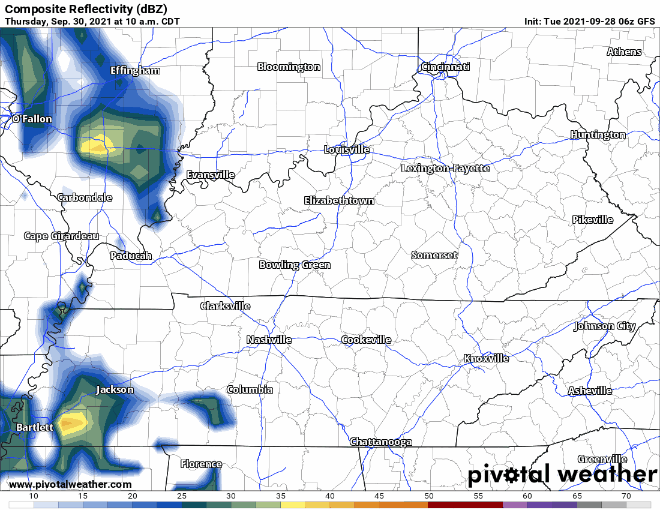 If you do end up seeing some rain from this, don't anticipate a washout. It should be brief. If models shift the rain further east or west, we'll be sure to let you know!
That front will stop the upward temp progression.
We may pop an afternoon-only shower Saturday or Sunday. But the best rain chance appears Monday. Maybe even a few thunderstorms. but "nothing severe" expected per NWS-Nashville.
CPC outlooks show above-average temps into October, November, and December. Doesn't mean warm all the time — expect a cool snaps — but relative to a normal autunm, this one should be slightly warmer. So says the model data, which is not always trustworthy.