Flash Flood Watch In Effect Beginning at 7:00 pm Tonight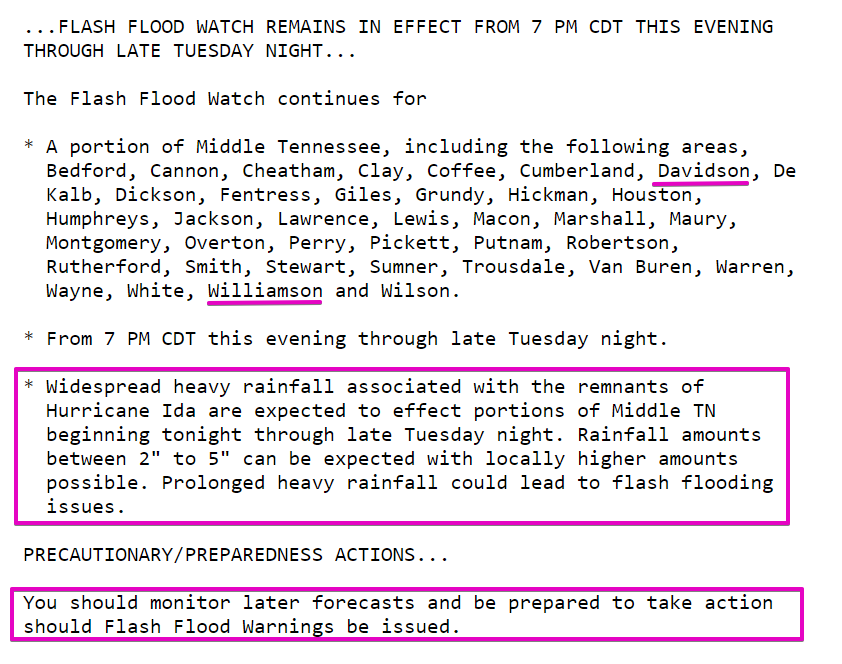 The latest rainfall estimates from NWS Nashville put us in the 3-4 inch range with locally higher amounts possible through Tuesday night.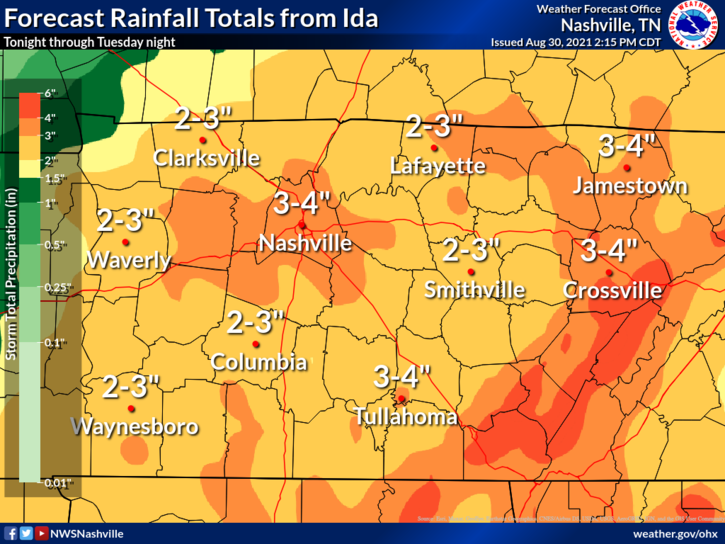 While heavy rainfall is possible at any point during the Flash Flood Watch period, NWS Nashville highlights two periods where rainfall could be heaviest.
It looks like 2 separate timeframes exist where the heavier rainfall will occur. The first will be late this afternoon and into this evening. This will be the better time for the tstm development. The second timeframe will be from sunrise until noon as the remnants of Ida moves across.

NWS Nashville Afternoon AFD, August 30, 2021
Have multiple ways to get flash flood warnings should any need to be issued, especially overnight if you're in a flood prone area. For example, have an app on your phone with alerts, such as Storm Watch +, as well as a NOAA weather radio.
Also, be sure to check storm drains around your home/street if you can safely do so. Unblocked drains will do a great deal to help move water along where it's supposed to go.
Low-End Tornado Threat Tonight
The tornado threat is mostly concentrated S of I-40 where there is a 2% chance of a tornado within 25 miles of you (dark green area below). These are often hard to warn, quick spin-ups with tropical systems. If a tornado warning is issued, you may not have much time to act. Have a plan just in case.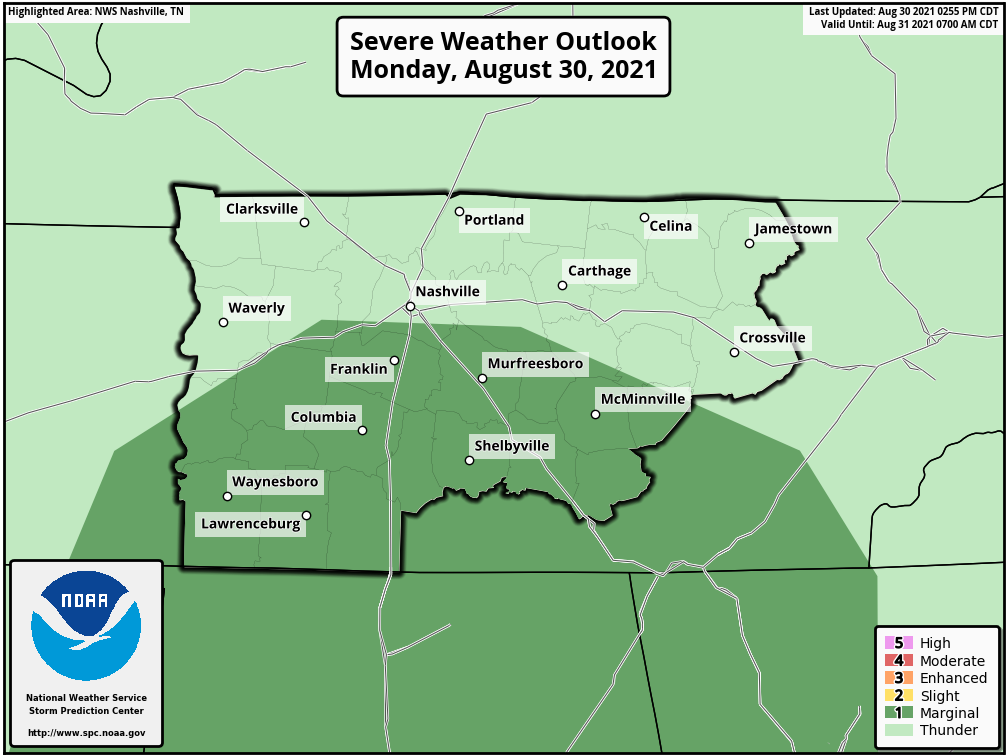 This outlook is valid until 7:00 am Tuesday. We are not included in a tornado outlook beyond 7:00 am Tuesday.
What To Do To Prepare
Have multiple ways to get warnings, especially during the night.
Have two plans in place. One, a plan for flash flooding if you live in a flood prone area or near a creek/stream. Two, a plan to take shelter in an interior room/closet/bathroom in case a tornado warning is issued. Tornadoes associated with tropical system remnants are not typically high-end tornadoes, but they can develop with little to no advance warning. If you are included in a tornado warning, take shelter first, then get more info. https://nashvillesevereweather.com/what-to-do/
We'll be all over it on Twitter with the latest on watches, warnings and up-to-date info.
Before You Leave…
Oh yeah, by the way, when the sun comes back out on Thursday and Friday, temps will be in the low 80s and dew points in the upper 50s. I can't even.
Let's get through the rain first, but the last part of the week is going to be pretty nice.