Editor's Note: Flash Floods. We've been through them. They're a painful reminder of how quickly weather can take away what has taken years to make…homes, businesses and beautiful landscapes. Today, our friends just to our west are dealing with catastrophic flooding with well over 11 inches of rain, maybe much more, falling just this morning. The beautiful Piney River is roaring at 31.8 ft at the time of this writing, a staggering 7.8 ft above MAJOR flood stage. If you have friends in Humphreys, Hickman, Dickson or Houston Counties, please check on them by phone/text if you're able. They're going to need much to rebuild what water has taken away today.
Our hearts are with them today. So, for us, here's a quick layout of what we can expect here in our two counties.
A Lull, Then More Rain/Storms This Evening
HRRR thinks our morning rain will slack off for a few hours (which we're seeing happen on radar). Then, additional storms fire this evening. HRRR has gone back and forth on whether these storms will affect those mostly I-40 to the south, or whether they will affect most of us…and also bring more rain to those flooded this morning to our west. This model run thinks the latter.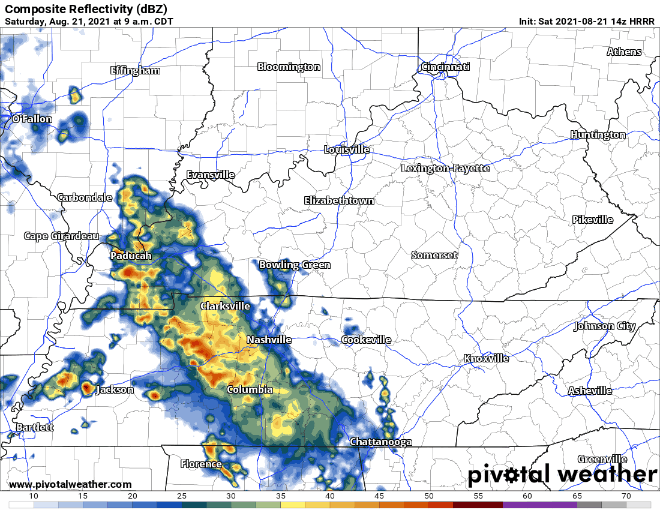 These storms could be on the strong side, but severe weather (wind, hail, tornado) is not expected. But, don't discount the flash flood threat today. If waters start rising where you are or warnings are issued for your location, don't hesitate to get to higher ground, and don't drive through flooded roadways.
Rain Tapers Off Sunday
Our rain chances drop off for Sunday, but a few spotty showers are possible. HRRR 7am to 7 pm: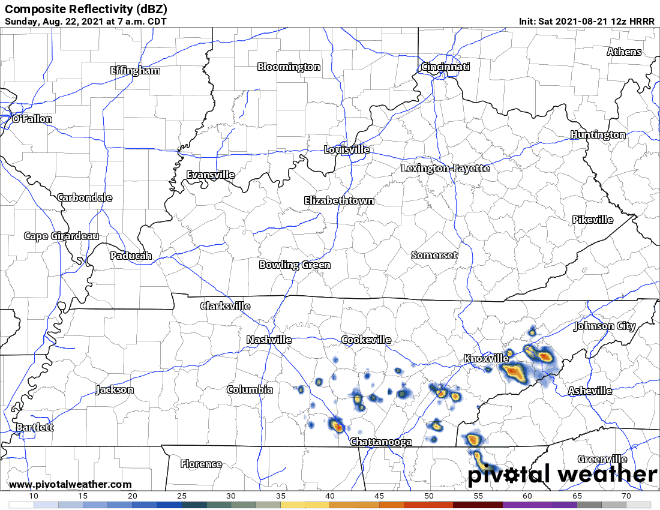 Next week, we heat back up, and skies clear out.
As always, check back for updates to the forecast, and be sure to follow @NashSevereWx on Twitter!