Hot and humid again today. Dewpoints hover in the upper 60°s today.
Rain should probably not be an issue today. HRRR shows nothing in our area all day, and then in the evening a tiny shower skirts over our area. Even if rain does happen it should be brief.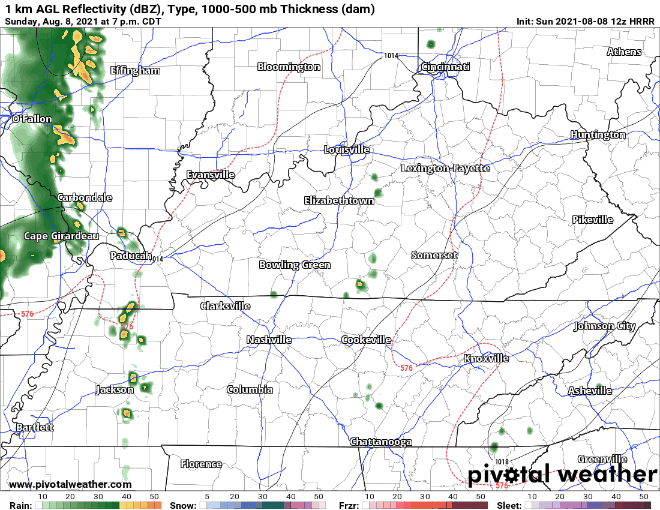 Expect green flag racing. Rain probably won't be a factor. But yesterday the HRRR model had us rain-free through the afternoon and evening but we had two heavy (but brief) near/downtown downpours.
Humidity Increases Monday
Mid/Upper 60°s dewpoints this weekend will hit low 70°s Monday and Tuesday. Right now looks like dewps may get as high as 73°. Weep looking at the dewpoint translator below.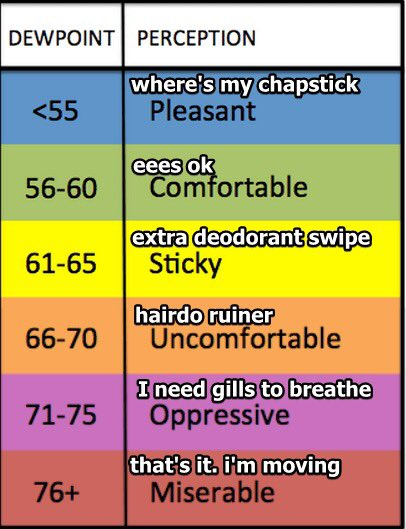 Rain is a good bet Monday. Late morning ETA. An upper level trough is going to move north of us, and this will bring rain and thunderstorms in our area. HRRR has the action getting to Davidson and Williamson Co. around 9 AM.
Nothing severe expected with these, but heavy rain and lightning is entirely possible. Rain totals may reach rainout-quantity for some of us.
Some rain (maybe a storm) in the evening is possible, but not nearly as widespread as the morning stuff. More hit-or-miss like.
This week, high heat and humidity raise pop up mostly afternoon showers and storms. These are the type that can rainout your neighbors cookout 5 miles away, but yours will stay dry. Timing and coverage is best seen in high res weather models, but those only run 48 hours in advance. Check back here for updates.