Our smoke is coming from two large wildfires in California. Maybe some Canadian smoke mixed in. Winds aloft have picked it up and blown it a few thousand miles.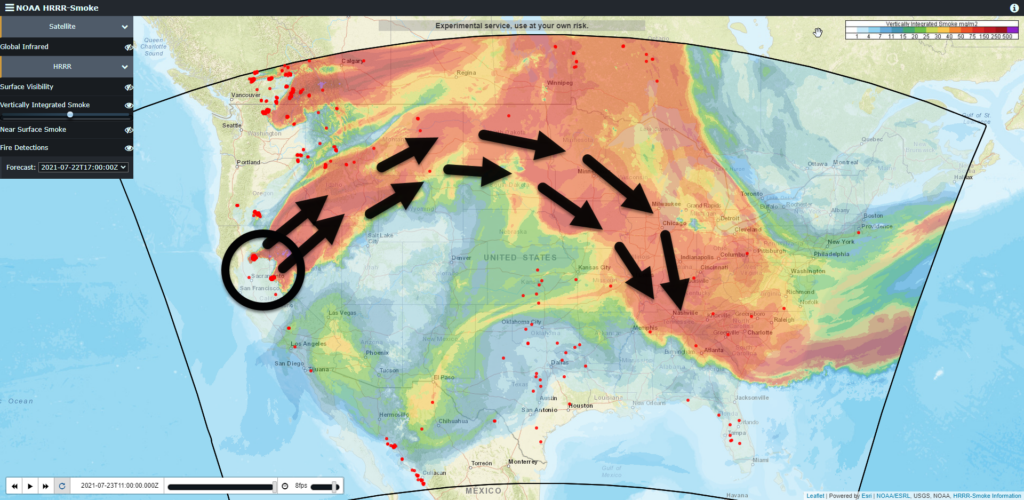 It's making sunrises and sunsets red. Feels equal parts unsettling and fascinating.
Yesterday IRL:
A long time ago, in a galaxy far, far away.
The thickest smoke will hang around until Friday morning. Then it'll start to dissipate. Some smoke will linger until at least until Saturday morning, this according to the latest HRRR 48 hour run.
Low 90s and upper 60s dewpoints today and Friday with rain unlikely each day. That's not ideal, but not too shabby for mid/late July.
We may get a pop up random afternoon shower or storm Saturday. Nothing technically severe, but anything that bubbles up will be lightning-capable. Keep your boat or hiking plans, but keep an eye on the sky/radar.
Heat and Humidity Crank Up Sunday. Mid 90s temps and low 70s dewpoints will make this one of the worst sweat days of the summer. That heat/dew combo can produce pop up mostly afternoon showers and storms that can wreck outdoor plans. So either way it's Not Great, Bob. Either flirt with heat exhaustion or get washed out by an angry pop up thunderstorm. Same for Monday. NWS-Nashville thinks rain is possible both days, but more likely Monday afternoon than Sunday afternoon. Should you cancel anything? I wouldn't, but I'd have a plan for ruh roh that cloud looks angry or uhhh was that thunder? Or, you might dodge the rain/storms both days. Nothing looks organized or concerning at the moment.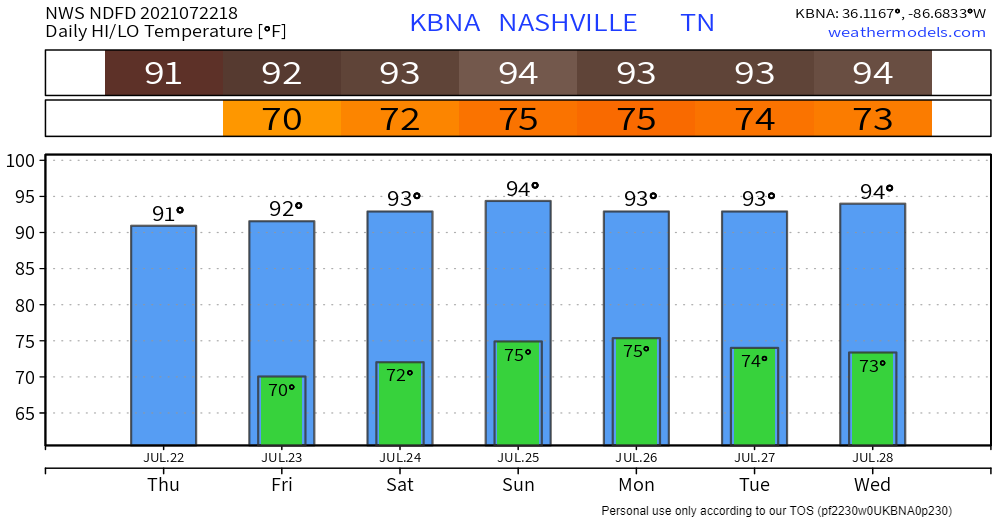 Euro model ensemble data shows rainfall next week and the week after. Big variance in amounts possible (as it should be at this range), with under 2″ total for the next 15 days. Expect rainfall over the next few weeks to fall unequally. Prep yourself for potential rain injustices, lovely gardener.
As always, check back for updates to the forecast, and be sure to follow @NashSevereWx on Twitter!