The low pressure system stuck in the Mississippi Valley will continue to bring the region stormy weather today. But will you get it? Depends on exactly where you are.
This is one of those days where Joelton, Franklin, and BNA get storms, but no one else. Or Fairview-Bellevue-North Nashville-Skyline-Goodlettsville get stormed. You get the idea.
Storms will move from SW to NE today.
The highest chance for showers will be mid/late afternoon extending into the early evening. Here's what the HRRR shows: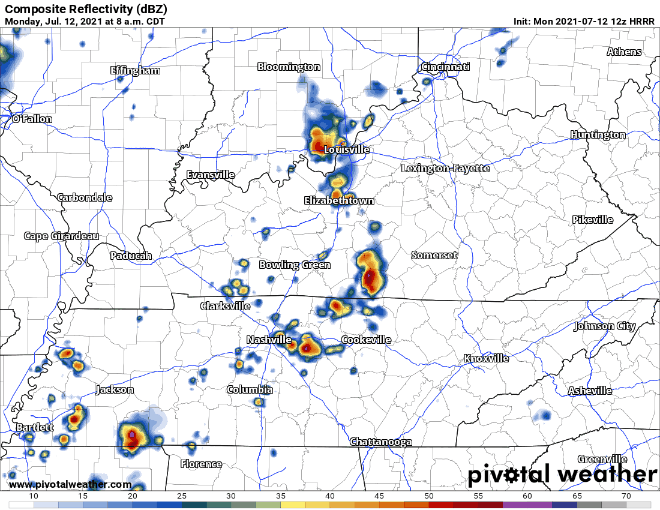 Lightning and gusty winds may accompany storms. There's very little shear out there, making tornadoes and hail unlikely. Localized, brief flooding is possible, especially if heavy rain hits the same area more than once. But storms should move along nicely. The flooding risk is low.
Those on water, hiking, whatever, should monitor the weather and have close access to enclosed structures should a lightningstorm choose you.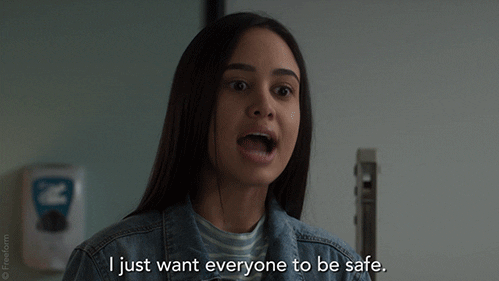 Consistent cloud cover will keep temps in the 80s. Below, the blue represents the clouds, and the white represents no clouds – the opposite of when you look in the sky? (We don't know why isn't that way but it is).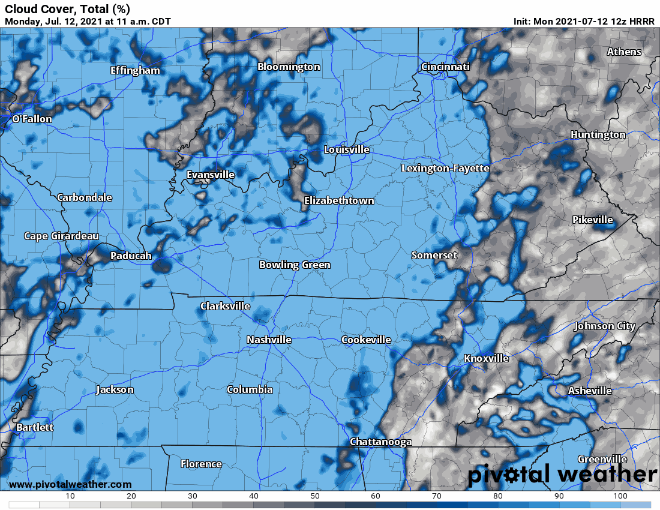 Dewpoints in the low 70°s. That's oppressive humidity.
More rain Tuesday?
Yep — for some of us. Tuesday will look a lot like today. The HRRR shows storms rolling in around lunchtime and continuing through the evening, but this timing and storm location could change.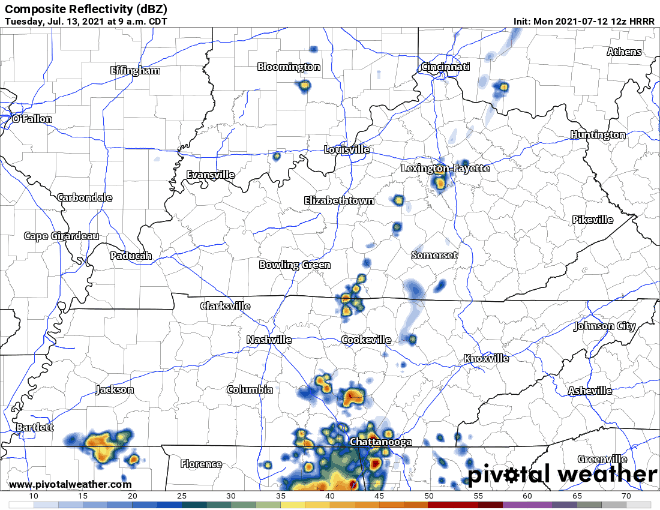 Will we ever get a break from the rain?
Wednesday and Thursday, that low pressure system finally starts moving away, and we're left with our usual afternoon pop ups, but other than that, we should have drier days. Temps will rise in the afternoon, but the dewpoint will come down a bit each afternoon.