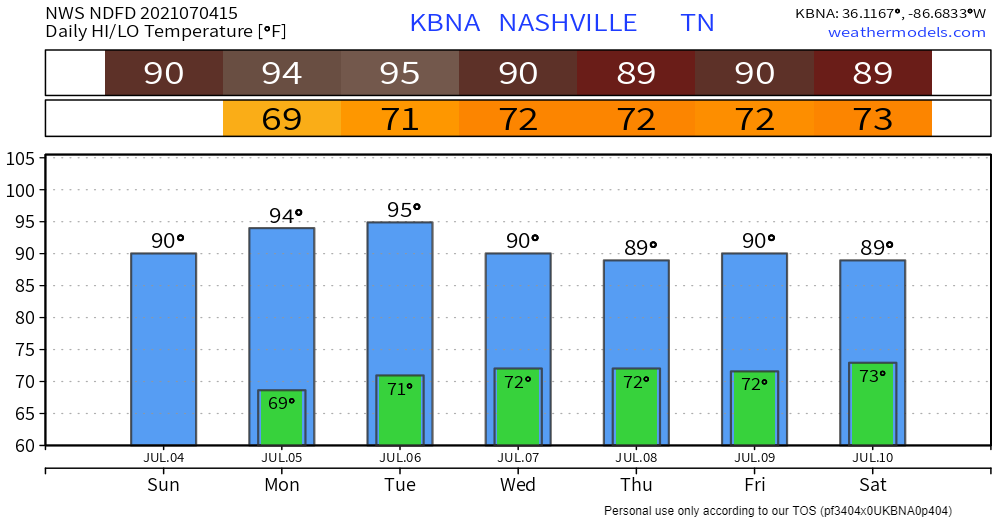 Who else can remember a rain-free Independence Day that wasn't either blazing hot or miserably humid (or both)? I know I can't. But that's exactly what we're going to see today. Don't get me wrong, it's still going to be pretty warm, but much more comfortable than we've been used to lately. Dewpoints are forecasted to rise to the mid 60s tonight, around the time that a lot of you will be watching fireworks. So a little sweaty, but temps will cool off enough to keep you comfortable.
High pressure situated over us will keep the rain off of us today, so let the 4th of July festivities begin. Only other thing to forecast is sun(shine/screen)! Hardly a cloud in the sky according to the HRRR below.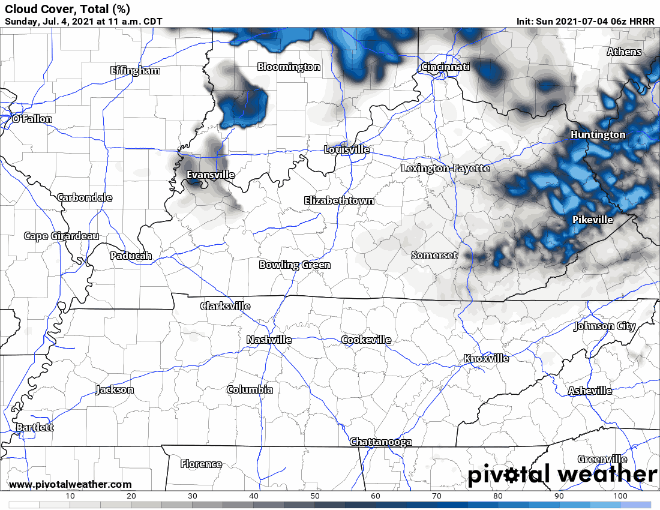 Models think a temperature inversion will develop after dark. Downtown Nashville fireworks are set for 9:30 PM. By then, the temperature inversion should have arrived. Firework smoke that would lift up and away during the day will be trapped by the inversion. The result: reduced visibility. Instead of a clear, black backdrop, the fireworks will create and illuminate trapped smoke. Not ideal, not horrible.
Rainless Early Week, Chances Back up on Wednesday
High pressure should push away rain through Monday and most of Tuesday. Isolated afternoon showers or storms are possible Tuesday, but the chance of you getting one is really low. We're also getting back to the summerlike temps and dewps tomorrow. Heat Index is forecasted to jump back up into the upper 90s. HRRR heat index Monday: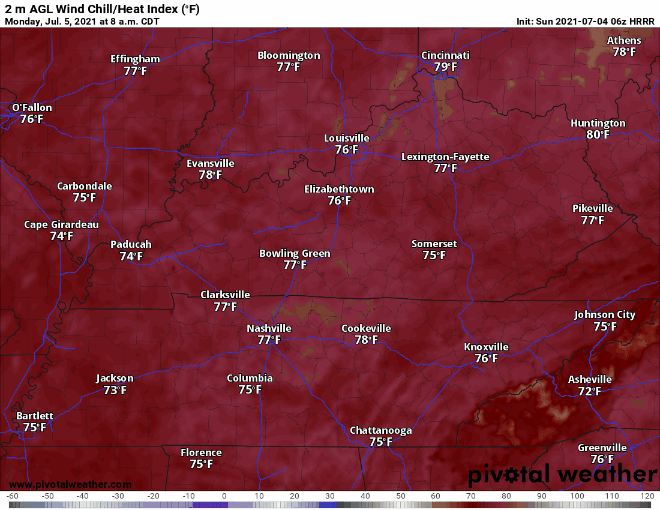 We're welcoming back daytime heating hit/miss showers/storms come Wednesday. An upper level shortwave is going to suck up some moisture from the Gulf and make rain out of it to drop on some of us. Good news is rain will help to moderate the temps. No flooding or severe weather concerns as of now, but more on that as it gets closer. As always in the summer, any rain event can turn into a lightningstorm. In rare cases big storms create isolated microbursts of intense straight line winds. Those are rare/exceptional events.
As always, check back for updates to the forecast, and be sure to follow @NashSevereWx on Twitter!