A cold front moving east will collide with our humid airmass to bring activity delaying lightning, heavy rain in some spots, and — potentially — damaging straight line winds.
What to Expect:
We do not expect tornadoes. We're excluded from SPC tornado outlooks and NWS-Nashville forecasts and graphics. This is because forecast data (see below) does not indicate a tornado-hospitable atmosphere as storms arrive.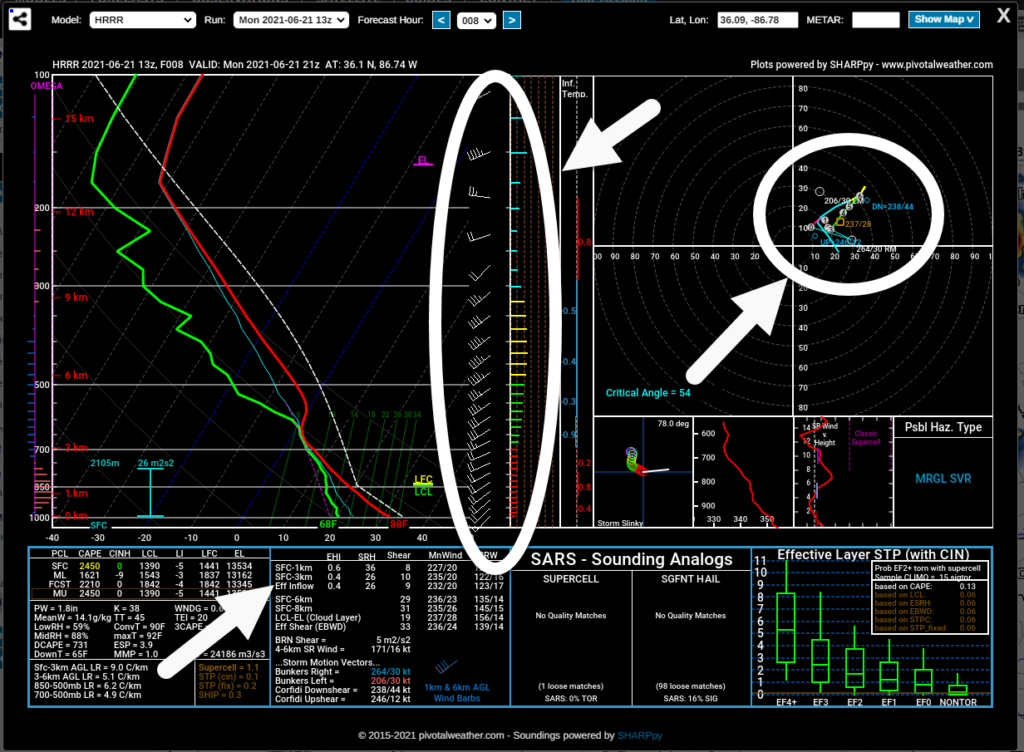 We know enough to never rule anything totally out but this does not look like a tornado day. Check back for updates and changes to forecasts. Timing may change and hazards added/removed.
Expect this line of storms to drop around 2″ of rain in a few areas. We don't know exactly where that will be. No major river flooding is expected, but creeks and streams could fill up pretty fast.
HRRR has rain totals ranging from 0.1″ to 2″ of rain in Davidson and Williamson Cos. That's a wide range. Only small areas should see the 1″+ totals, while most of us should get much less. These storms will be move pretty quickly, which is a good thing when concerned about how much water clouds are toting.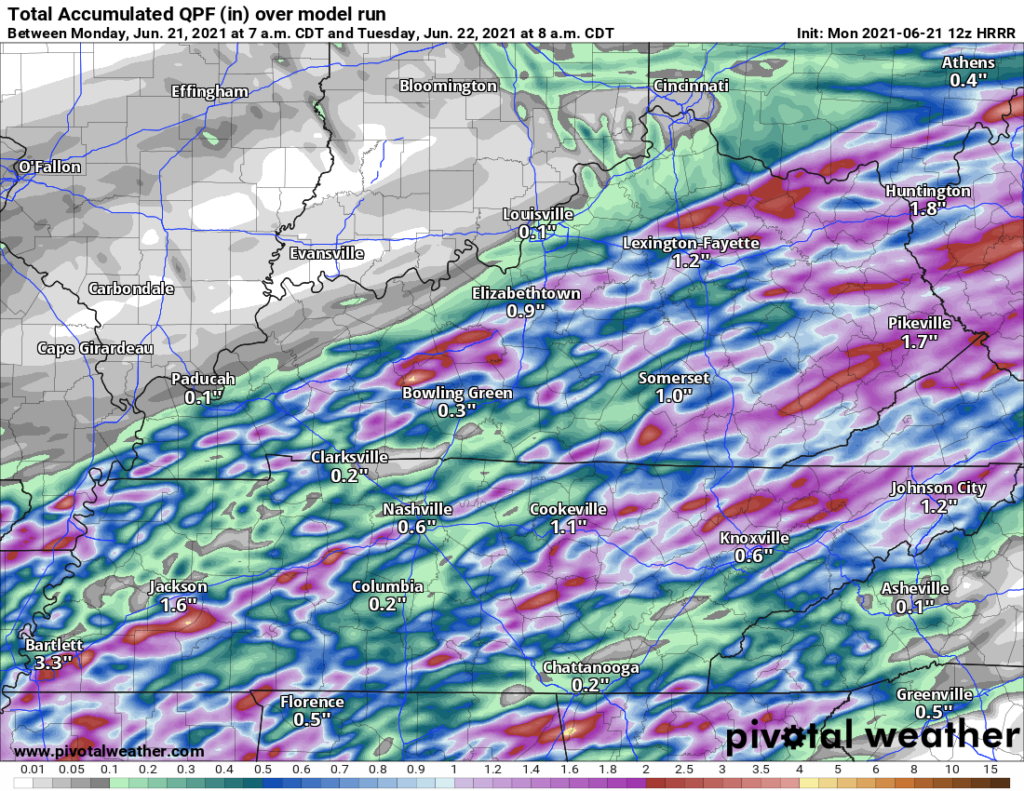 Damaging straight line winds will be the most likely threat today. SPC estimates a 5% probability of damaging straight line winds within 25 miles of us today. HRRR has wind gusts being strong all afternoon reaching up to 21 mph. Any severe winds contained in the storm you get will likely be in a small area.
ETA for the main line remains 4-5 PM according to the HRRR. I think that's too narrow of a time line. We prefer to extend that main line ETA range to 2 PM to 7 PM, with 4-5 PM the most likely arrival time. Complicating things is that storms may try and develop ahead of the main line, which is why we like to widen the ETA to a range rather than specific time.
Storms should last less than an hour.
Rainouts are possible and maybe even likely, but again, that'll depend on your field and its water tolerance. Rain totals will vary, probably by a lot. Sports and outdoor activities will need to be delayed when lightningstorms cross west across town.
Notice after the storms blow through, there should be some off and on rain. However, the strong/severe threat will be limited to the main line, just rain after. The storms will trickle out by early Tuesday morning leaving us with a clear Tuesday and Wednesday.
Tuesday and Wednesday are looking dry and beautiful! The rain dips our temperatures down to the 70's tomorrow. Humidity will also drop with it.
Humidty rises again Friday, giving us a chance of afternoon pop-up thunderstorms through the weekend.