Low pressure will hang around two more days, causing a "will it or won't it" downpour risk. Today should look like the past few days – scattered showers and storms — some dry, others getting a show. NWS doesn't expect anything too intense out of these storms, other than some heavy rain and wind, maybe lightning.
Exact timing and precise locations remain difficult to predict because of how this weathermaker is structured. The HRRR model shows rain chances increase tonight.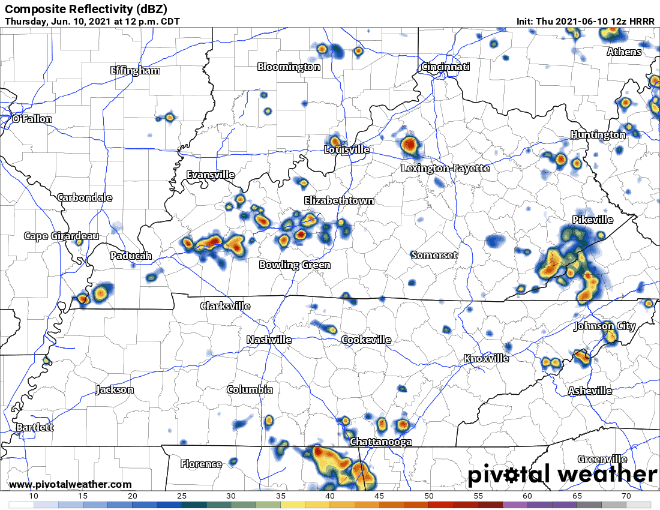 Expect a similar "will it or won't it" rain or storm Friday.
Sooooo… can I actually go outside this weekend?
Sure, but prepare to sweat.
ow pressure departs Friday night. Weekend rain chances decrease.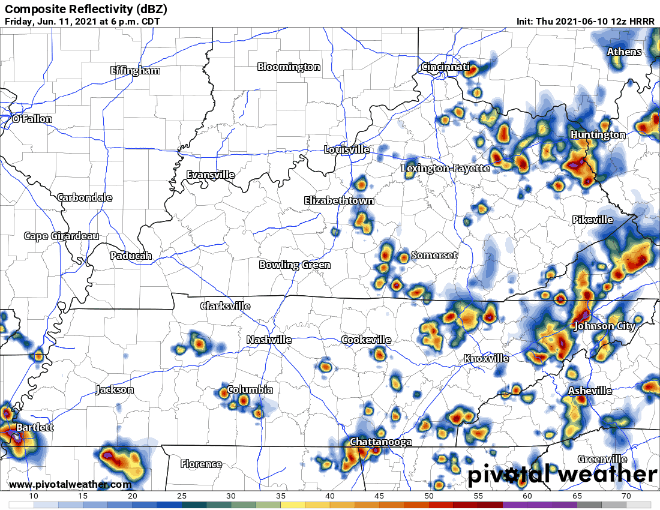 As of now, the HRRR shows a fairly clear Friday night and overnight, but the model does not extend past that yet. Tomorrow we'll have a better idea of how Saturday and Sunday will look. Without cloud cover, high temps will approach 90°. High dewpoints will raise the heat index into the mid 90°s. With 70° dewpoints and high temps, an afternoon pop-up summertime storm will be possible for the general area, but unlikely for any one point.
Dry air will start heading our way Sunday and Monday, which means next week should be drier. Dewps will drop into the 60s, so hopefully we won't have to swim through the air.