Continue to Blame the Low
You can keep thanking the annoying upper-level low for your recent weather woes. We want it to go away, too.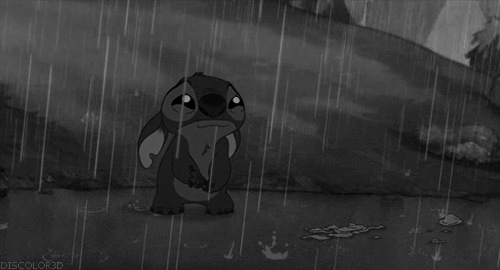 We also wish there were clearly defined start/stop times. We have things to do, too.
But the weather is trolling schedules and plans
The story today is more of the same, more showers and storms. The exact timing on these storms continues to be difficult due to the lack of frontal boundary associated with this precip. HRRR shows scattered showers and thunderstorms in our area this afternoon. As the day goes on and we heat up, the atmosphere becomes more unstable. This means more showers and storms for us, but exactly when and exactly where no one really knows. HRRR thinks activity ramps up in the late afternoon and early evening.
Storms should be moving quickly enough to reduce flood concerns. So low flood threat. But there is some risk for flash flooding, although that risk is probably more of a south of us and east of us thing.
No severe threat with these storms either. But lightning is possible, and potentially a brief downburst of wind should you be really unlucky.
Different Weather for Thursday?
Nope. HRRR has showers arriving in Davidson county around 6 AM. Just in time for your morning commute. Williamson Co. looks like it will have a drier morning. But that's if you believe the HRRR can pinpoint storm locations in this weather pattern which it almost certainly cannot do.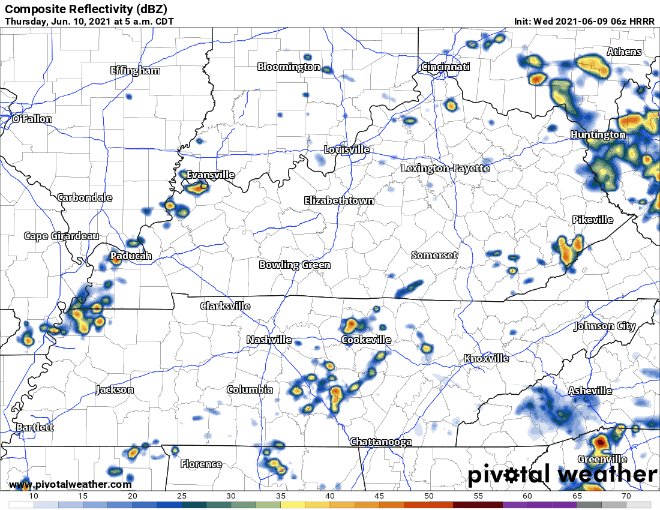 Showers and storms come and go throughout the day. Looks like there could be brief dry periods, but the iron fist that is pop-up showers and storms could end that at any moment.
Note the flash flooding risk remains between 10% and 20%. Here's an anecdote from your local friendly NWS-Nashville weather scientist:
Anecdotally, I had a shower pass the house this morning and while it looked like nothing on radar, I got 0.20″ in about 10 minutes. Any area that gets convection this afternoon will have to deal with even higher rain rates than that and the potential for localized flooding.
Editor's Note: I'll bet you a package of celery this'll be true Thursday, too.
How about the Humidity?
Dewps are in the upper 60° and occasionally low 70's through Friday. Peak values are around 73°. Walking is out, swimming is in, at times those will feel like the same thing.
Weekend Weather
Friday's forecast is looking similar to Thursday's.
Rain probabilities are lower for Saturday and Sunday, but the possibility for afternoon and evening pop-up shower or and storm is there. Expect higher temps, lower storm chances.