A few showers are possible late this afternoon but more likely later tonight as a moistmaking system inches closer to us. Here's the HRRR model through 6 PM tonight.
Later tonight a few showers will cruise through, nothing severe.
Humidity is rising. Dew points will land in the mid 60's Wednesday into Thursday. Higher dew points indicate increased moisture to power up storms Wednesday. Also, you'll sweat a lot.
Wednesday Rain and Storms
Severe weather is possible Wednesday as storm scatter through the region. Lightning and downpours will be numerous, but they may be scattered enough to only hit parts of town, and not others.
HRRR showing widespread rain turning into scattered, more severe storms by Wednesday afternoon:
The main severe threat for Davidson and Williamson Co. is straight line wind gusts, but the probability of that happening within 25 miles of you is 5%. Tornadoes cannot be ruled out. The probability of a tornado within 25 miles of you is 2%. Hail is not expected.
Expect storms to really kick up Wednesday afternoon continuing to the evening.
Those on the lake, hiking, golfing, or otherwise working outside will need regular, secure access to timely information and time to get to shelter should a lightningstorm blow through.
So What is Thursday Lookin' Like??
Rainy in the morning, ending sometime Thursday late afternoon to or early evening as the system moves out. No major threats here, just rain. Severe weather is possible in West Tennessee; for us it looks iffy. Thursday is outside the range of the higher resolution storm models, so there's a good bit we don't know about this right now.
Euro model with the rain leaving Thursday evening:
Rain totals for this system will come out to around 2″ so no flooding threats, we can handle that. 💪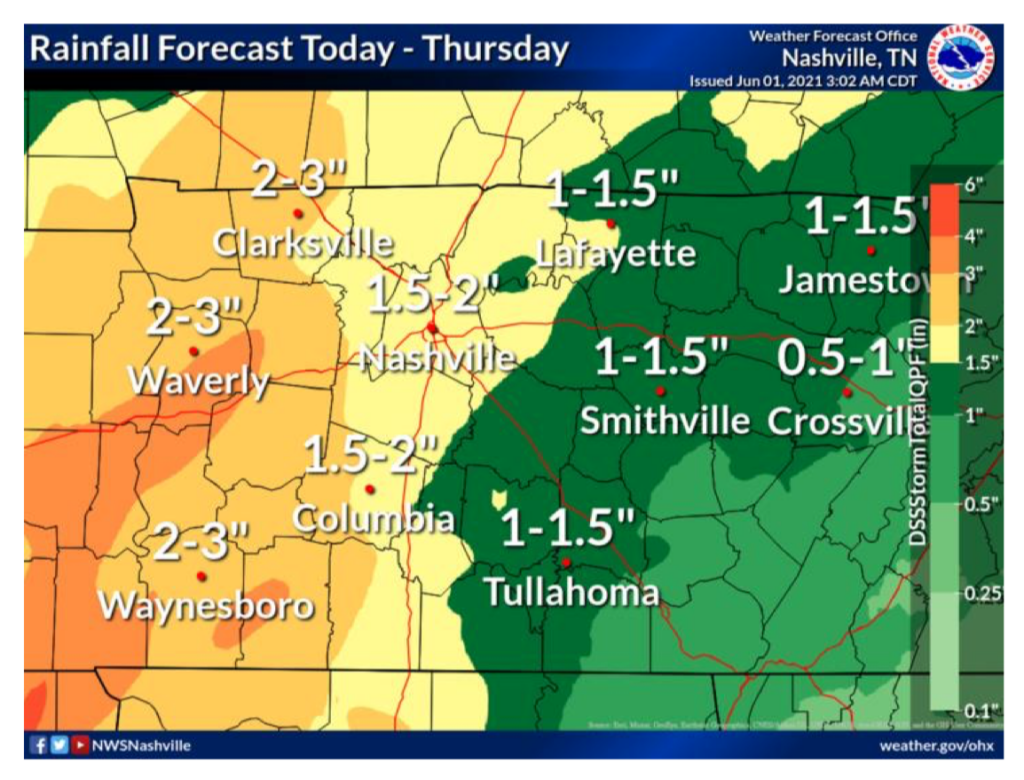 This weekend expect pop up downpours and lightningstorms in random spots to bubble up in our high temp, high humidity late afternoons and early evenings.