Jason was born in Nashville. He graduated from Franklin High School. He spent a few semesters at ETSU, where he met Ashley. He joined the Army and married Ashley and they moved to Ft. Bliss after he finished basic training. They planned a formal wedding after he returned from Afghanistan. Jason had a boxer, Charlie. He rode motorcycles, played tennis. And when his country asked him to go, he went.
Army Spc. Jason K. Edens was an infantry mortar soldier. At Laghman Province Afghanistan on April 15, 2012, his unit came under small arms fire. He was returning to the vehicle to get mortar when he was shot in the head. He was flown to Germany then Walter Reed but the wound was too much. He died 22 years old, 11 days after he'd been shot. He was 85 days away from returning from his deployment.
On a warm day in 2012 his funeral processional cut through Franklin. I didn't know him or his wife or his family and I still don't know his family but I was there to see that processional. The city froze as an nearly endless parade of motorcycles, police, and vehicles halted local traffic for about a half hour. The community lined sidewalks to show respect as Jason's friends, family, and wife moved slowly by.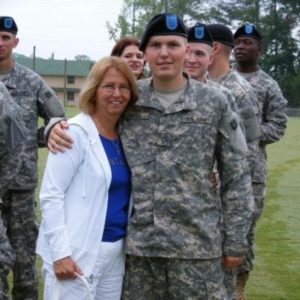 Today, we remember. Take a few minutes and read about him here. –David, Will, Andrew, and the NSWX team.
---
No rain today. Dewpoints will start in the low 50's, then increase to upper 50's by tonight as the humidity slowly returns.
Tuesday morning and early afternoon will probably be dry. Rain will approach from the west but collide into drier air. So a few afternoon sprinklers possible but unlikely. Tuesday night a few showers may make it here, so says the HRRR: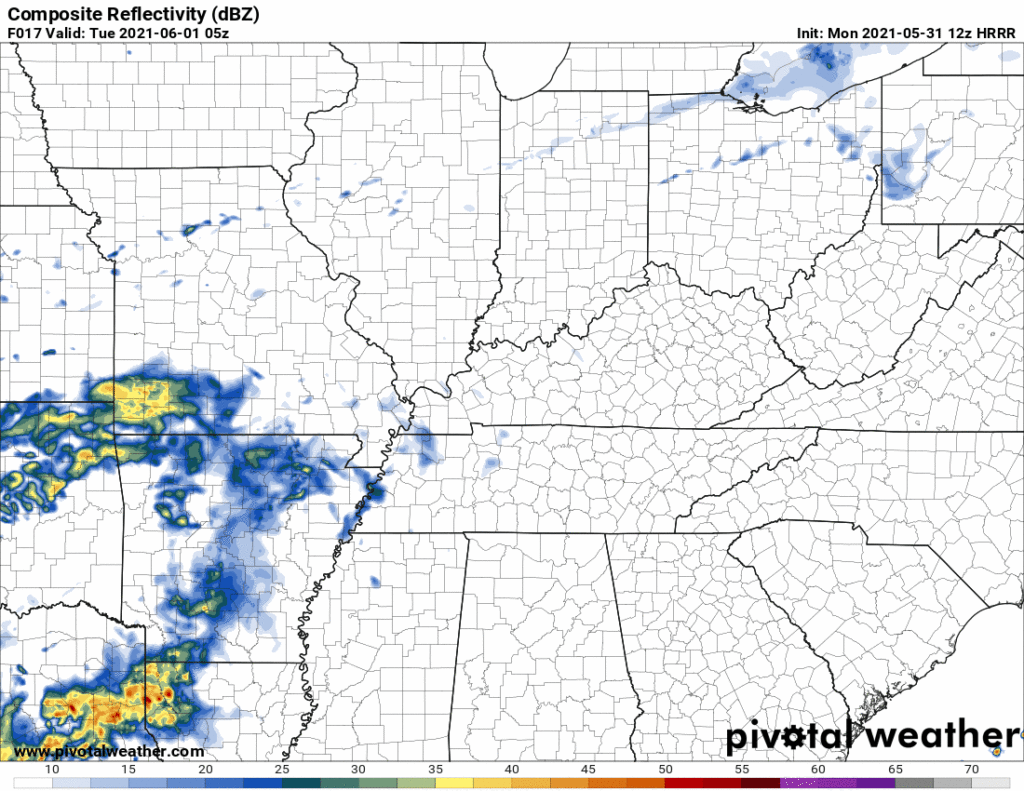 Euro thinks there will be showers just west of us around 7 PM Tuesday.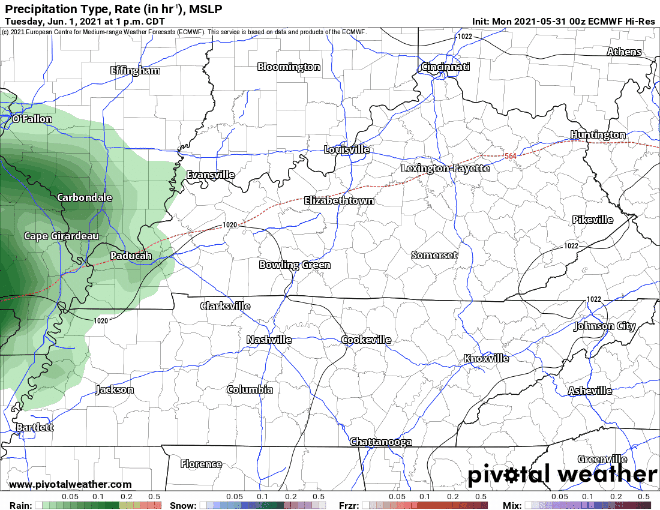 Rain looks likely overnight Tuesday into Wednesday morning. So says the HRRR model and (below) the NAM: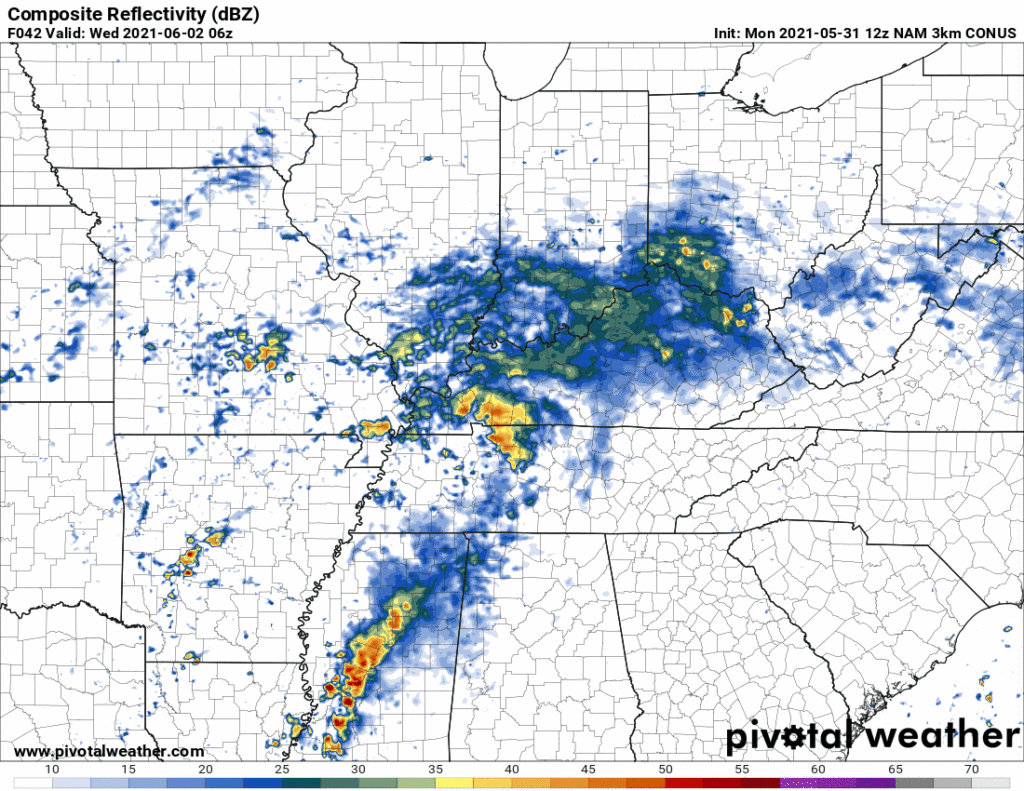 The atmosphere will attempt to reload late Wednesday morning into Wednesday afternoon. Lightningstorms may develop Wednesday afternoon and early evening. Severe weather is possible.
Severe weather probabilities are low. SPC includes us in the 5% zone of where they think it will occur. Anywhere included in the brown has a 5% chance of severe weather occurring within 25 miles of any point. See image below.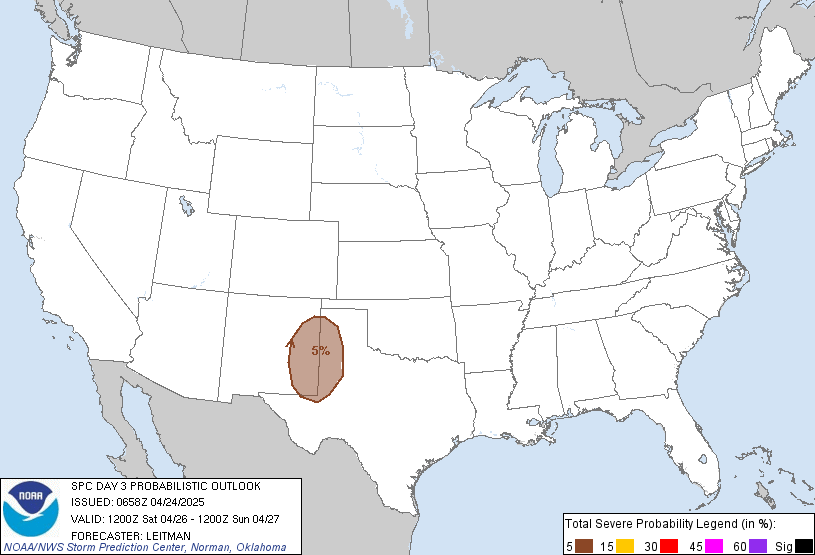 Threats vary by model. Lightning is likely. Damaging straight line winds are the most likely hazard should severe weather develop. Hail appears to be less likely. GFS and Euro forecast soundings do not support tornado development (those models show near surface winds from the SW, they'd need to be more S or SE to cause problems). However the NAM model — the Drunk Uncle of Models (DUM) — shows tornado-capable conditions. DUMs should never be wholly discounted but they deserve criticism founded by informed skepticism. The NAM is famous for overdramatic/wrong severe weather outlooks.
Any storms that train could produce periods of heavy rainfall. Flooding is not really a concern as the the 7 day rainfall total is 1-1.5″.

NWS-Nashville
Thursday looks rainy, maybe stormy. Models vary on timing and rainfall amounts. Forecast confidence will improve as we get closer to the end of the week. But Thursday afternoon rain is a good bet.
Dewpoints will settle around 60° (kinda sweaty) this weekend. Temps will rise through the 80°s. Pop up afternoon thunderstorms will be possible.
With southerly winds and plenty of moisture afternoon showers and thunderstorms look to be possible through the weekend and into next week.

NWS-Nashville
As always, check back for updates to the forecast, and be sure to follow @NashSevereWx on Twitter!