Two Tornadoes in Davidson County on Tuesday
Two tornadoes touched down in northern Davidson County on Tuesday morning, according to a damage survey by NWS-Nashville. The first along a W to E path just north of I-24/Joelton. The other along Lickton Pike/Old Springfield Pike/Hwy 41 just N of Goodlettsville. Both were EF-0. They both occurred within the tornado warning that had been issued and were from the same storm. The first tornado touched down, lifted, then touched down again as it moved east.
Storms This Evening
We're not expecting tornadoes with a round of storms this evening. We are excluded from SPC's tornado risk which begins at a 2% risk level, which is to say the probability of a tornado occurring within 25 miles of you is less than 2%.
We are, however, barely included in their damaging straight line wind outlook. That probability is 5% of damaging straight line winds within 25 miles of you.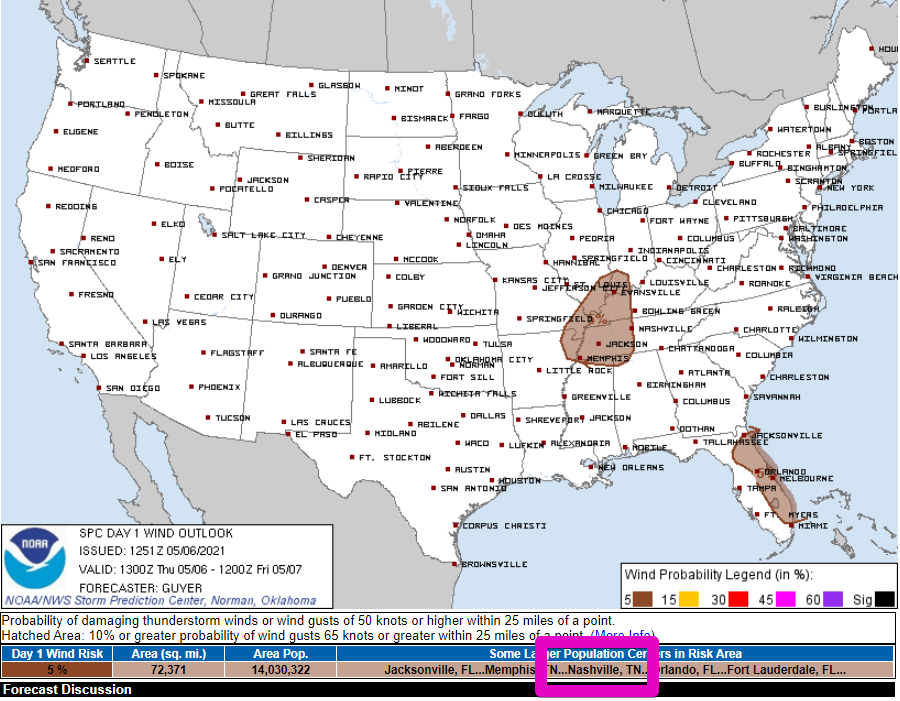 We are excluded from their large hail outlook.
Timing
HRRR thinks this will be an evening event for us. Storms arrive around 4:00 pm with another round possible after that. Rain begins to exit around midnight.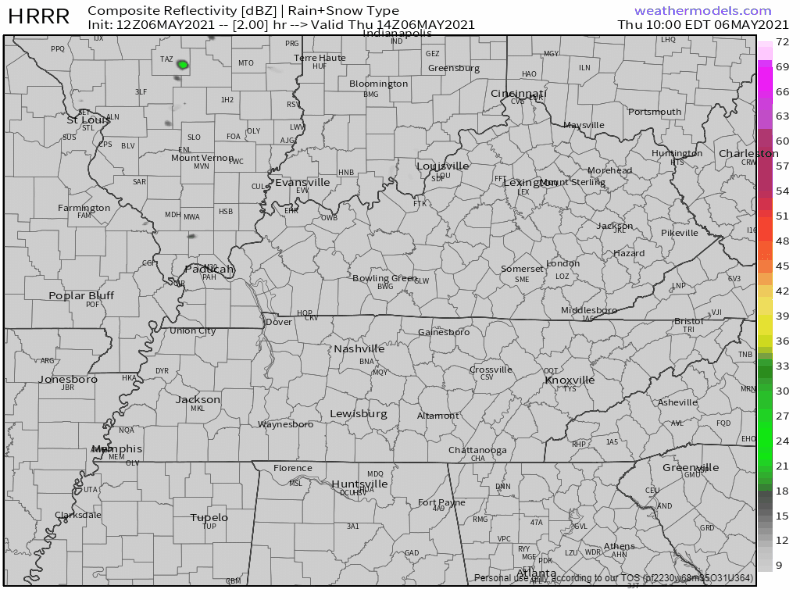 Other models think this will be one round of storms around 7:00 pm rather than two rounds. We'll see.
Either way, this looks to be an I-24 Special, and storms should be weakening either before they arrive or as they arrive. If instability holds on a little longer, they may not start losing whatever punch they have until after they move through.
If you have outdoor plans tonight, be watching to the NW both on radar and with your eyes/ears. If thunder roars, go indoors. Have a plan to quickly get to your car if you're out at a ballgame.
Rain Chances for Weekend and Early Next Week
Saturday doesn`t look to be a complete washout, but probably will have some off and on scattered showers and a few t`storms through a decent portion of the day. Sunday into Monday and frontal boundary will push towards Middle TN once again upping the shower and t`storm chances throughout the area. Looks like a slightly slower progression of the front compared to previous model runs, but do expect more precipitation with this round. Model soundings are still somewhat conducive to support some strong to severe storms Sunday night into Monday, so will need to continue keeping an eye on this over the next few days.

Morning AFD, NWS Nashville
Unsettled weather continues with off/on chances of rain/storms all the way into the middle of next week.
The NAM 3km model isn't our favorite, but it illustrates the scattered nature of Saturday's rain. Radar will likely look different, but we get the general idea. Model run shows midnight through 1:00 pm Saturday.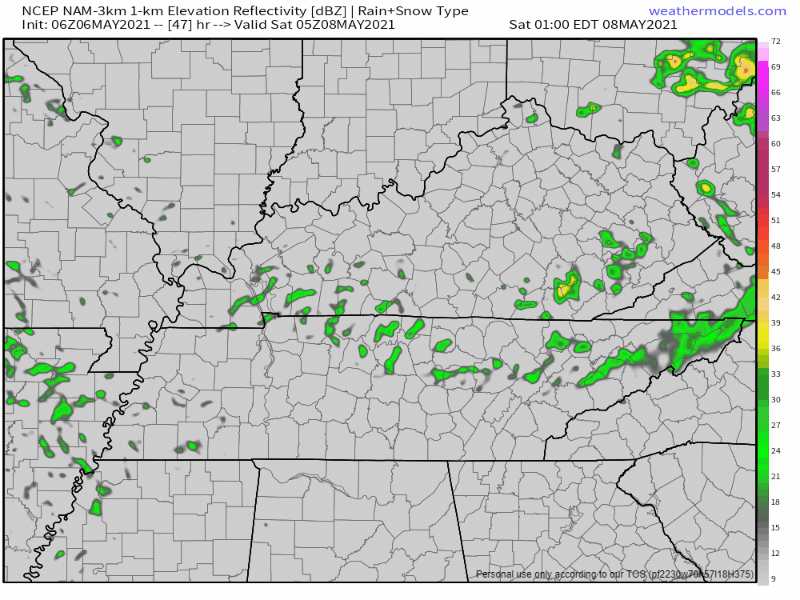 SPC isn't impressed with severe potential with rain/storms next week, but it's a little too far out to draw conclusions. If we get drawn into any severe forecasts, we'll let you know.
We'll refine timings, strengths and impacts as we get closer.
As always, check back for updates to the forecast, and be sure to follow @NashSevereWx on Twitter!