Yesterday's Severe Weather
Numerous National Weather Service damage surveys will get going over the next few days to determine what damage was caused by tornadoes and what damage was caused by straight-line winds. The damage can look similar, especially with weak rotation as we saw yesterday. But, trained eyes will sort it out.
For our two counties, the main area of interest will be along the northern border of Davidson Co from Joelton, over near Freeman Hollow and other areas north of Goodlettsville. Extensive tree damage was reported here.
Storm Chance Thursday Night
HRRR Model thinks we'll see another shot at storms, an "I-24 Special" as we affectionately call them 'round here. If this model verifies, we'll see storms approach Nashville somewhere around dinner time tomorrow night. Timing will need to be adjusted. Not all models agree on how many storms there will be.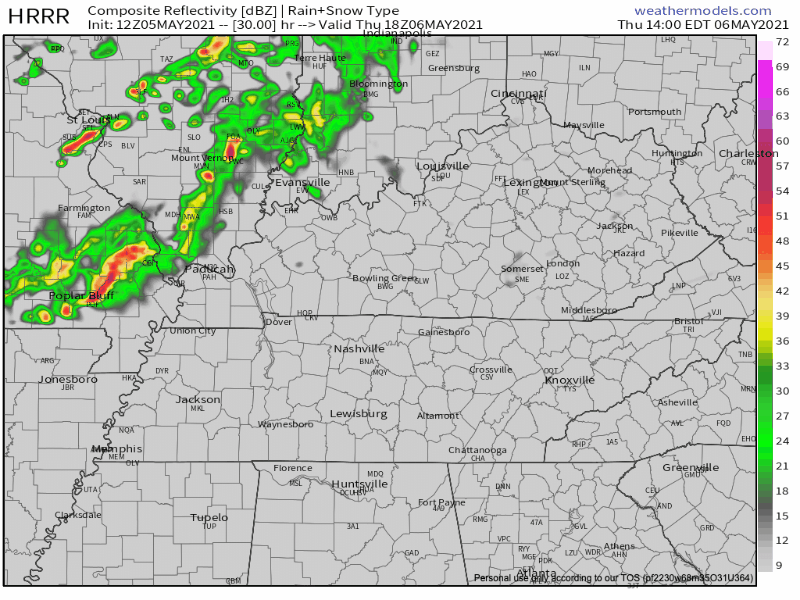 NWS doesn't expect these storms to be severe when they arrive. Sounds good to us. We'll take it.
Deepening upper-level trough will set up into tomorrow with a corresponding surface frontal boundary racing towards us by tomorrow afternoon. While this will bring some showers and t`storms to parts of the area, it doesn`t look to be widespread and doesn`t appear to be severe at this time. We should make it through a good bit of the day rain-free, but expect chances to increase by the mid to late afternoon into the early evening.

NWS-Nashville AFD, 3:07 am
Weekend Rain
Details on weekend rain appear fuzzy at this point, but rain chances start increasing Saturday afternoon and continue through early next week. Severe weather indicators aren't clear either way. But, if you have outdoor plans, stay connected to the forecast as our guesses at timing get more refined.