Most of Will Co is under a Flash Flood Warning this morning.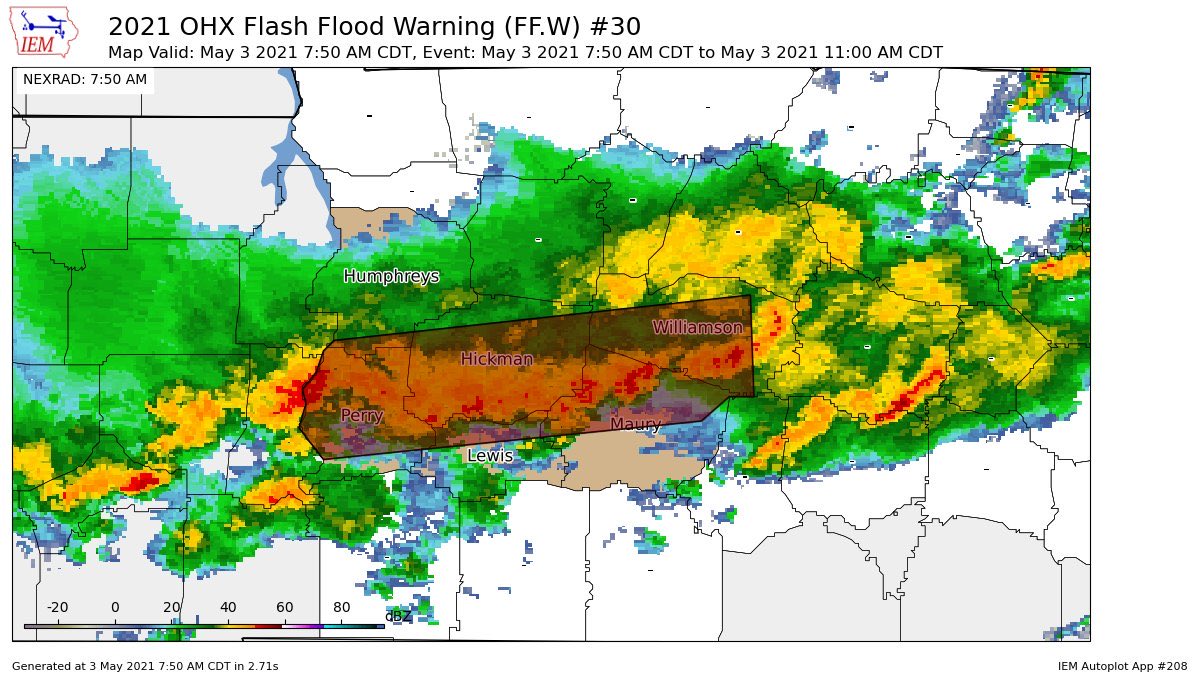 Another 1″ to 2″ is expected as rain "trains" over the area. Training rain is like a train, it runs over the same tracks. Those in the Flash Flood Warning box above are the tracks.
Most flash flood fatalities occur in or around vehicles. Do not drive across a water covered road.
Rain should end shortly after lunch.
---
Another round of storms is possible around 11 PM/midnight. Check back throughout the day for ETA changes.
HRRR model, below, shows them developing.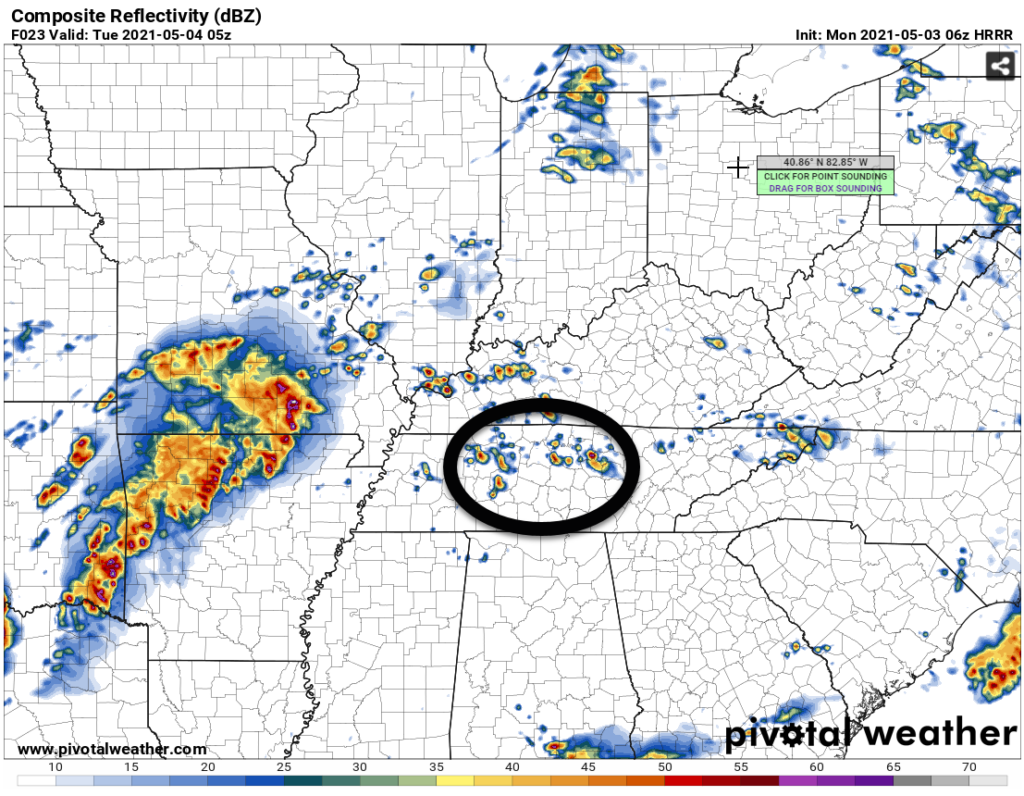 These storms — assuming they form — will lift north. They will mature, powered by strong instability and shear. Damaging winds and hail are most likely. Tornadoes are possible during this time, but the HRRR continues to show a steep temperature inversion at the surface that would inhibit, if not prevent, tornado development. These will be watched closely.
You'll need your NOAA Weather Radio and Wake Me Up app combo tonight/overnight.
---
Tuesday morning expect a line of storms. ETA is the AM commute. Again, check back for timing changes.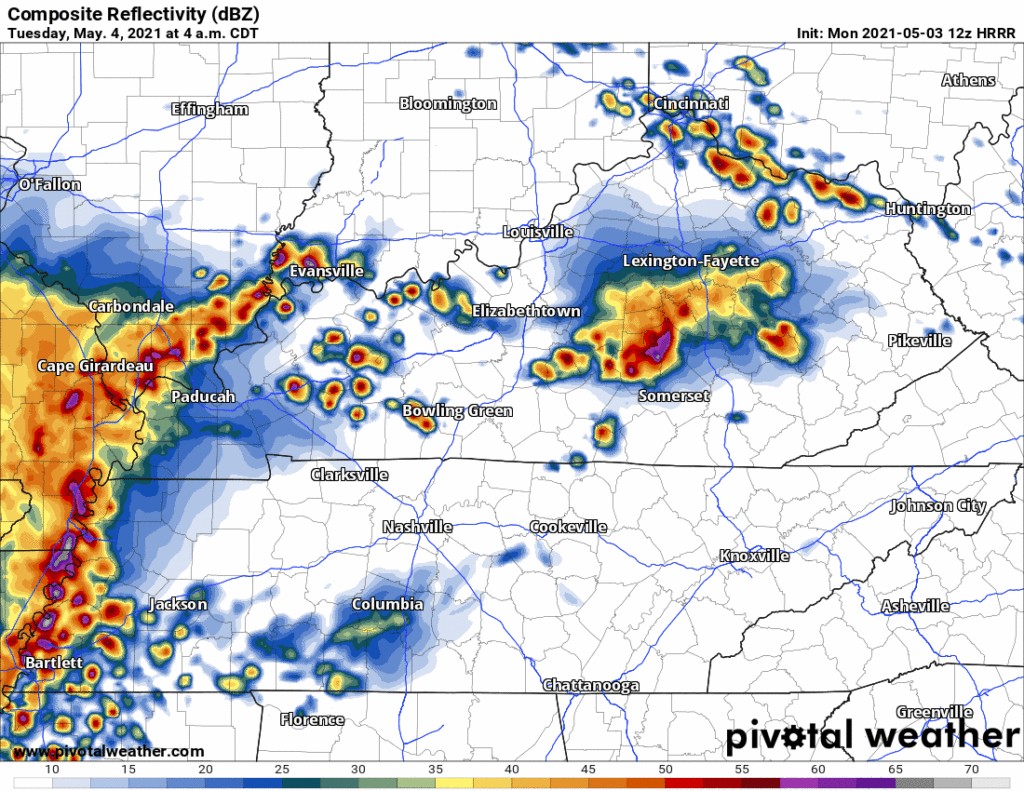 This does not look like a tornado threat. Two reasons. One, near surface winds aren't "turned" enough. Two, near surface inversions will limit tornadogenesis. Storms nevertheless will be noisy, and straight line windy. Hail is also possible.
Check back for changes to this forecast. We've had AM commute tornadoes before.
---
Tuesday is quiet until mid/late afternoon.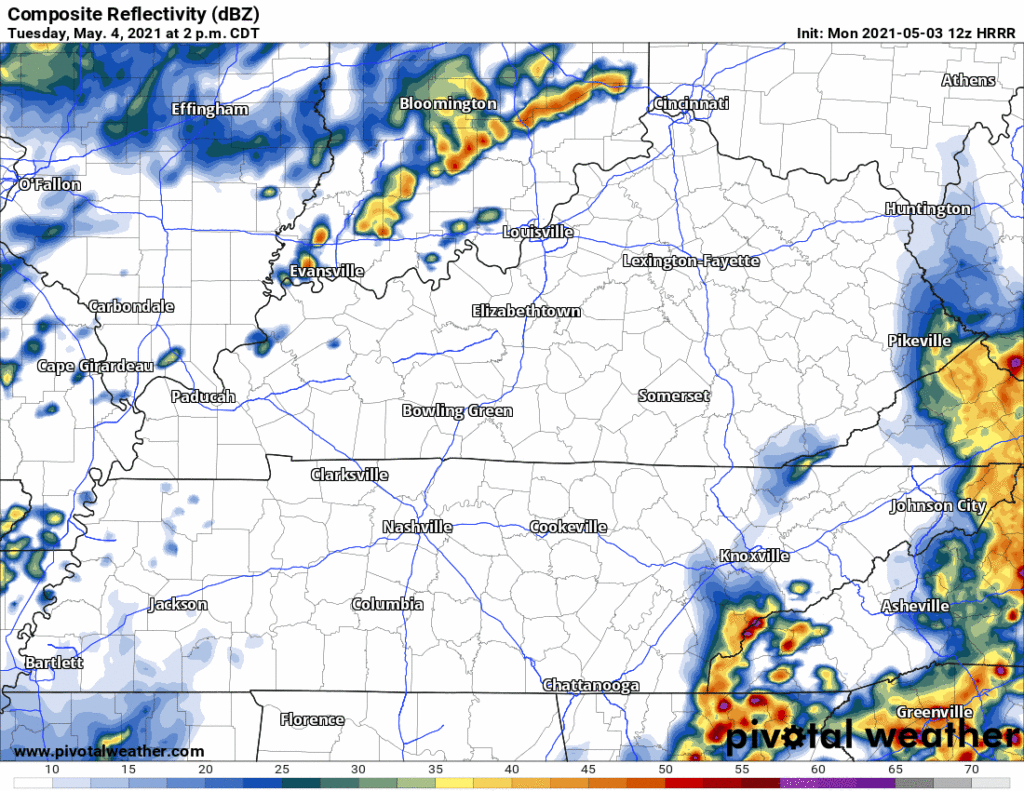 Another round of storms should develop somewhere in Middle Tennessee Tuesday afternoon. Exactly where is difficult to pinpoint; right now the HRRR has it in Maury County, but it could easily happen anywhere.
If the HRRR model is right, these thunderstorms do not have the look of tornado producers because almost all the winds are from the WSW. Winds should not be able to support near surface rotation essential to tornado formation. Check back frequently for changes to this; not all model data agrees. Either way, straight line winds would be the main concern, along with hail.
Same is true for another round of storms, coming in after dark but before midnight Tuesday night. Although, we may have a slightly more south wind that might increase tornado potential, but only slightly.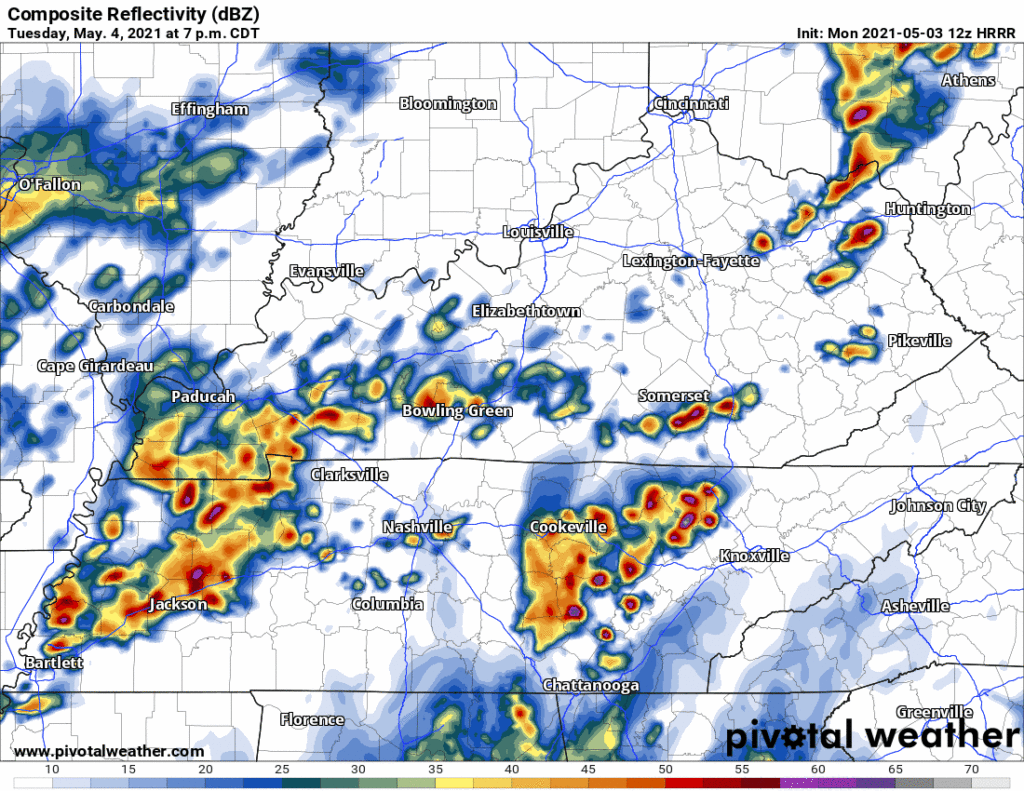 For Tuesday, SPC assesses us a 15% probability of a damaging straight line wind event and/or hailer. The probability of a tornado during this time is 2%.
WPC says there's a 5% to 10% probability of a flash flood event Tuesday.
---