11 years ago today the 2010 Flood was showing itself. 1 year ago tomorrow, the derecho.
For the next two nights you'll need to have your NOAA weather radio and Wake Me Up app (StormWatchPlus) ready. You'll need them tonight and Monday night.
---
Light drizzle off and on today. Soccer fans and other outdoor stuff through early this afternoon should be fine, just prep for an outdoor shower. No lightning.
Steadier, bit heavier rain arrives late this afternoon and tonight: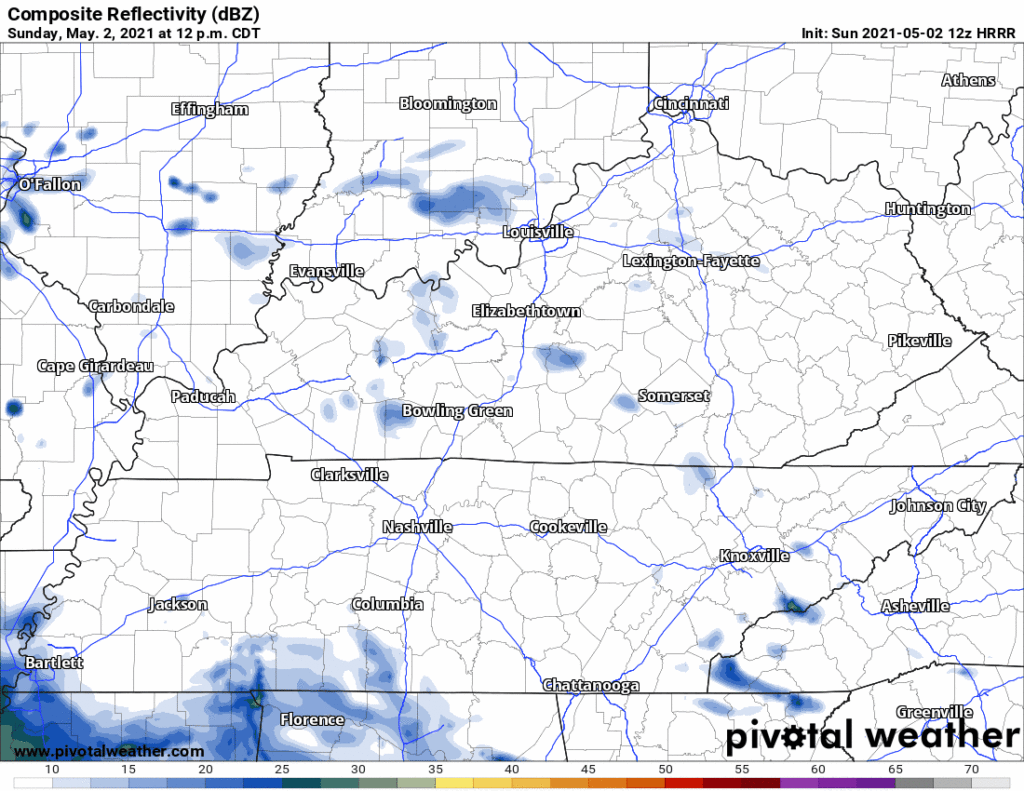 Downpours and thunderstorms will scatter from midnight tonight through lunch Monday. Lightning/Thunder may wake you. A few storms may be strong or even severe (damaging winds), but this does not look like a tornado worry. Sleep responsibly and confidently with a NOAA weather radio and wake-me-up app next to your bed. Here's the HRRR model during this time: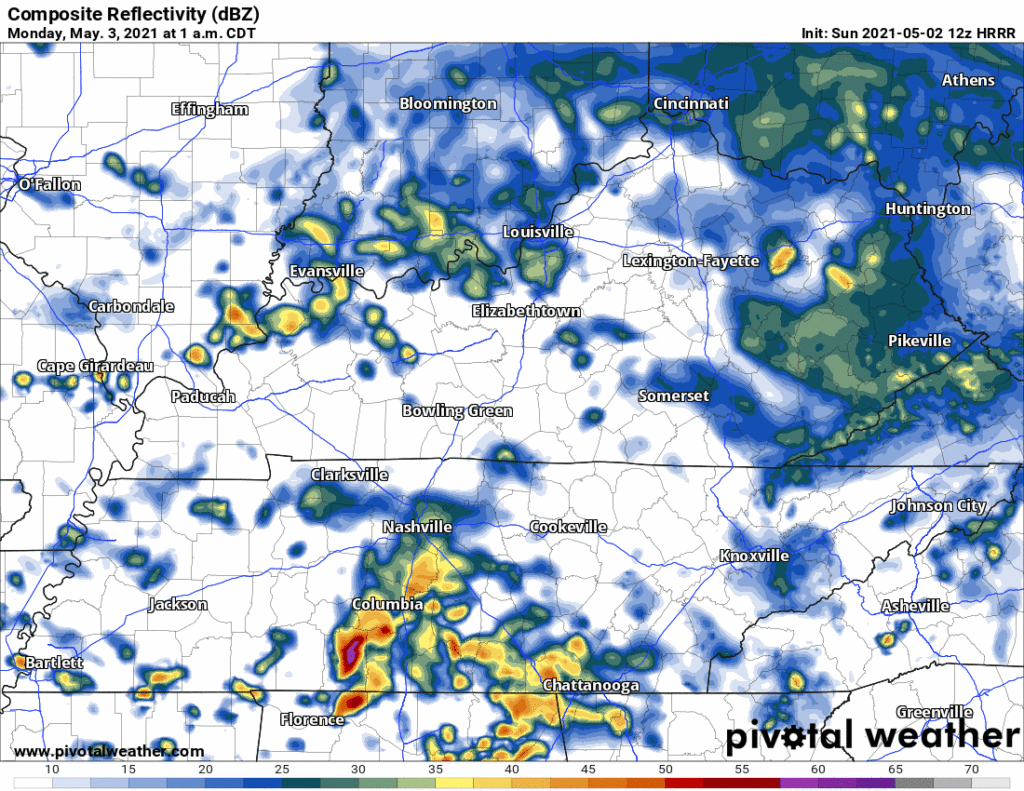 Look for a half inch of rain on average, with some getting much more, others much less.
Things quiet down some Monday afternoon and early evening.
Yesterday, models indicated a severe weather event arriving Monday night or overnight into Tuesday morning. Right now that looks like a very early Tuesday morning threat, not a Monday night threat, but timing remains fuzzy so solidify no evening plans right now.
The current (12z) HRRR model run shows a quiet Monday night, we go to sleep without anything on radar. But that changes after midnight as we head into Tuesday morning. The HRRR shows storms forming between 12 AM Tuesday and 5 AM Tuesday: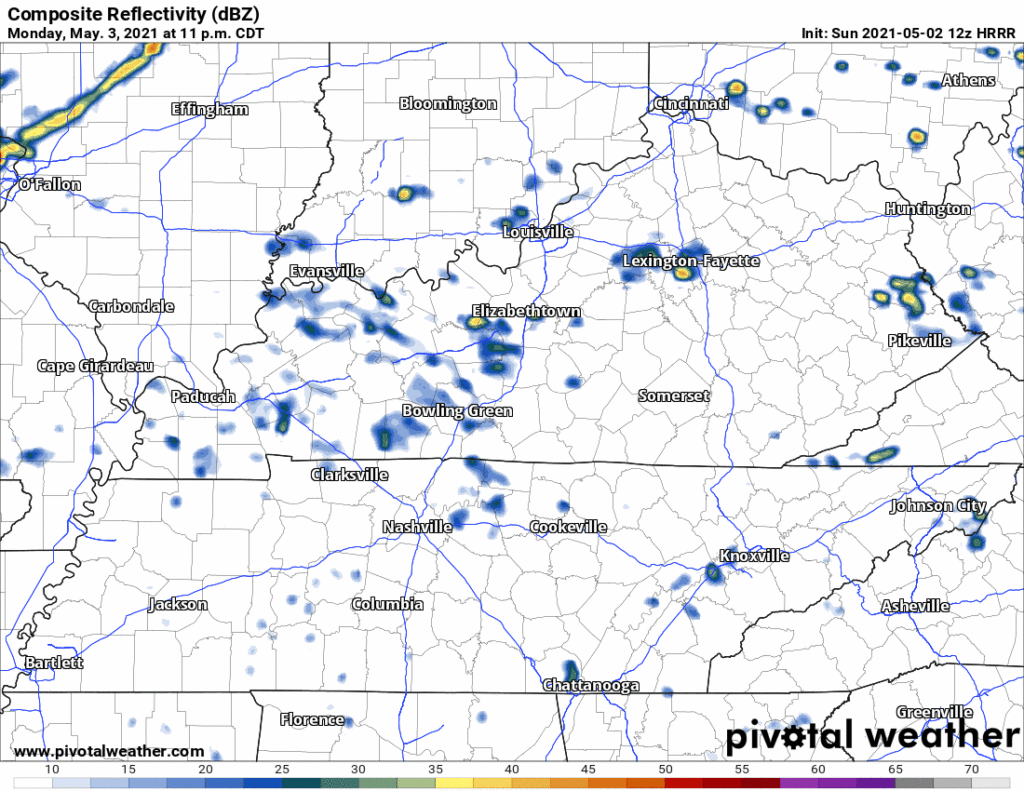 Don't pay attention to exactly where those storms form (what I mean is: if it shows storms in Franklin but not Bellevue, don't think I'm in Bellevue, I'm good, because you're not. These models aren't that accurate. That the storms are in Davidson and Williamson Co are what we care about). This model thinks storms will form in an unstable, sheared atmosphere. Both instability and shear are necessary to make severe thunderstorms. Damaging straight line winds are the biggest threat. A tornado or two could form, but if the HRRR is correct and there is a low level temperature inversion, it will be difficult for a funnel to connect to the ground, making tornado formation difficult, if not impossible. We hope the HRRR is correct and the temperature inversion happens, we'd rather have a noisy, angry storm without the tornado.
Then notice the very end of the HRRR model: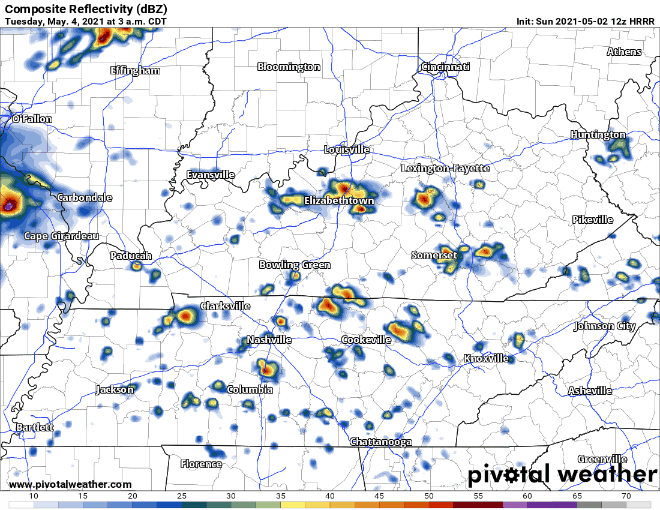 The model ends before the storms get to us. That gnarly line near Paducah is the "I-24 Special" we talked about in yesterday's blog. It should get to us sometime during the day Tuesday. I-24 Specials can produce anything, really, from flooding, to a tornado, hail, but usually these are powerful straight line wind makers and large hail tossers. Tornadoes are possible, but less likely. We'll talk more about this later today and tonight when the high res models get within 48 hours of it.
Rain ends after the I-24 Special. Colder air behind it. Kinda quiet after that.
As always, check back for updates to the forecast, and be sure to follow @NashSevereWx on Twitter!