No rain today.
Rain Sunday. Not enough to cancel plans but if you're outside all day you'll get wet.
Light rain arrives around lunchtime/Nashville SC kickoff. Then more light rain later Sunday afternoon. See below HRRR model. Some models have it earlier, others later than that.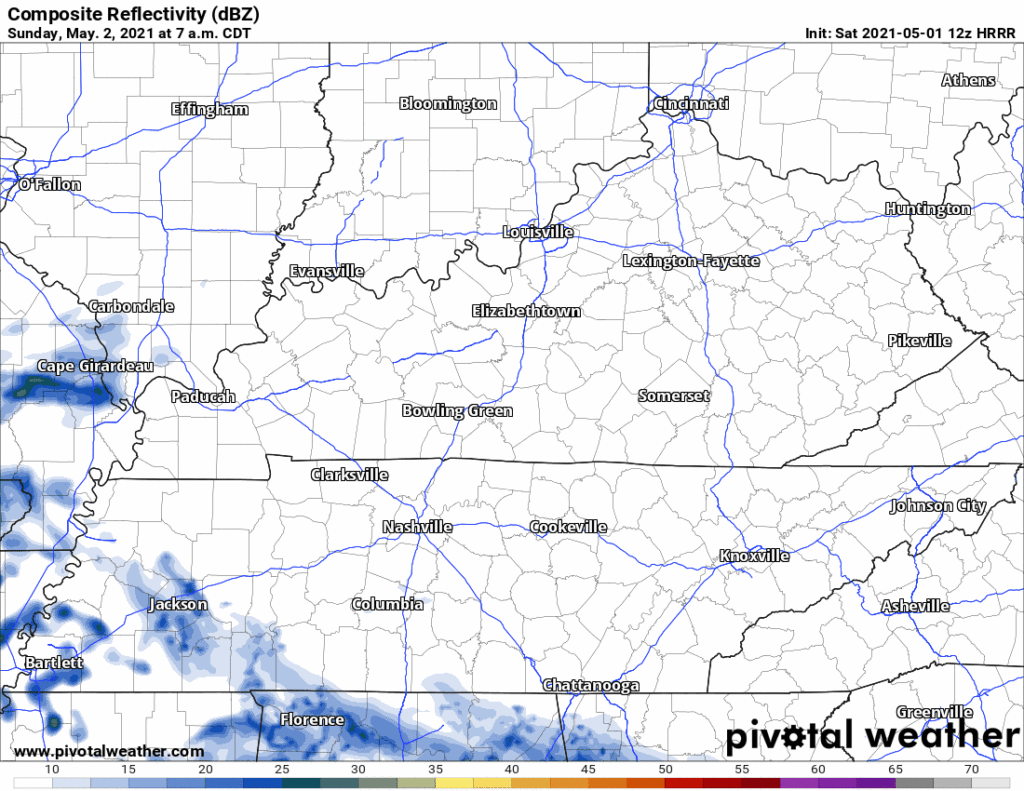 Off and on drizzly and light rain seems likely Sunday afternoon into the evening. See below NAM4 model.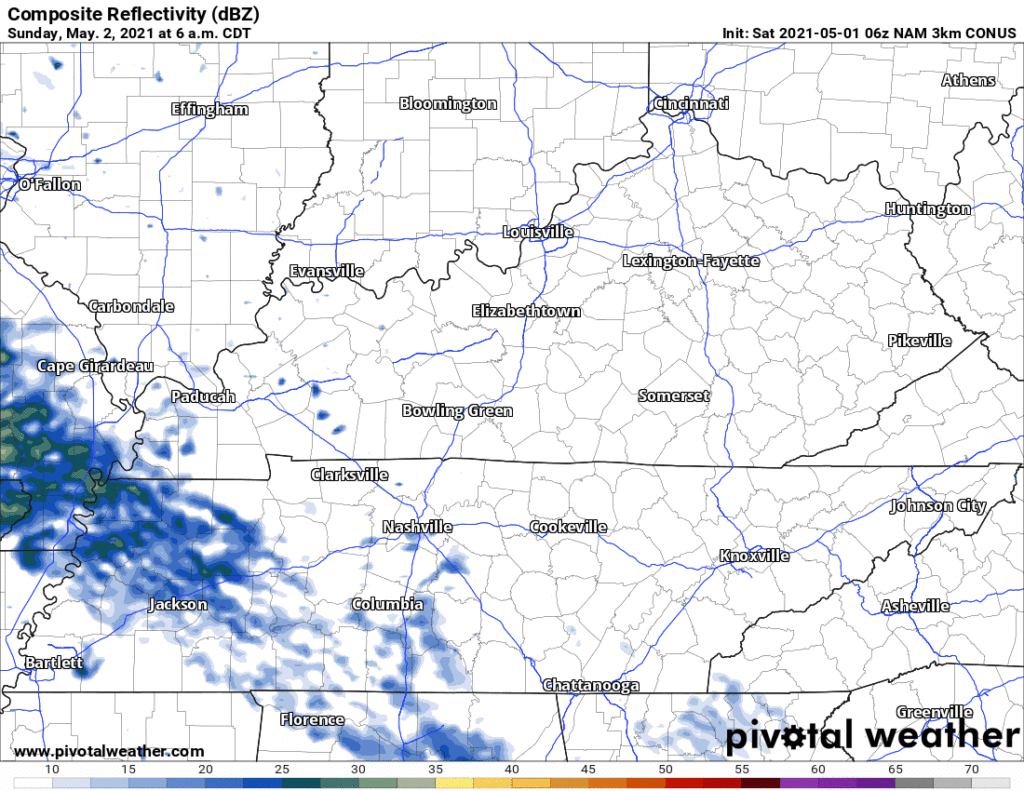 No lightning or other worries during the day Sunday. A few showers or weak storms may slide in from the southwest Sunday night, no big deal.
The concern is Monday night.
NWS-Nashville opened its morning forecast discussion by putting all severe weather ingredients on our table Monday evening:
The period of Monday afternoon and Monday evening appear quite volatile. NAM forecast soundings show deep instability with high CAPEs ahead of the approaching [cold] front, along with very steep lapse rates and robust helicity values. We will have to monitor this timeframe closely for possible severe activity.
Storm Prediction Center's outlook includes us within a 15% probability of either damaging winds, and/or hail, and/or tornado, within 25 miles of us Monday.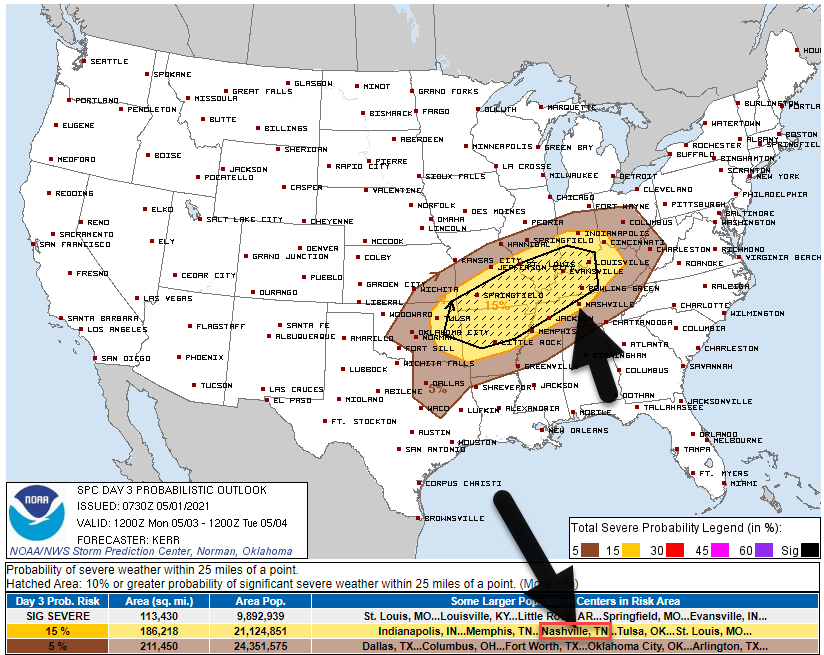 Right now we are outside that "hatched" area above — that's the shaded part — where there is potential for "significant severe weather" (very large hail, very strong straight line winds, EF2+ tornadoes). We are not far enough away from the hatched area for my liking. SPC said the models that worried them differed in where the threats would be. So they kinda took the average of them all, and while we are inside the 15%, we are outside the hatched area. I would draw few conclusions and check back for updates.
ETA looks like Monday night, maybe even late Monday night, so we might be able to get in outdoor activities Monday evening before the storm(s) hit. Storms could, I suppose, arrive earlier. Timing is frustrating because good hourly high resolution models don't run beyond 48 hours. But we do have hourly data derived from the Euro model (thanks, Patreon supporters!) which is below, and it shows a Monday night storm event.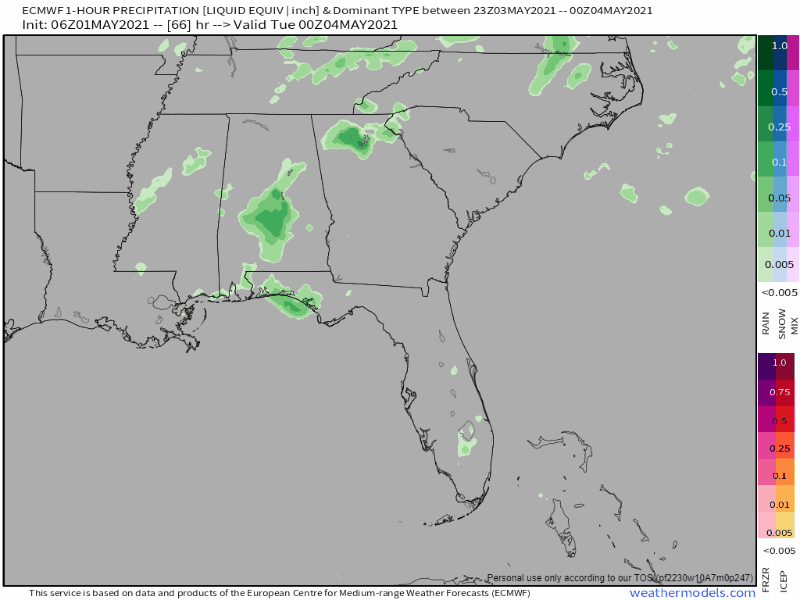 This looks to me like an "I-24 special." That's what we call a powerful line of storms moving into town along I-24 from Clarksville. Usually I-24 specials are straight line wind events, but we can never really know whether that will be it. The Euro forecast sounding algorithm says tornado in the "possible hazard type" box, but that doesn't make sense because the same model shows a low level inversion.
I think this is a potentially gnarly straight line wind event, if I had to guess. Coming on the one year anniversary of the 2020 derecho that turned off the power for half the city.
Flash flooding is a small concern, probability of flash flooding within 25 miles of you is 5% to 10%. WPC map below.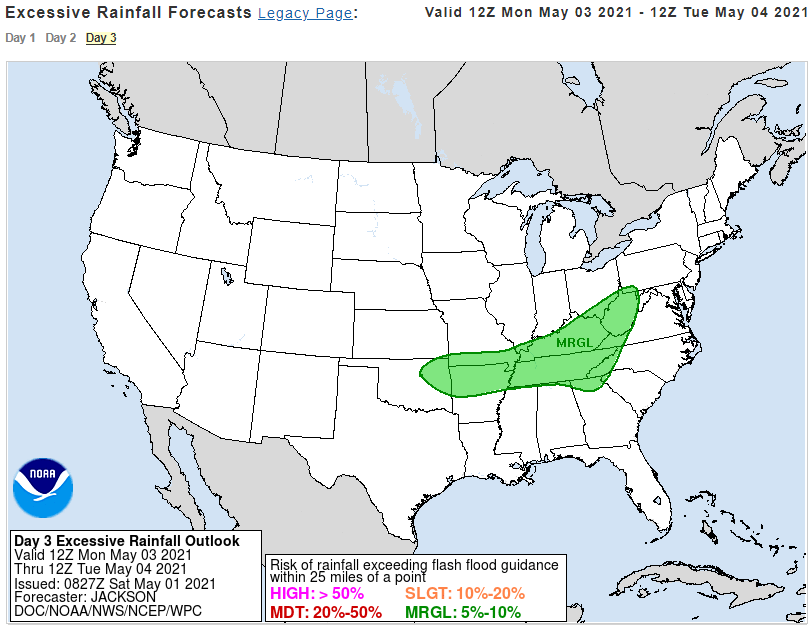 Rain and storm chances will stay with us until Tuesday night, then the active weather looks to taper off by Wednesday. Cooler weather will arrive later in the week, and the forecast, owing to model disagreements, also becomes a bit cloudier regarding another possible active {rainy/stormy} weather system closer to the weekend.

NWS-Nashville, AM Forecast Discussion, 5/1/21