Clouds Clearing and Leaving Behind Chilly Temperatures
Satellite imagery from this morning shows clouds thinning out following the passage of the cold front last night.
As the day progresses, we should see more and more sunshine peeking through. Strong northwesterly winds will allow the chill in the air to persist though. Wind chill temperatures likely won't surpass 50º.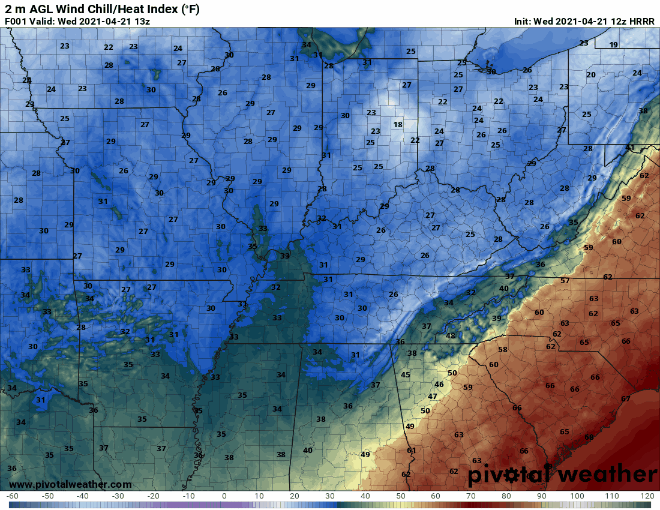 It wouldn't be spring in Nashville without a late season, out-of-nowhere frost advisory. The freeze warning boundary sits just to our east, but I wouldn't be surprised if local temperatures dip down to freezing overnight.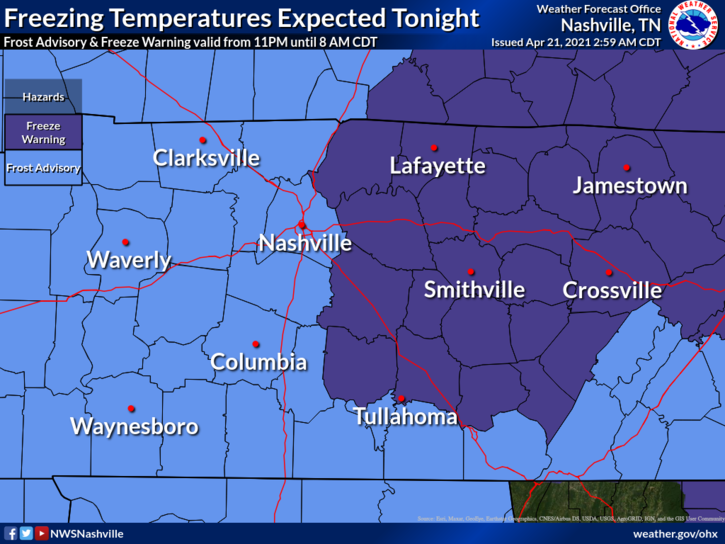 Protect your beloved plants if you want them to survive the rest of the spring!
---
In case you missed it, the Nashville metro area saw some sNOw last night.
This should be our last taste of winter. The Climate Prediction Center shows our temperatures remaining near average over the next two weeks. This trend will carry us into early May when our weather patterns become more reminiscent of summer.
Next Rain Event in Time to Impact Saturday Plans
We will remain dry over the next couple days as our temperatures work their way upward as well.
A rainout is looking increasingly likely for the early weekend. Models agree on rain beginning Friday night and lasting through most of the day Saturday.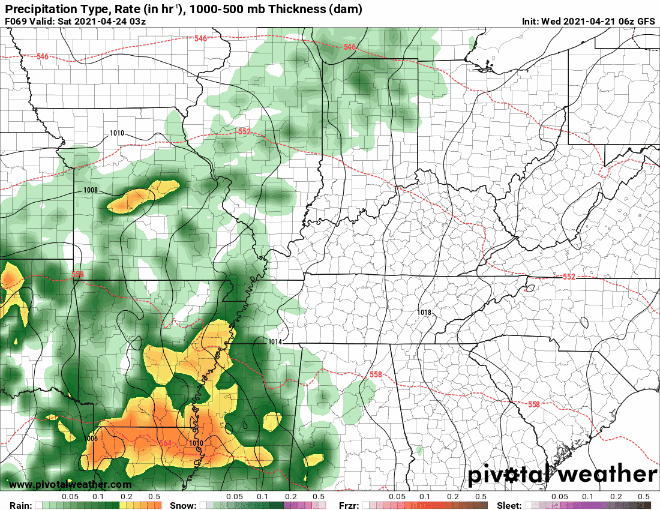 Best chances for rain will be after midnight Friday night through around noon or so Saturday, then precip will continue to move off to the east and be out of the area by late Saturday night.

-NWS Nashville Area Forecast Discussion
---
Looking forward into next week, Sunday through Tuesday should be dry. Upper level ridging will build, which will lead to warming temperatures. It should start to feel like early summer by Tuesday!
Later in the week, a system will move our way from the Plains. It's too early to tell what kind of severe potential (if any) will come along with it. Models are quite unreliable at this point. We will keep you updated as new information becomes available!
Until then, enjoy this last taste of winter (or not, your call)!
As always, check back for updates to the forecast, and be sure to follow @NashSevereWx on Twitter!