Was this the last freezing morning of the szn?
Place your bets. We say "probably" because it's difficult for the atmosphere to get freezing air this far south, this time of the year, but not impossible. For now, we see no chance of a freezing morning for the next 7-10 days.
Spring Returns!
Picture perfect weekend for outdoor activities. Ample amounts of sunshine, high of 63 this afternoon, 71 Sunday.
Rain (Maybe Storms) Likely Wednesday Night-Thursday
An upper ridge will start to breakdown during the day Wednesday. This will allow for a low pressure system over the plains to propagate eastward.
Euro Model has showers/storms breaking out Wednesday evening, continuing into Thursday. The big unknown is whether this activity will have any teeth to it.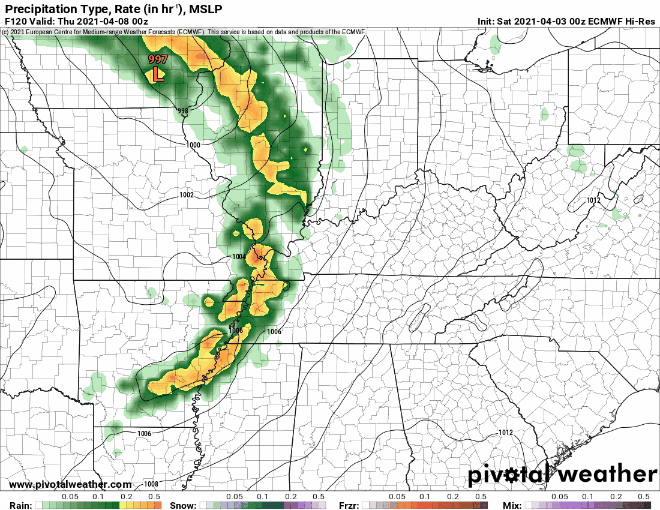 We may even see a few storms as instability becomes a bit more favorable in the warm sector.

NWS AFD 04-03-2021
You know the saying… Mo Instability, Mo Problems.
A few rumbles of thunder are definitely possible. Stronger storms are in question.
Rain amounts could exceed and inch in spots.
We need more model-to-model consistency to make any reasonable assumptions. We will keep you updated on twitter and in future blogs
As always, check back for updates to the forecast, and be sure to follow @NashSevereWx on Twitter!