Rivers levels are plateauing, and will recede. But tonight along comes another line of rain with a few thunderstorms. Our water management system has anticipated the incoming rain and is working to keep river levels steady.
Today will be clear and sunny with temps warming up nicely, but that will change tonight.
After about 9 PM tonight we will likely start seeing some heavy rain and even some thunderstorms enter Middle Tennessee from the west. The heaviest rain should arrive to us after midnight and continue for at least a few hours.
A few thunderstorms might be severe. SPC has us under a 5% probability of damaging straight line winds. There is no concern for tornado or hail in the current outlook. The strongest storms are most likely some time between 1 AM and 4 AM. You may hear lightning. The strong storms won't last that entire time, if they happen at all. Probably just for 15 minutes or so, embedded inside the heavy rain. These storms won't be nearly as bad as what we saw last week or this weekend.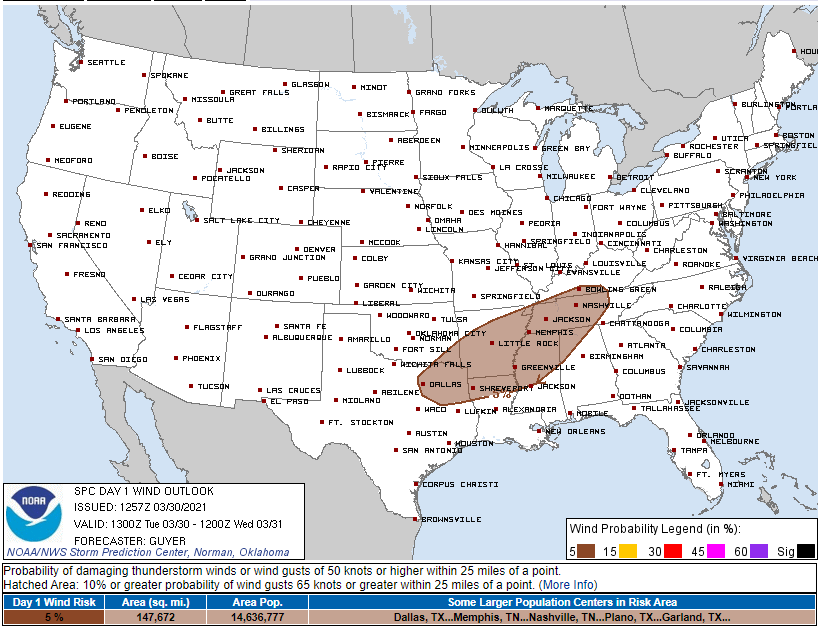 Most of the heavy rain should be over by sunrise Wednesday. Lighter waves of rain will come off and on through during the day, ending late afternoon or evening Wednesday.
Rain totals should be 1″ to 1.5″.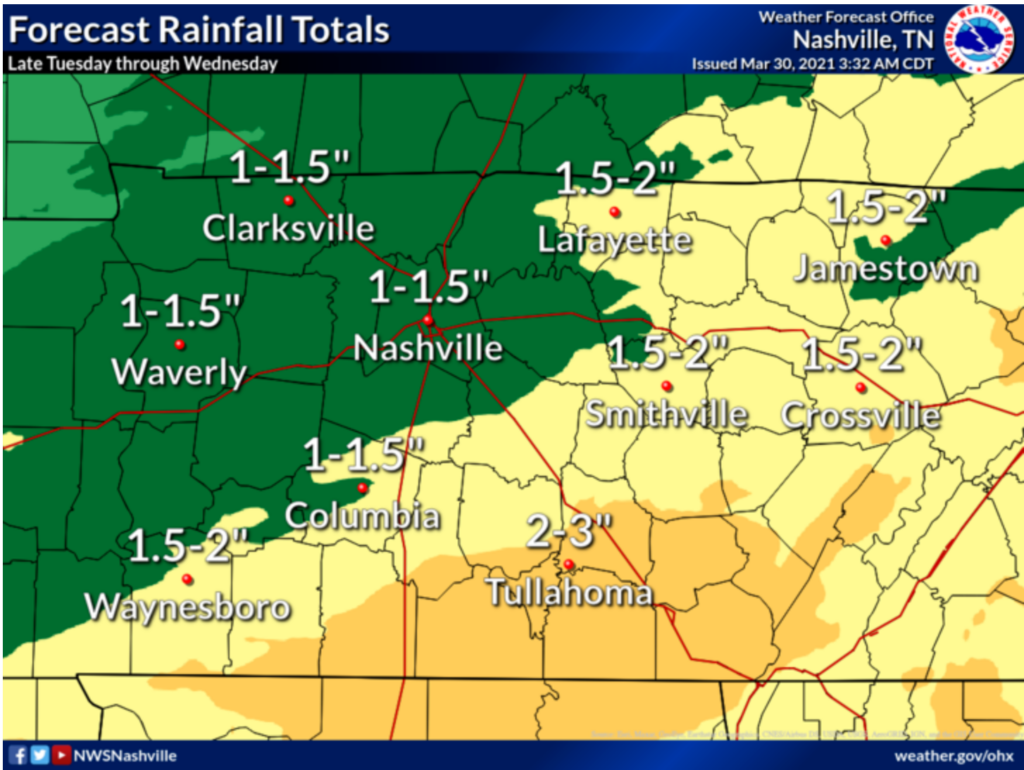 A Flash Flood Watch is in effect for this event. We may see localized flash flooding between midnight tonight and 6 AM Wednesday as the heaviest rain moves through. Models show as much as 1.2″ falling in that 6 hour window. That is close to enough to cause localized flash flooding, but at the moment the risk doesn't seem that high. Grounds are saturated, though, so this will be watched closely.
We will cover this event on Twitter (and, if necessary, YouTube Live) tonight. Check back for updates to this forecast.
Much Colder After The Rain
Very cold air arrives from the north Wednesday. You'll want a jacket. If you are still doing flood recovery, bundle up. We'll get close to freezing early Thursday morning. Down to 28° Friday morning. But a gradual warm up is on the way for the weekend.