Sunshine & Clear Until Tuesday Evening
Look out for patchy frost this morning–your reminder that in Nashville, we can never really be sure what season it is. We will warm up this afternoon thanks to plenty of sunshine!
Tomorrow will look similar with even warmer temperatures.
Next Rain Event Tuesday Night–Wednesday
Tuesday evening, we prepare for rain once again. A cold front will approach Middle Tennessee, dragging moisture from the Gulf of Mexico behind it.
The HRRR Model shows rain beginning around 7pm Tuesday: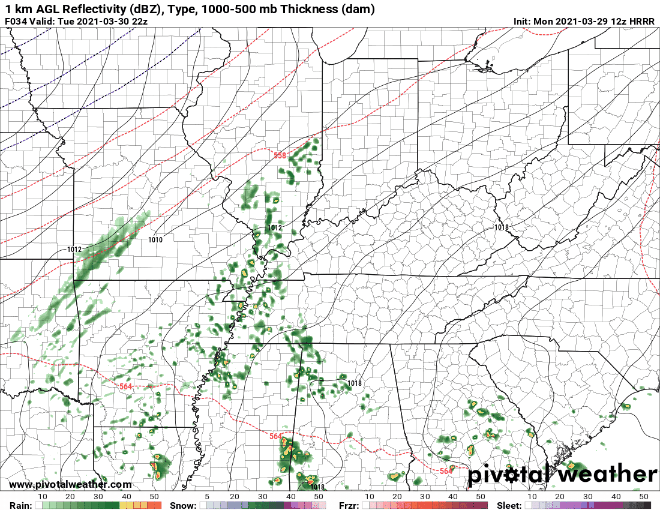 The HRRR cuts off Wednesday morning, so we can't see a high resolution view of the end of this event quite yet. The Euro (a lower resolution model) shows rain beginning around a similar time. It has rain ending around 7pm Wednesday: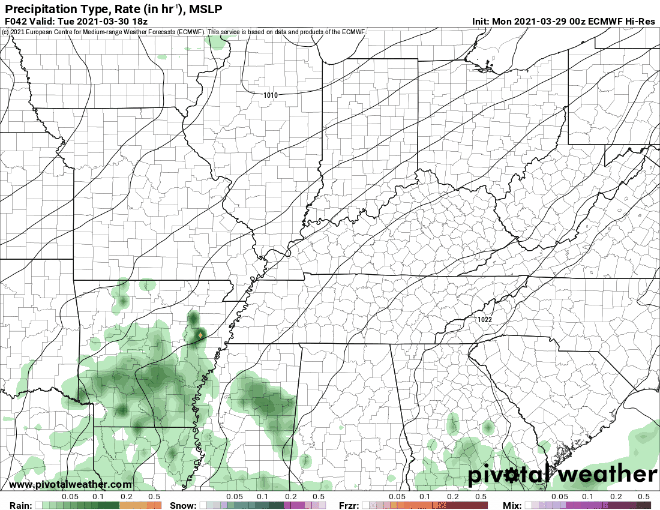 We are watching this system closely as it develops through a process called frontogenesis (it's a real word, trust me). Essentially, if certain ingredients are present within the atmosphere, the frontal system has the potential to strengthen. This scenario would bring more rain to the already saturated region. We don't want this to happen.
Rivers are still swollen. Visit https://nashvillesevereweather.com/rivercreek-flood-stages/ to find out more about the flood stages of local rivers and creeks. We will be keeping a close eye on these levels over the next few days.
When all is said and done, 1-1.5 inches of rain may fall during this event.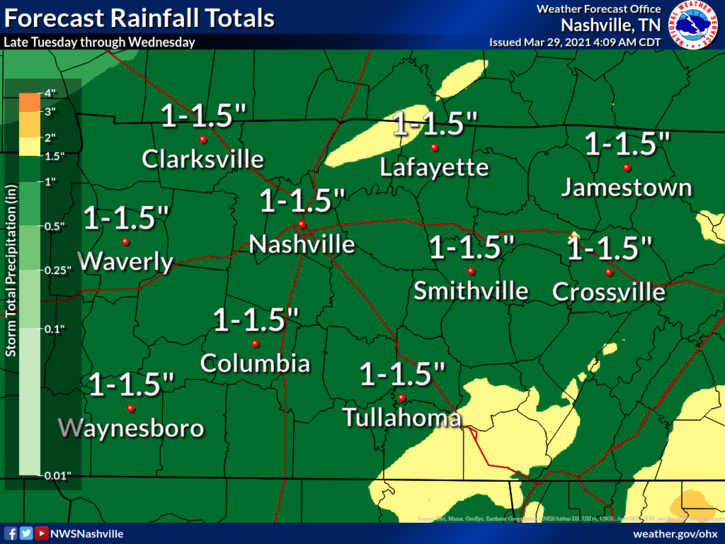 Currently, the wettest March on record was in 1975 when Nashville received 12.75 inches of rain. This month we have received 10.91 inches, which places us at the second wettest March on record. This next event may put us in a position to break the record.
If there is debris covering storm grates or drainage ditches, make sure to clear it up before Tuesday night. You will want to clear the path for water to flow so that it ends up in a creek and not in your basement.
I will end with the good news: we aren't looking at any severe potential with this event.
Our Chance to Dry Out
Finally!
Fortunately, we're anticipating a long dry spell once the rain finally exits the region later on Wednesday.

-NWS Nashville Area Forecast Discussion
A high pressure system will grace us with its presence for the rest of the week. This will bring a welcome chance to dry out. We should remain rain-free until at least next Monday.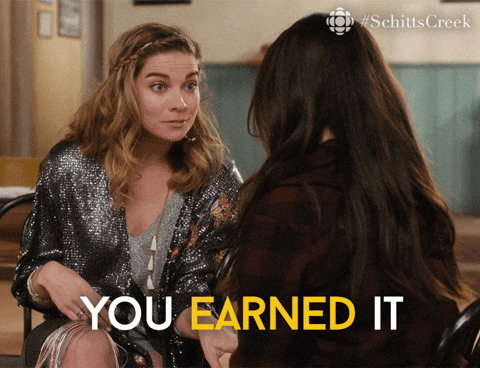 Temperatures will drop Thursday. Cover up any plants that you may want to save, since we are expected to hit the freezing mark both Thursday and Friday mornings.
Until then, enjoy the sunshine today!