Rain will enter Middle Tennessee late Tuesday night.
The HRRR model thinks the first drops will fall around 7 PM Tuesday night. Then a break in the rain. Then the heaviest rain arrives Wednesday, probably after midnight Tuesday night through sunrise Wednesday morning. The HRRR model (right now, at least, see below) thinks that heaviest rain goes just southeast of Davidson and Williamson Counties: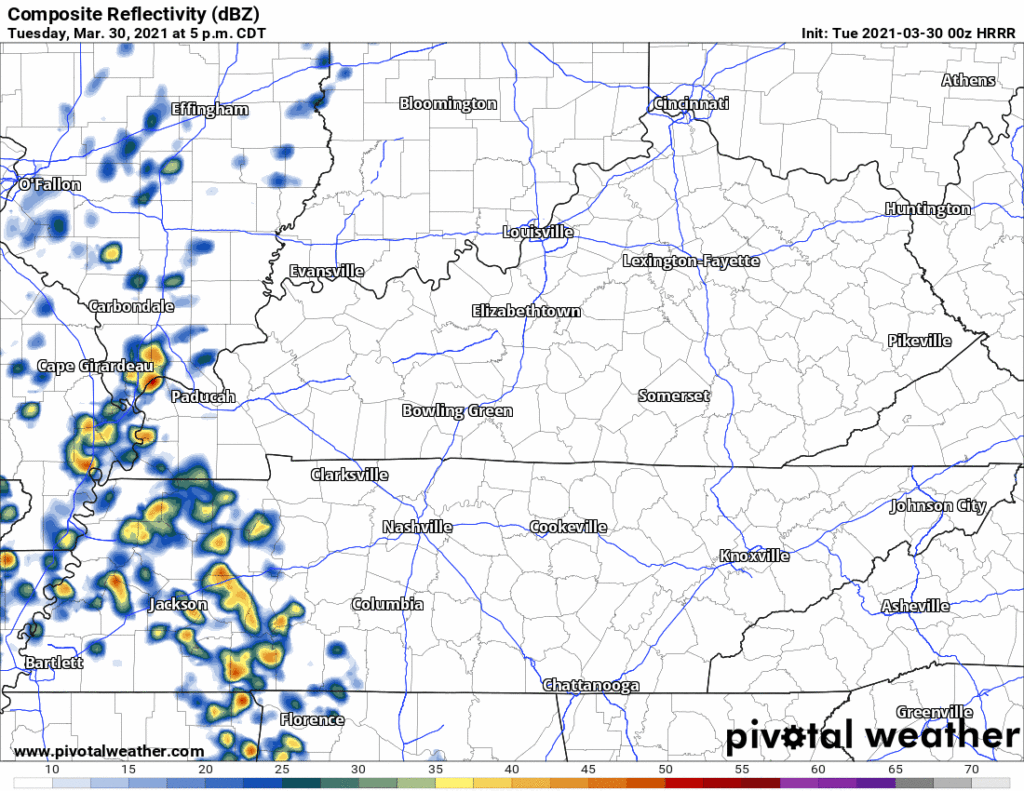 Encouraging, but kinda too close for comfort? Model accuracy isn't that precise good. That rain could shift north, or south, easily. But I like where it is right now, even though we are getting more unwanted rainfall.
The last drops are expected to clear probably late Wednesday night.
So how much are we expected to get? And how much more can we take before flash flooding begins?
The below map shows much rain has to fall in 6 hours for flash flooding to happen. Most of Nashville (in that yellow area) needs 1.8″ in 6 hours for flash flooding to happen. For west Nashville, about 2″. For most of Will Co, closer to 2.5″ has to fall in six hours for flash flooding.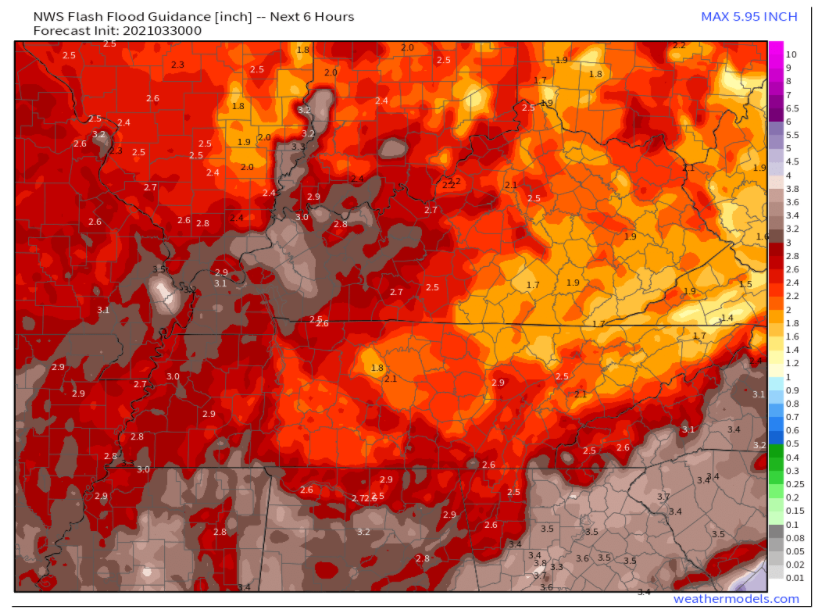 Will we get that much? Maybe. Models have different ideas on how much rain will fall, and when. The National Blend of Models is shown below. It shows a total of 1.3″ in 24 hours in Nashville, and closer to 1.8″ in 24 hours for Will Co. I broke it down in 6 hour increments, and didn't see more than 0.8″ of rain in any 6 hour period. That would be great. I'd rather have no rain, but we should be able to handle 0.8″ spread out over 6 hours.
What's the worst case scenario? Rain "training" from SW to NE and stacking up 2″ to 3″+ in 24 hours. If one of those trains tracks over us, flash flooding concerns increase. In a worst case scenario we would approach 1.5″ to 2″ in six hours, which is a swear number. But notice most of those heavy rain training streaks line up southeast of us, and that matches the story the HRRR is telling.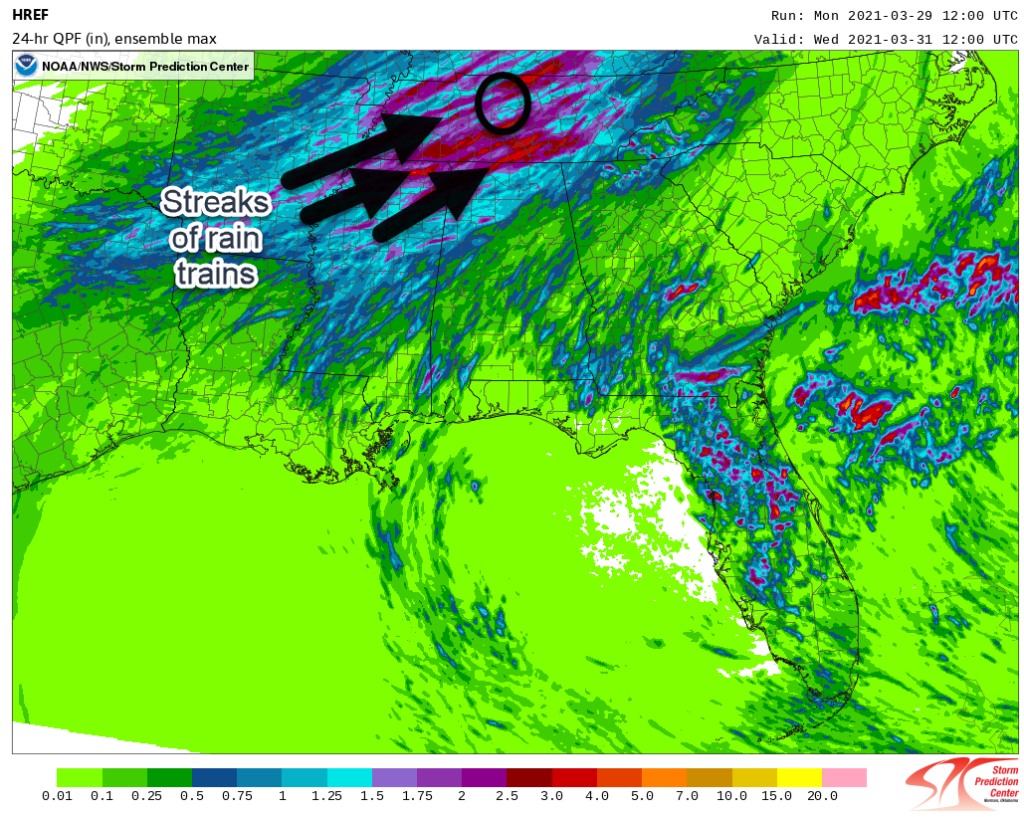 The Weather Prediction Center (which apparently thinks I-840 construction is done #WUT) issued probability of a flash flood happening within 25 miles of us. That probability is 10% to 20%.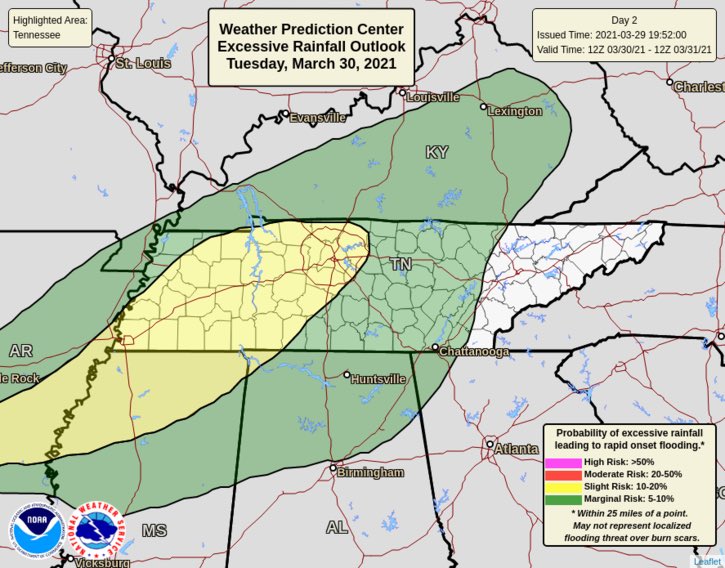 This data compelled NWS-Nashville to issue a Flash Flood Watch. This Watch means flash flooding is possible, not inevitable. It's letting you know you should prepare. NWS-Nashville has read the room, a Watch is how to raise awareness to compel preparation.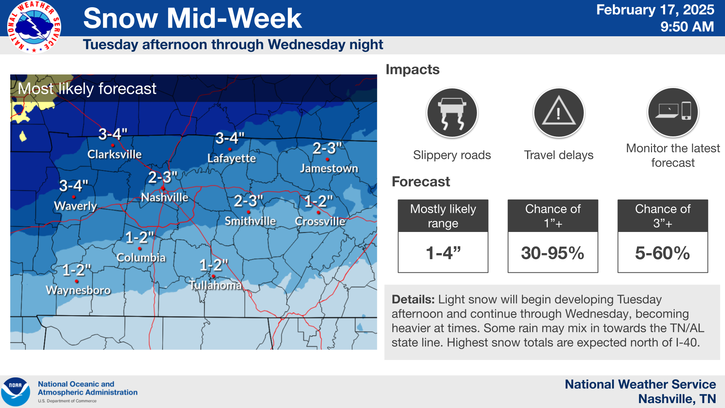 Prepare by clearing away any debris or obstructions to storm grates. Anything blocking a culvert has to go. Let water flow unobstructed. Monitor forecasts and updates throughout this event. Do not attempt to drive in flash flooding. Those in contact with our homeless population, please let them know another rain event is coming, and a recurrence of flooding is possible.
No two floods are exactly the same, but something that flooded before can flood again. An area that did not flood Saturday night can flood Wednesday. There is no indication this event will contain as much rain as Saturday's historic event, but pay attention to future forecasts in case that changes (for good or bad). Our soils are saturated and streams are swollen. Our capacity to absorb rain is injured.
We may get a few thunderstorms. They should be weak and uneventful. No severe thunderstorms expected.
We will be here with you the entire time.
By the way, wake up temps will be near freezing early Thursday morning, below freezing (28°!) early Friday morning, and near freezing again early Saturday morning. No rain expected through the weekend.