If you only take one thing away from this blog please remember this: Stay connected all day today. We will be updating you on Twitter (@NashSevereWx) all day. We will go on YouTube Live if a warning is issued in either of our two counties. Do not read this blog and tune out. Things will change as this situation develops.
This Morning: Lots of Rain
Rain has begun and will continue through about noon. Maybe a rumble of thunder, but we aren't concerned about anything severe forming with this round. Lots of moisture is funneling into Middle Tennessee from the Gulf of Mexico. Here's the HRRR's view on rain still to come this morning: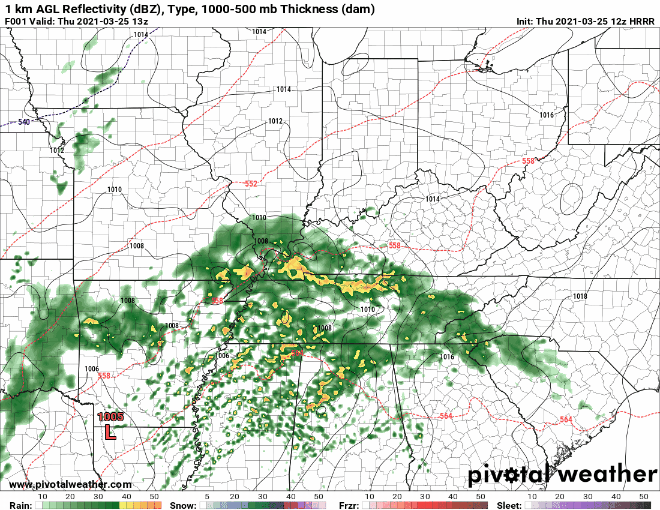 To stay up to date with current rain locations, you can find radar imagery that's updated often at https://nashvillesevereweather.com/radar/.
After about noon, this rain should clear for a bit. You might think we will be finished with rain for today. We're not. In reality, the atmosphere will be taking this time to recharge. It will be preparing for the next round of storms–this one bringing the severe potential.
The more rain we see this morning, the better. Lots of rain means we are using up some of the fuel that could potentially power supercells this afternoon.
We break that down next.
Severe Storms This Afternoon in Two Waves
If we see a big break in rain with significant daytime heating, our environment will be charging up for potential supercells to form. We don't want this situation to come to fruition. We will be watching this very closely.
Supercells 3-5pm
These storms will be strongest over northern Mississippi and Alabama. They may not make it all the way to us. We can see them forming over this region earlier this afternoon and approaching us around 3pm.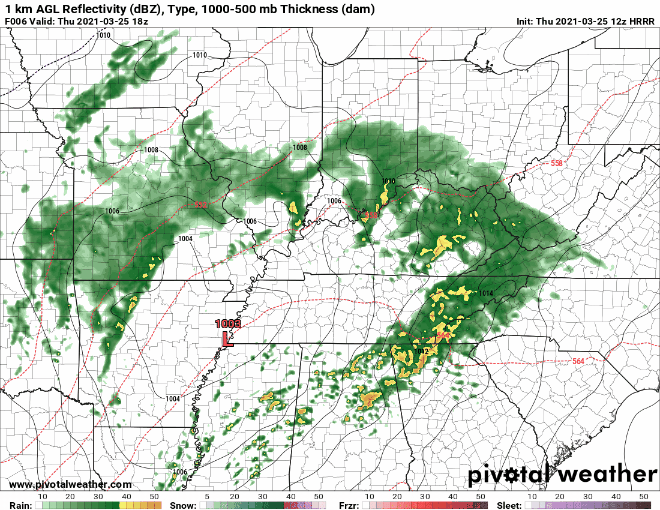 The most likely impact of these storm cells is strong/damaging thunderstorm winds. Some gusts may be upwards of 60 mph. You do not want to be outside when these gusts blow through.
We are also watching the potential for tornadoes to form. The ingredients have to line up, and we aren't certain that's going to happen. We might also see some hail with stronger cells.
Final Line 8-9pm
Timing is not exact, just what models are indicating. This round will be a more clearly defined line of storms. See the HRRR above to see the line moving through.
There are a few ingredients we are looking at, including CAPE, shear, and instability. The uncertainty lies in if these ingredients will line up. If they do, then we are looking at high potential for tornadoes to form.
Again, we are watching threats for tornadoes, strong/damaging wind, and large hail.
SPC Severe Threats
Categorical outlook (overall combined threats of us seeing something severe today):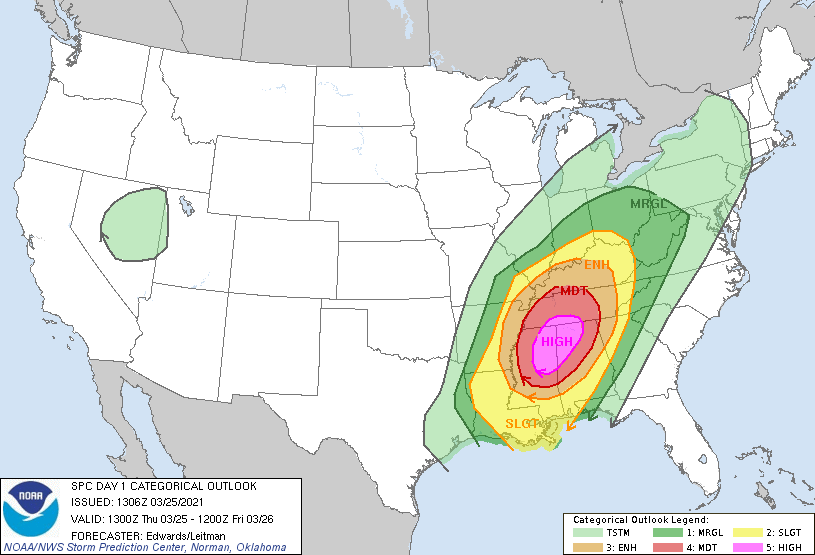 Tornado outlook: 15% probability of a tornado within 25 miles of you. We are included in the hatched region also, which indicates a 10% or greater probability of an EF2+ tornado within 25 miles of you.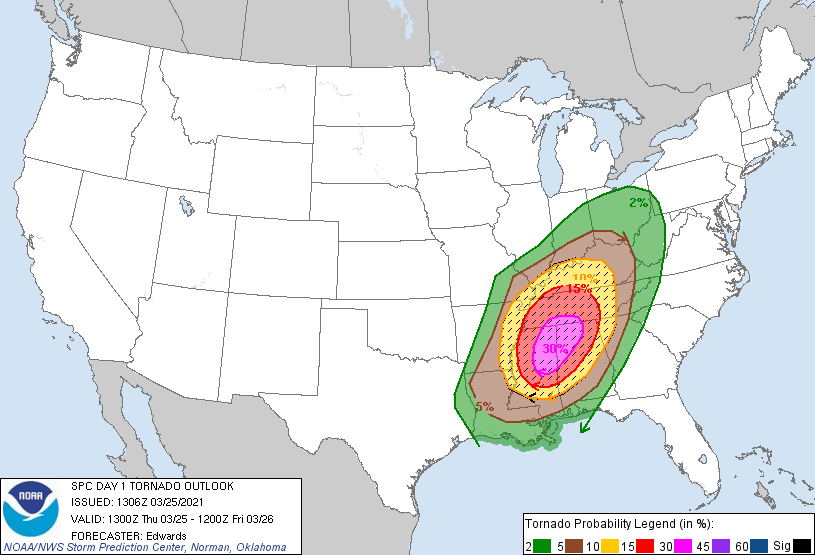 Wind outlook: 45% probability of damaging thunderstorm winds within 25 miles of you. Again, we're in the hatched area, which indicates a 10% or greater probability of wind gusts 65 knots or greater within 25 miles of you.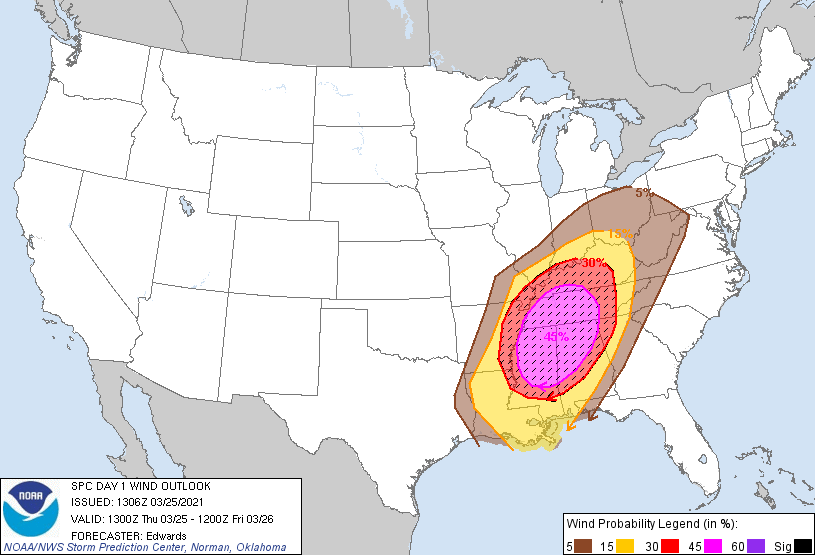 Hail outlook: 15% probability of one inch hail or larger within 25 miles of you.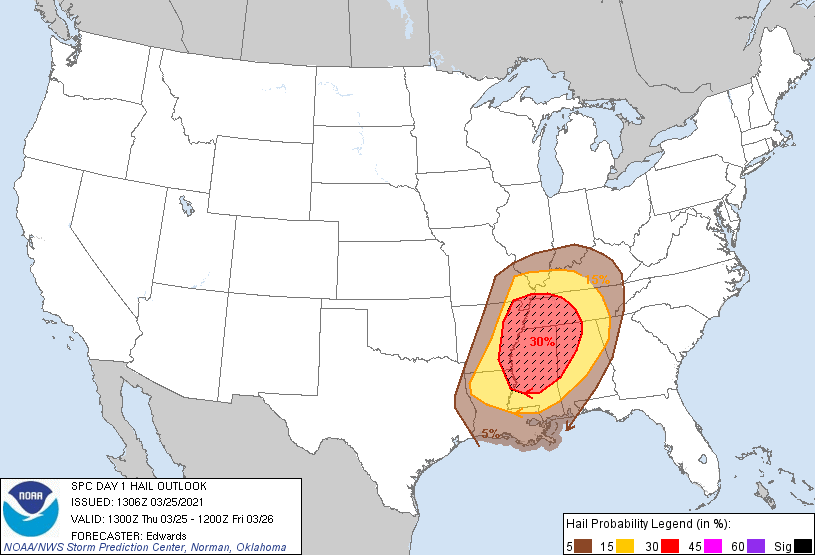 Flash Flood Watch Through 1:00 am Friday
Many rounds of heavy rain will bring the potential for 1 to 3 inches of rain. Some areas may see up to 4 inches. The WPC holds back on showing this on their rainfall totals map, but the potential is there.
If you live close to a river/stream/creek/flood-prone body of water, stay aware of the water level throughout the day. It doesn't take long for water levels to rise rapidly.
Do not try to cross a flooded road. It's always safer to turn around if you think there might even be *a little bit* of standing water.
Preparations
Remember that we only cover Davidson and Williamson counties. Know where you are in the case of an active warning.
Now is your time to prepare:
If you live in a mobile or manufactured home, locate a permanent structure or storm shelter you can stay in this afternoon/evening while storms pass. 
Locate an interior room in your house. Bring helmets for everyone. Bring at least two devices that you can receive weather information from (i.e., your phone and a weather radio).
Don't be in a car when storms are passing through. Cars can pretty easily be picked up by a tornado and tossed around. You don't want to be in one if that happens.
Know the difference between a watch and a warning (https://nashvillesevereweather.com/what-to-do/). If a warning is issued for your area, take shelter immediately.
We understand how days like this can make you feel. Here's a helpful resource if you're dealing with storm anxiety: https://nashvillesevereweather.com/storm-anxiety/.
Please stay tuned and stay safe today.