Two things before we get started.
First, we cover Davidson and Williamson Counties. A serious and very concerning severe weather outbreak is forecast to take place in Mississippi and Alabama today. For the purposes of this blog, we will only focus on our two counties.
Secondly, stay connected today. Don't read this blog and disconnect from updates. Things can change, and uncertainties still exist. More on those below.
Late Morning/Early Afternoon
Numerous showers and thunderstorms will continue off and on as they have most of the morning. The longer they hang around the better. They will serve to keep storm fuel down.
All Eyes Are On The Warm Front
A warm front will be moving north throughout the day. How far north this warm front travels will be key. North of the warm front (where we are as of noon), storms have little food. South of the warm front, they have a feast. Our eyes will be on the progression of that front today. Where exactly it ends up is uncertain.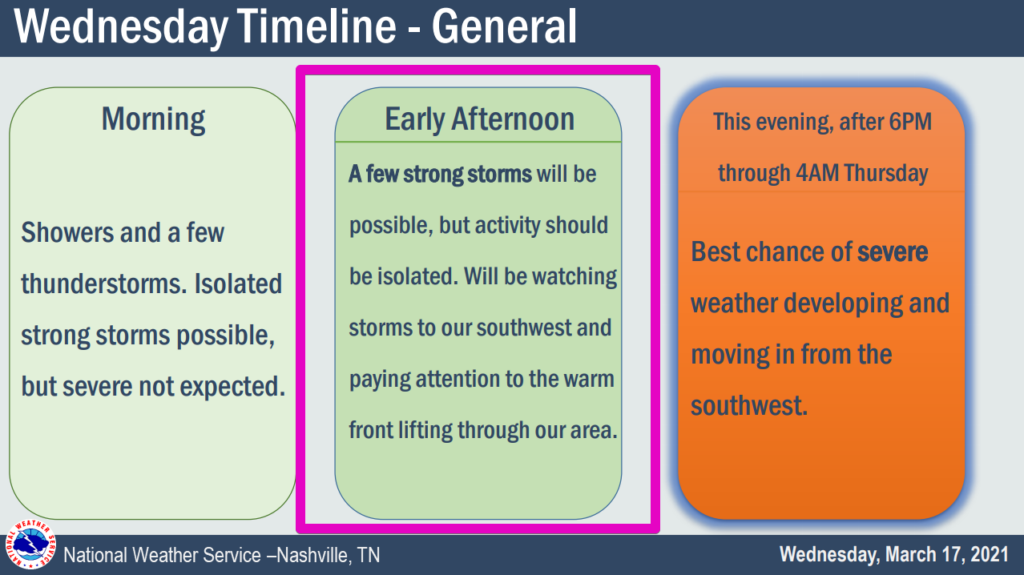 Overnight
Our "best" chance of severe weather comes late evening into the overnight.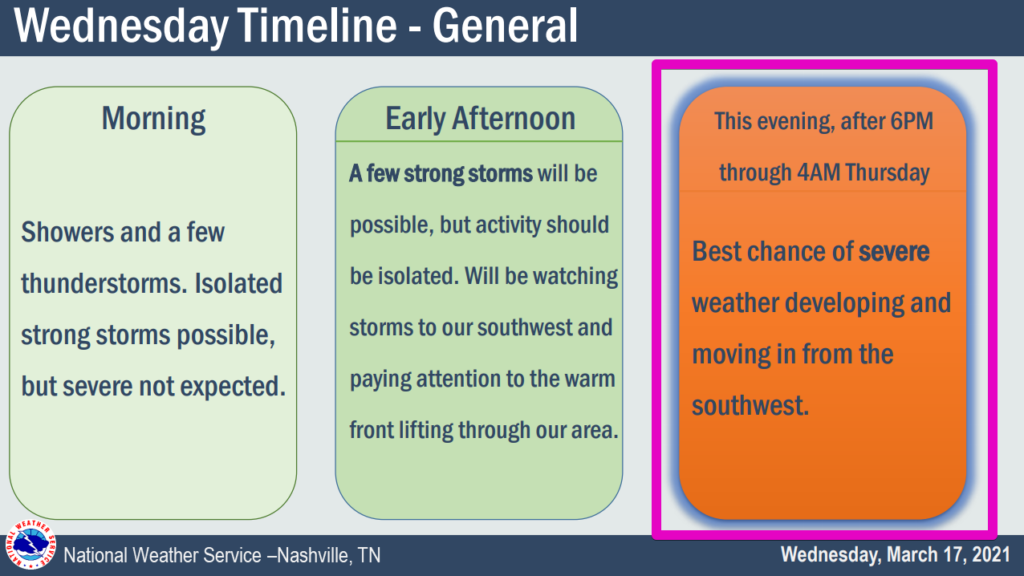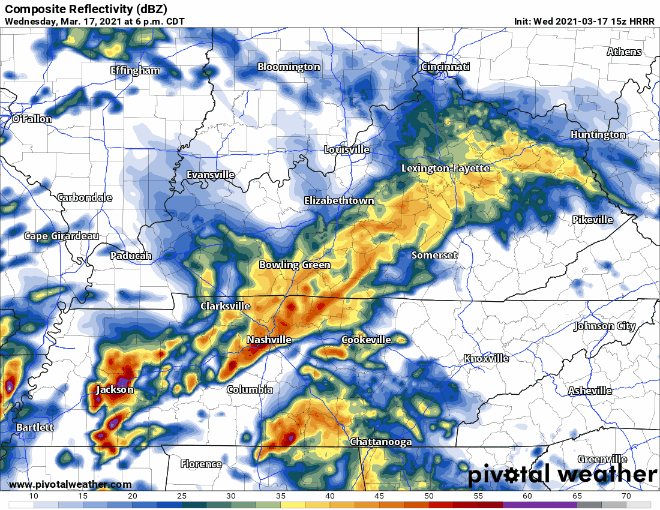 The cold front will swing through in the early overnight hours. This will bring our greatest chance for severe weather. The HRRR model thinks multiple broken lines of storms will come through ending around 4:00 am or so.
These storms will be capable of producing damaging winds, large hail, and tornadoes. We are also looking at a slight chance of flash flooding if storms train over the same areas.
The HRRR significant tornado parameter shows some good news for us. This parameter is basically a combination of all the significant indicators of tornadic activity. The large values remain to our south throughout the overnight hours: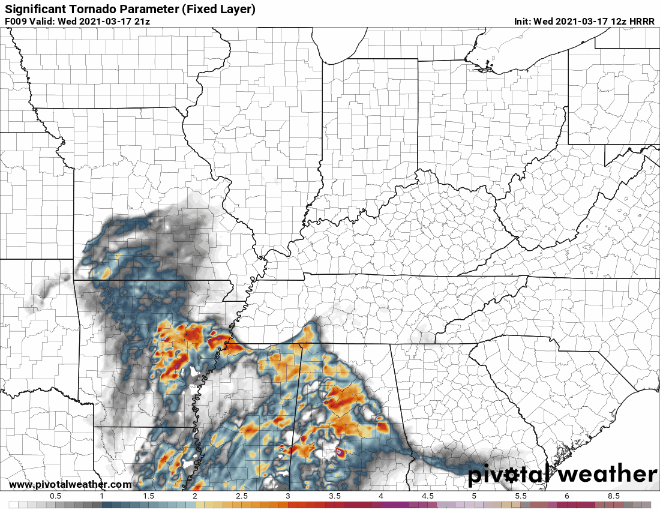 Go buy your coffee now. It will be in your best interest to stay awake until this line passes through.
Overall Severe Threat from Storm Prediction Center
We know some like to see probabilities. These values are the probability of seeing "x" within 25 miles of you.
Tornado: 2% or 5%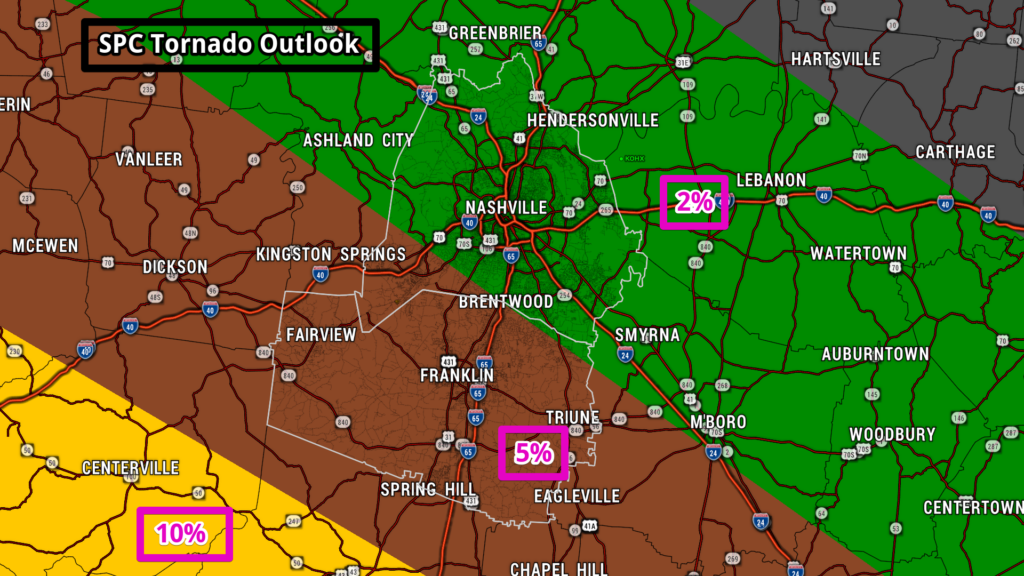 Severe Hail (1″+ diameter): 5%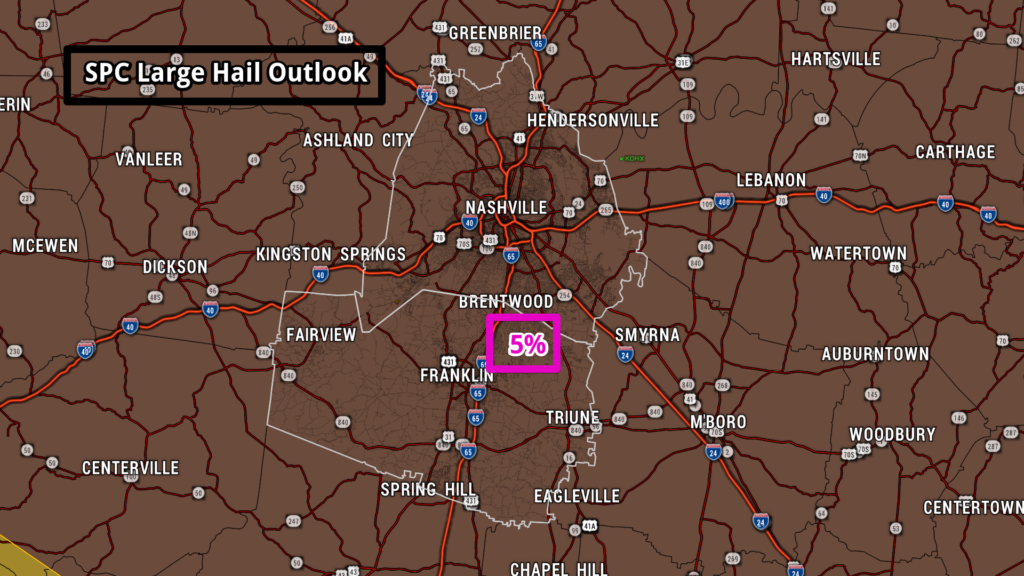 Damaging Straight-Line Winds (58+ mph): 5% or 15%
Stay Connected
We'll be updating Twitter more often than the blog. Get the latest there. Have multiple ways to get warnings today. Sirens are not one of them, especially if you're indoors. Have a weather radio programmed and ready to receive warnings. Have a phone app like StormWatch+. This app will also wake you up, which will be super important tonight. Enable the emergency alerts that come with your phone if you have disabled them previously (WEA alerts). Don't go to bed without a way to get woken up before severe weather gets to you.
Have a severe weather plan in place. Need help? Check this page out.
Are you anxious about severe weather? We'll be here to walk you through the entire event. We're not going anywhere. Also, See if this helps.