I am supposed to be at the gym.
I'm not because the forecast changed.
Earlier, there was question about whether a warm front would get far enough north "providing ample moisture for storms to feed on."
"It looks like this [the warm front arriving] is going to happen." NWS-Nashville
Middle Tennessee faces three separate times of concern Wednesday.
We break them down as far as what that will mean for us in Davidson and Williamson Counties.
One – Late Morning to Early Afternoon
A warm front will lift north, pass by us, and settle in KY somewhere. There will be enough low level shear and maybe just enough instability to send storms rotating. Damaging winds possible, can't completely rule out a tornado. This will probably be only rain, and it is not the main concern. Of the three waves, these storms should be the weakest. That will be little comfort if one of those storms lands on your location. So we need your attention in the morning.
Two – Late Afternoon to Evening
Look southwest. It's possible the atmosphere will recharge and supercells capable of all manner of severe weather (damaging winds, tornado, hail) will come rotating out of Mississippi and move into SW Middle Tennessee. This may not happen, but if it does, those storms will have to be watched in case they try to make it to us in Will Co, and maybe even Nashville.
Three – Midnight Wednesday Night Into the Wee Hours
A cold front will come flying in from the west. Storms will for sure develop ahead of it. The key to tornado/no tornado, or damaging straight line winds/or not, depends on whether the atmosphere can recharge between Round One storms, and whether we get Round Two storms. If we are unstable enough, a broken line of supercells powered by substantial low level helicity with upper level support could produce damaging winds, hail, and tornadoes. Note this is conditional on everything aligning perfectly. The fact all conditions aligned on 3/3/20 does not mean they will align locally Wednesday night. It's possible we will be too stable to produce tornadic storms Wednesday night. Rainfall will be intense, and may cause localized flooding. Total expected rainfall Wednesday 2″.
To Do
If a Tornado Watch is issued, it means conditions are favorable for a tornado. If a Tornado Warning is issued, it means immediately shelter.
Have multiple ways to get warnings in case you go to bed, and you need to be woken up so you can transition quickly to your safe space. You may want to stay up for these storms. Do not travel in these storms. Rainfall will be substantial, and you will be super-vulnerable while driving. Mobile and manufactured home residents should find a site built structure if a Tornado Watch is issued – once the warning is issued you are out of safe options. Visit https://www.ready.gov/plan for resources, and read our page here for tips and recommended practices.
Deep Thoughts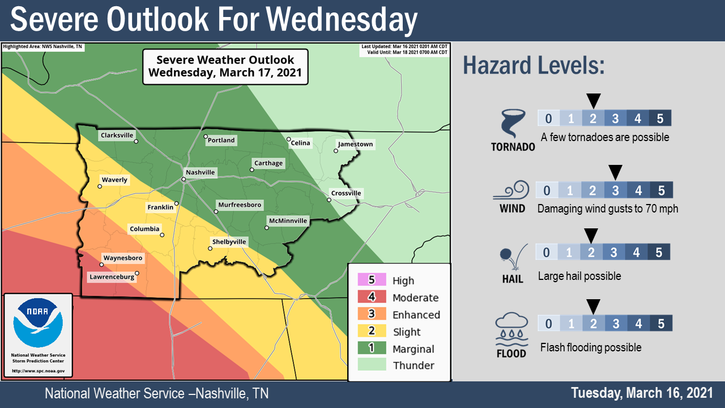 I am not dreading this event, at least not yet. I have seen scarier forecasts. And I think the worst of the storms may have a hard time getting to us. It's definitely going to storm, but will we see a tornado producing supercell? Maybe, but, eh? The dynamics are more favorable to the SW.
And I've seen seemingly innocent days develop into monsters.
There is no way to discern one from the other. We can try, but then we become intellectually dishonest with ourselves, and in turn, with you. There's also a temptation to cry wolf, but I don't want to holler WOLF unless we, you know, see one actually coming.
Just don't be in a straw house.
The threat remains higher to our southwest. The data for those near Memphis, and to our south and southwest, is more alarming. But that doesn't mean we are safe.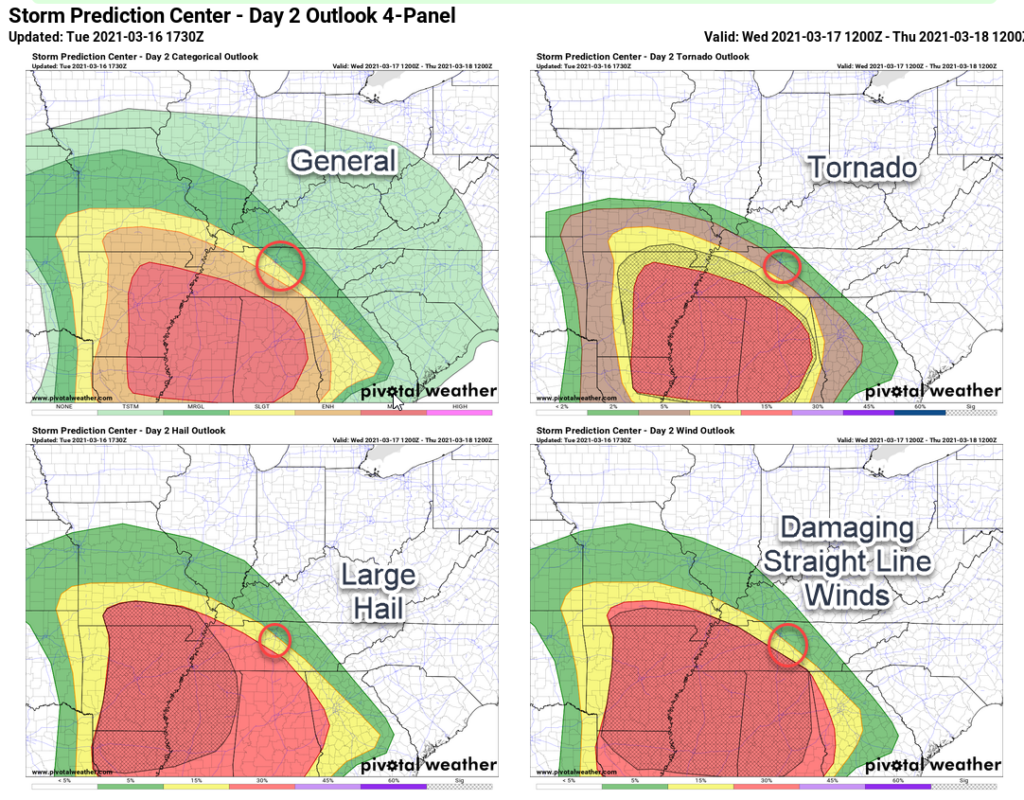 Some see these maps and think it's not a big deal for us because it looks worse for others.
That's not how this works.
I've been through all the data. For every model that thinks this event will just be some rain and thunder, I can find another dataset that sends rotating supercells through our area.
I don't think we are anywhere close to "knowing" what will happen. Reaching a conclusion one way or the other ignores information. The point is — this could turn out to be a thing, this is not going to be an ordinary day, and it deserves your attention. Most of the time, these are non events. For you reading this, this is a low probability of a personal high impact event. I don't need to say any more than that, we all know what that looks like here.