An east-west line of storms will continue to impact the area.
As expected, more rain north, less to the south. This activity will begin to taper off later this evening, with only spotty showers tonight. Washout potential is low but a good soaking is expected.
Stronger System Monday (Storms?)
More rain and possibly some storms are possible Monday morning.
Models agree on the morning start but not the exact time.
GFS has an early morning (6-9AM) start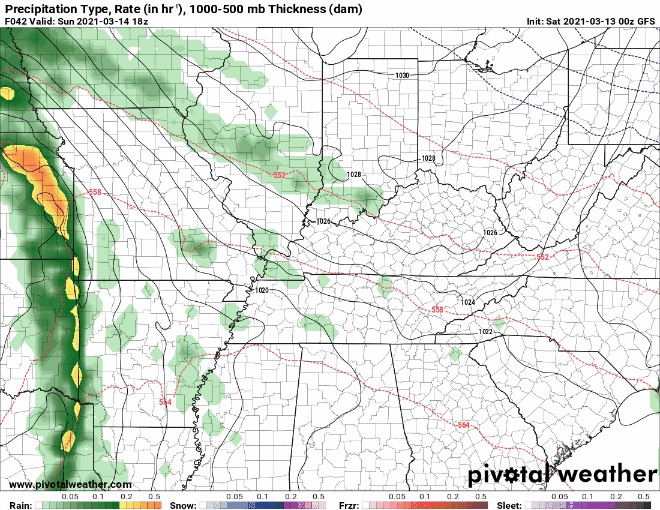 Euro Model has a late morning (9AM-Noon) start.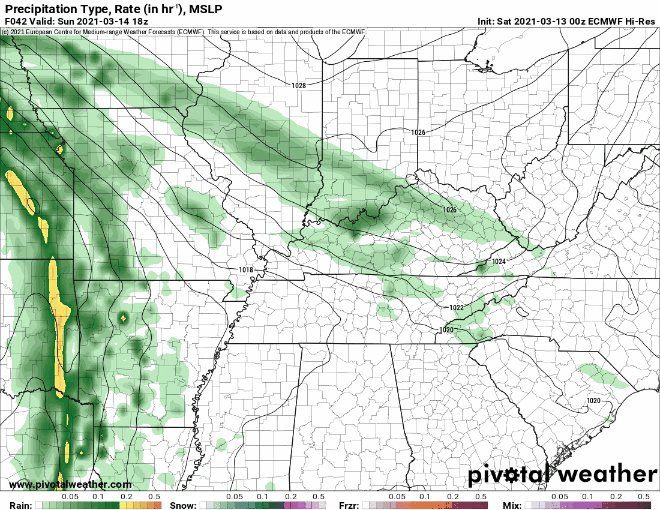 This timing difference will determine just how potent the storms are. Early morning start = storms that lack instability due to insufficient heating. Late morning start/closer to afternoon = storms that tap into a little more instability.
At this point (subject to change) even if storms start closer to the afternoon, instability will still be too weak to be concerned about. Something we are watching closely giving the very strong shear values expected…
There will be plenty of shear with the gradient over the area, but lapse rates and surface instability will be lacking and likely be the limiting factor for any strong to severe thunderstorm development.

NWS AFD 03-13-2021
Storms with plenty of bark but a weak bite.
SPC has us outlined in a "general thunderstorm" risk Monday: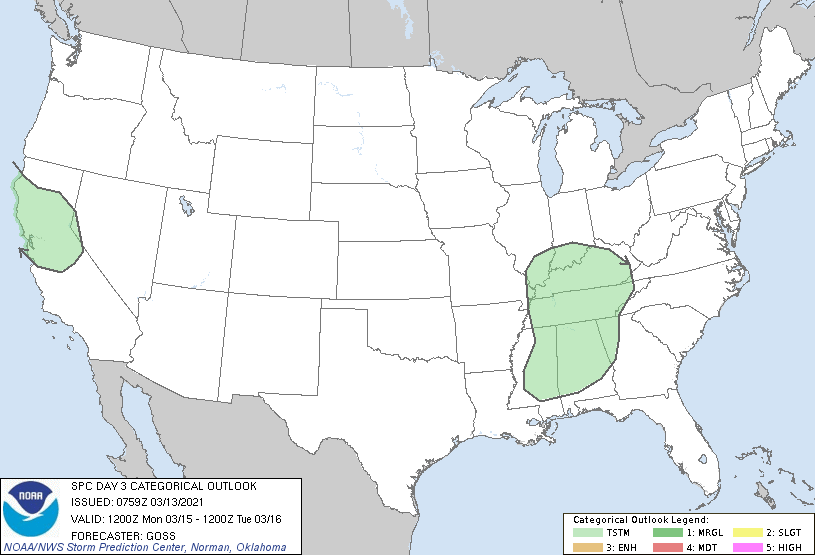 Rain totals will be more than Saturday's activity. 0.5″-1″ for most.
Even Stronger System Wednesday (Severe Potential?)
This system is one that bears close watching.
SPC already has highlighted a 15% ring of severe storms within 25 miles of any given point.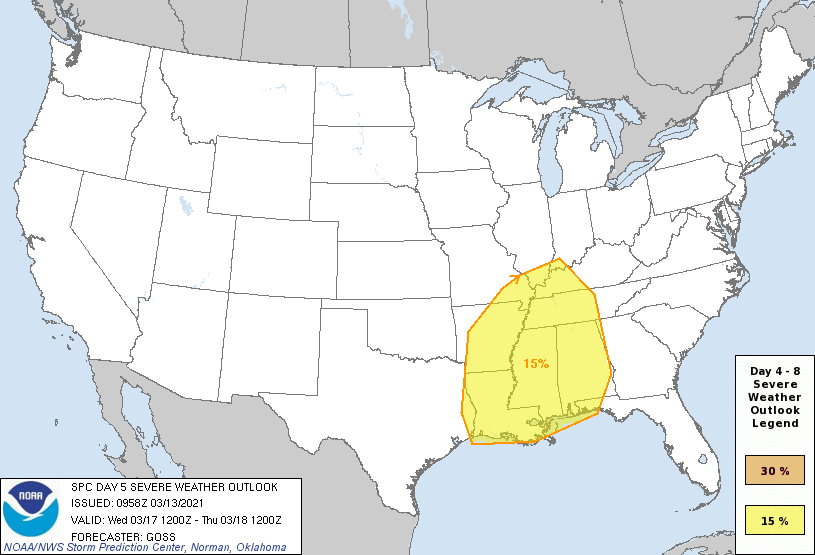 This includes ALL of Middle and West Tennessee as well as much of the Deep South.
By Wednesday, a more substantially unstable environment, encompassing a large area, is likely as moist Gulf airmass stream northward, beneath rather steep lapse rates advecting eastward… While a more concentrated area or areas of severe weather may evolve Wednesday, those details will require discernment in subsequent outlooks.

SPC Discussion 03-13-2021
Details are fuzzy, conclusions shouldn't be drawn, clickbaity, fear-hungry posts should be avoided.
Higher-resolution models are not in range. Once we get past Monday's event, we will have a much better handle on what Wednesday could bring.
More details to come in future blogs.